Interview: Carlotta Cosials from 'Hinds'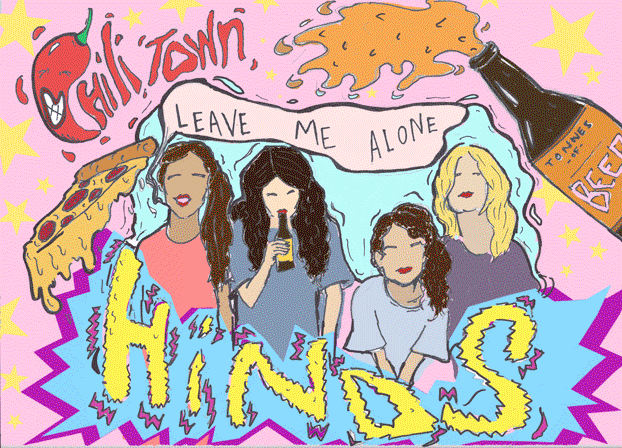 Illustration by Elly Pugh
A lo-fi, do it yourself, all girl, beer chugging, lipstick wearing, scrunchie rocking, 4-piece band from Madrid with a sound like it came straight from a Burger Records cassette tape? It seems too good to be true! Well hold onto your bucket hats boys and gals, they are real and their name is Hinds. After touring across the globe with the likes of The Libertines, The Vaccines and The Black Lips, this sizzling Spanish band have charmed the pants off of audiences everywhere with their no-f*cks-given attitude. With distorted guitars, pleading vocals, and kickass music videos, it's the type of stuff to make you weak at the knees. We Skyped guitarist/vocalist Carlotta Cosials and talked* about everything from the difference between Spanish and Australian night skies, life in a tour van, and the origins of their debut album 'Leave Me Alone'.
*Please read with a raspy Spanish accent in mind.
Hola! So, how has the tour been?
So good. So, so, so good like seriously, it's been amazing every night. Like dude, it's all sold out. It's all so crazy.
Holy sh*t, were you expecting that at all?
No, no, no. No. No, no, no. I mean, suddenly they started getting us to bump up. Like okay, maybe we could do more than one? But the whole tour sold out? I don't think our booking agents even expected that.
Wow! Do you have any idea why that came about?
No! I think it's because of the album. Having the album out really has made a difference. I don't know how many bands you have seen before [who didn't have] an album out, but I haven't seen so many – like, three in my life or so? So it was impossible to be that big without having an album [while] people [didn't know] the songs.
Yeah, your first album, how was it recording that?
Recording was pretty easy. Writing it was very tough. Writing it was the toughest part because it's the part that we [had to] take care [with]. Until we find the song perfect, we are still making changes [to] it. We had so little time to write the whole thing and we were in the middle of tours and we were very tired… and… probably jet lagged all the time, so it was kind of difficult in that way. We [wanted recording] it to be like our live show. Even the guitar solos are played live. We really wanted to keep it [feeling like a live audience]. Mixing wasn't easy for us either, because it was the first time for us.
The album is called 'Leave Me Alone'. Where did the name come from? Were you throwing different ideas around, or did you know straight away?
No, not at all. Sometimes, people think it's the [beginning] or the conclusion of the relationships we are talking about – all the feelings – and it's not at all like that. It's more conceptual. It doesn't have anything to do with the lyrics. We have realised that this music world is like a huge machine and it's so easy to get transformed by other people. It's important [to] stop yourself and say, 'Wait a minute, what do I want? What's my point here? What's my point in music?' So we decided. People find it so easy to talk about other people's lives and their decisions. Like, 'you can do this' or 'you shouldn't do that' or 'you should do a song like this', so it was like, 'If this is gonna be a mistake, it's going to be my mistake'.
That's a really good attitude to life in general. Your sound is very reminiscent of West Coast USA style music. Is that style popular in Madrid? Or is it just you guys?
Yes! Well, it's us and our friends. The kind of people that we go out with, we are listening to the same style and to the same music. We share music tastes and we all go to the same places, so it's cool.
You are coming to Australia in May, what are you most looking forward to?
I'm looking forward to the weather!
It is really hot right now, we're sweating a lot.
That's perfect! That's exactly what I need in my life.
Awesome, what are some other things that you're looking forward to?
We still haven't been to a zoo. We'd love to see the kind of zoos that you have, where the animals are not in cages and you can touch them.
Like wildlife parks?
Yes! There are all [these] new animals that we haven't seen [before]. I'd love to go to [a wildlife park]. Also, I know it's going to sound weird, but when we were [in Sydney] last we made some friends. The people who were there the first day came to the second day and they were such nice people! They took us to the beach at night, and we were drinking beer and wine. I remember watching the stars and I realised that we have never, ever [seen] that side of the universe. Yeah, it was different, and I don't know how to say the word in English, but it was so special, so cool to watch new stars. It was beautiful.
That's so lovely! I hope you get to do that. Your music videos are so much fun. How do you go about making those?
It depends. For the first one, Bamboo,  I think that the first music video that you do, its gotta [say], 'Hey, this is us!' No pretending, [nothing fake], just be yourself. Like, 'Hey, this is Hinds and this is our music and [these are] our faces singing it'. That is exactly what we did – we were just hanging around Madrid, singing a song and being natural. I'm crazy about music videos, I love them. It's very easy to make a bad one, [and] some bands have really terrible music videos. [As girls], we didn't want to look too pretty or too sexy or too dumb. It was kind of difficult to find a balance, so that's why in the end we did it ourselves. I edited them.
Really? That's cool!
Yeah! For the second one, Trippy Gum, it was like showing [a new side to] Hinds, [bringing] the camera a little bit closer. It was [crazier] and [it gave us] a chance to use our imaginations. But with the songs that…the four of us made together, it [was] a little more difficult. For example, in Chili Town, Ana and I sing the song, [but] we decided to make it equal and have everybody sing in the video, even though they're not singing in the recording. It was kind of like Bamboo, but with all of us. Time was one of the  main things – we really, really didn't have time to shoot a video, [so I just said], 'Let's do[what] we do every day'.
How much beer do you think you would have had by the end of this tour?
Tonnes and tonnes and tonnes! We are also travelling with some friends and they're helping us sell the merch and stuff. They jumped into the van because they just finished their university semester so they are on holidays. They were like, 'Can we jump into the van?' and we were like, 'We have two spare seats if you want to, but you gotta know that touring is very tough.' They said, 'Yeah, sure, okay!' Every night we are in the van – us four, our tour manager, sound engineer and those two guys – so we are eight people travelling and drinking a lot of beer every night. The promoters don't believe it. They bring like 24 beers, and it's not enough, it's only like three beers each! It's still a lot of beer.
You released an album in January, you have a massive world tour until August. What are you going to do after that?
We're gonna tour more. Because, if you think about it, all the shows are sold out now. There's people [who] wanted to watch us and couldn't because there [have been] no tickets left since a long time ago, so we're gonna tour until the end of the year. We're already blocking some dates to write a new album and it's gonna be cool. I think we're finally gonna have [some time] between albums…doing special things for fun. Sometimes we see collaborations…and we can't believe it. Like, when do they have the time to rehearse? We have NO spare time. So I think finally [we'll get to do some cool things].
We're looking forward to the Australia leg, we'll see you guys in May!
Thank you so much! See you in May! Perfect!
Hinds 'Leave Me Alone' Australian Tour
THU 5 MAY
Newtown Social Club, Sydney
FRI 6 MAY
Northcote Social Club, Melbourne
SAT 7 MAY
The Foundry, Brisbane
MON 9 MAY
Rosemount Hotel, Perth
Get Tickets HERE