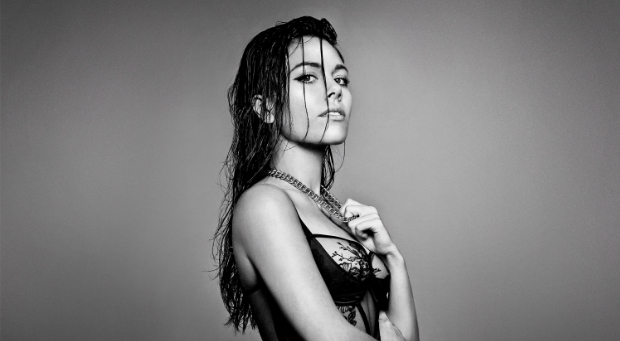 Battling on through poor phone reception in her apartment, George Maple a.k.a. Jess Higgs has mastered the art of balancing incredible talent with endearing modesty. We caught up with the soulful songstress to chat about her latest single, her upcoming Australian tour, and taking inspiration from sex, money, and power.
We're loving your latest single Sticks and Horses, where did you find the lyrical inspiration for the song?
Yeah, I mean I guess it's fairly, fairly in a place of frustration – I feel like I write so many songs out of frustration – but I think that it's a song about doing things you're not meant to, basically, and going back to people that you don't want to go back to, and the push and pull between lovers and their circumstances. I think that's kind of where I was sitting at the time I was writing it.
What was the song writing process like for Sticks and Horses?
It's actually been such a long process, that song has existed for about four years now and had so many different lives. So the final version of the song, it just kept sort of morphing, and then I wasn't quite happy with it, and then it would morph again, and then eventually I'd be in a circumstance where something would click and I would change the way I thought about the song and eventually I was like, "Okay, it's finished now." I guess that was the song writing process, there were many different versions of production, many different lyrics, and then eventually it just self-finished, I guess. I finished it earlier this year.
Were there other electronic artists whose material inspired your new music?
Ooh, I don't know! I don't feel like [I drew a lot from] new interesting artists, I think that I was more inspired by my environment. I was spending all this time in America and in hip-hop studios, a lot of time working with rappers and being in clubs and places that were [a lot of] fun for me and it was all very strange, but very inspiring at the same time. I think sonically, that was what inspired me rather than any other artists.
What was it like working with GoldLink on Sticks and Horses?
To be honest, it was pretty remote. I was so happy – I've never had someone send me something remotely and [been] just immediately happy with it. I feel like he's a genius lyrically and just completely understood the track, he put such a perfect finish to the whole thing. So we actually never met in person – we've spoken a lot through email and Twitter and text and the phone but we've never actually physically met.
Does it feel strange having created a song with someone you've never met in person?
Totally. I mean, it's actually a first for me because I'm a big believer in the need for [collaboration], but this is a new medium [for me], and I was like, "I'll just try it out and see how it goes". I think that we still have a certain friendship and rapport – it wasn't going through managers or going through people, it was very much a direct artist communication, so I think that softened any sort of reservations that I would have had about working with an artist remotely. It was super cool, he was so cool.
Speaking of working artists remotely, you've had your single Talk Talk remixed in a special EP – how did you feel about letting another artist remix your song like that?
That's all love and all good vibes. Will is actually a really good friend of mine – we've been friends for three years or so, and I literally just sent him the acapella. He said, "Oh, I wanna work on Talk Talk" and I was like, "Cool!" I just sent him the acapella and he sort of surprised me one day when we were in Bondi – he was like, "Hey, I made this version and I think you might want to release it" and I was like, "Okay!" I loved that idea, and I think he's brought this new life to the song and it's very much good vibes, it's really cool.
You've got a national tour coming up next month, what are you most looking forward to about returning to Australia with Sticks And Horses?
I love Australia. Australian audiences are the best. I'm so excited, I'm bringing my original band back from the UK and I just really want to put on a show. I think this whole tour – for me, the intention of it is to really bring a sort of full theatrical experience to the music because I think that's where my head is at [right now]. So I hope there'll be…I guess a bit of bells and whistles, just lots of fun, and being able to play something and rehearse and create a story…yeah, I'm very, very excited.
You mentioned a "sex, money, power" theme, what made you want to explore that theme with this tour?
I think that creatively the body of work that I've been working on very much lends itself to those themes, for whatever reason. It's all my observations of sex, money, and power, and just how intrinsic they are to everything that we do. There's an underbelly that exists across all areas of life, I feel, and I've spent a lot of time observing that, and so what I'm creating at the moment is like a manifestation of that, visually, sonically and lyrically. It fascinates me, and I think I'm really excited to bring that into a live medium because it's kind of raw, [it's the] energy that I'm feeling at the moment, so I hope it will translate well.
So do you have the plans all written out for the tour and how you're going to bring the audience into your "twisted universe"?
Ha! I'm trying! I've been in rehearsals – I've been doing, like, 18-hour days working in the studio with my band…figuring out whether I want to cover songs, and putting the lighting together. I'm very much across every element of it which drives me a little bit crazy, but for me it's very much like an all-encompassing experience, everything has to work cohesively.
So it's going to be like your baby when it's done, every element chosen with a purpose.
Definitely, exactly.
You're playing alongside some pretty big names at the Maroochy Music and Visual Arts Festival, who are you most excited to see live?
Oh yes, I'm really excited about that! Can you remind me who's on the bill with me?
There's Matt Corby, Peking Duk, Allday, City Calm Down, Client Liaison…
I love Client Liaison! They're my favourite, I'm going to pick them. I met them at Groovin The Moo, and I think they are very cool individuals and I think they're incredible performers, and I love [that] they bring theatre to the performance and they make it exciting and they really embrace proper performance style.
Have you got any surprises up your sleeve for your own festival slot?
I guess we shall see! We'll see who's around. I haven't planned any yet. I'm just focussing on getting the show into its perfect form and I'll figure out who slots in.
Check out George Maple's Sticks And Horses music video below, and catch her on her national tour next month!  
George Maple "Sticks And Horses" Tour Dates
FRI 8 JUL
Metro Theatre, Sydney
Fat Controller, Adelaide
WED 13 JUL
Corner Hotel, Melbourne
FRI 15 JUL
Oh Hello!, Fortitude Valley, Brisbane
Jack Rabbit Slim's, Perth
Get Tickets HERE
Maroochy Music and Visual Arts Festival 2016
SAT 10 SEP
Horton Park Golf Course, Sunshine Coast
Get Tickets HERE