Interview: Henry Clarke from Stillwater Giants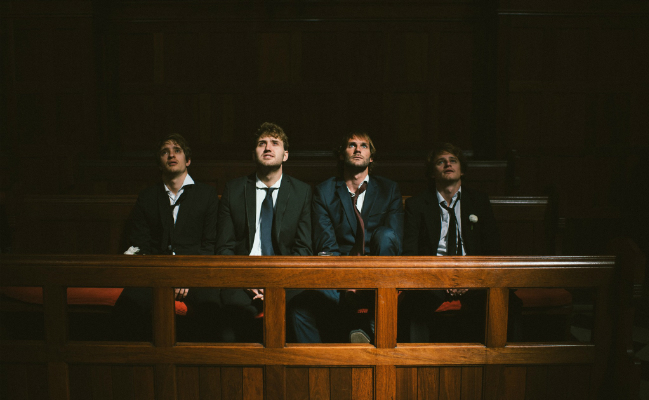 Stillwater Giants hail from sunny Perth and specialise in writing indie surf-rock earworms. Their new single Montage is no exception to this rule. Their debut album 'Munich' is out this Friday, so we had a chat about any nerves that may be jangling as we approach its release, the origin of their magnificent band name, and how Margaret River would react to a visit from giants.
Stillwater Giants is a glorious band name, is there an equally exciting story behind how you came up with it?
We did 'um' and 'ah' a few names. Angus or Kyle blurted out [the name] while we were jamming. Correct me if I'm wrong, but I think it originated from a level in a video game. When we first realised what it meant, we were sort of like, "Oh, is that what it meant?" [laughs]. But then it sort of stuck and developed a bit more meaning and it sounded pretty cool so we just went with it.
It must be pretty exciting for you with the debut album 'Munich' about to drop. Are you feeling proud of the finished product and how are the nerves?
It's a bit of everything, I think. It's probably also massive relief too, because it's taken a bit longer than we would have liked to get it done. It has been done for a while now but we just had to get the timeline right. So it's really exciting for us to finally have the full-length out and at the same time it's kind of a relief to have it 'ticked, ticked' and it's ready to start getting ready for the next project.
Is there anything on the album you listen back now that it's complete and wish you could change?
I tend to think when you overthink things, you take away the initial buzz around what you had. You can go back and over-correct and over-correct until you turn it into something you've sort of f*cked up in a way.
The first two singles Montage and Patience are indie surf-rock bangers, can we expect more of this on the album and are there any surprises thrown in there?
There's sort of upbeat, rocky songs like Patience. There's a few more that are anthem-style, there's a couple of slow ballads. So there's a little bit of a mix…of songs that sort of all fell into place.
After two EP's, you guys have decided to jump into creating an album, did you feel like the approach to creating an album differed to your previous recording experiences?
Yeah, a little bit. We knew we were recording an album and so we were prepared to do a little more work.  Doing an album was always on the cards. The album process was slightly different in doing it live…We wanted to catch that raw, live sound and see what came out of that; what energy was sparked by cranking all the amps and chucking us in a room and blasting it.
Do you feel like the hiatus you took following a hectic 2012 had an impact on your song writing, and the band as a whole?
Definitely, it did. For good and for bad. The good reasons: we did need a bit of a break. We were getting caught up in what was going on. Guys were finishing uni, doing work, a few personal things people needed to deal with. There was plenty of time for songs to be workshopped, there was many occasions where myself, Angus and Kyle were in Perth and Tom was down south.
So us three would sit there for days and workshop songs. The bad reasons: we didn't keep up the momentum we had. We wanted to get songs out but we weren't 100 per cent comfortable with just putting a song out for the sake of putting a song out.
You're playing shows to promote the album in Western Australia throughout July, but can the rest of Australia expect to see you guys soon?
Yes, you definitely can. I can't actually unveil what's going on, but to give you a tease, we will be over there doing most of the cities within the next few months.
Lastly, if Margaret River was visited by giants, how do you think you would react?
I'd go down and check it out. I think there'd be a lot of weirdos coming out of the woodworks doing their usual 'Margies' things. I think our reaction would be, 'Let's see if we can speak to someone and do a gig and get involved'. Coming from a small town, some of those bigger events everyone gets to get together. There's a fair bit of community spirit there.
Stillwater Giants' debut album 'Munich' is out Friday, 8th of July.
Stillwater Giants Live Show
SAT 9 JULY
Amplifier Bar, Perth