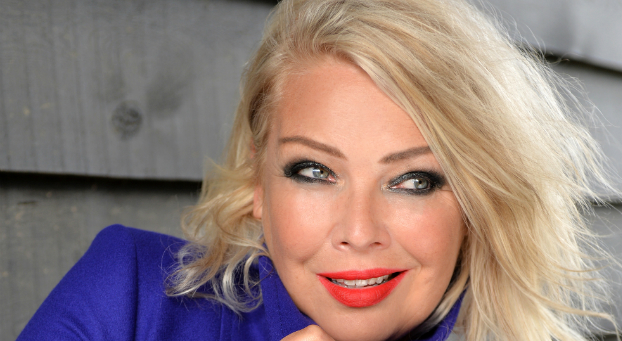 80s synth-pop queen Kim Wilde is finally coming back to Australia after three years! This time she's teaming up with the legendary Howard Jones for a few nostalgic nights dedicated to a generation of teased hair and skin-tight lycra. We caught up with the Kids In America songstress to discuss the upcoming tour, charity projects, and horticulture hobbies.
What are you most looking forward to about coming to Australia? 
Well, I've been coming to Australia since I was 13. I first came with my dad in 1973 and I think when you travel to a country that young and impressionable, it stays with you forever. I always felt a little part of my home was in Australia. I started coming again in the 80s when my career began and went on the big shows at the time – Hey, Hey It's Saturday and stuff with Molly Meldrum, and I just kept coming back. I did a tour in the 90s and an 80s tour in the noughties, and I went backpacking in '94 which was really good fun, so I have a really strong connection with Australia.
What can fans expect from your shows?
It's been built as an 80s extravaganza so we're not going to let anyone down in that respect. We're going to obviously throw in all our biggest, greatest hits and a few surprise tracks – maybe interesting covers from other 80s artists. Howard and I have yet to sit down and plan what we could do together, which would be lovely. I've known Howard quite well, I've worked with him over the years and he's a beautiful human being inside and out so I'm really looking forward to being on tour with him. He's a very gentle man and he's written some superb, timeless pop records. 
Do you ever get sick of singing your classic hits? 
Back in '96 – I think that's when I got married – I actually retired for a while because at that point I had a career about 16 years old and I was really fed up with everything to do with the music business and certainly singing Kids In America, so I didn't for several years. When I started singing again I realised how much people loved that song. I just kind of fell in love with it again and I've re-recorded it over the years, but now I've got it back to how it sounded originally – very synth-led and rocky still, with a kind of punk attitude. That's what you're going to get when we come down and see you guys.
How do you keep your voice in such good shape?
Oh, thank you! Yeah, I mean it's a strong voice for sure and I think a lot of it is genetics. My dad's voice is still stronger than ever and he's in his late seventies now so I think that plays a part, but I do a lot of singing. It's like any muscle if it doesn't get used, so I'm always singing. Singing is such a huge part of my life, I can't imagine a day without singing at some point.
Your songs have been covered by many bands over the years including the Foo Fighters and the  TV show Glee. Do you have a favourite cover?
There are a couple. There's a recent one from a band called The Shields who've done a really interesting, laid-back version of Chequered Love. My brother, who wrote that song together with my dad, and I have started doing the version this band has been doing, which has been really fun. It's a spin off, taking a pop-rock record down to an acoustic vocal-led rendition. It's crazy but it really works. Then recently I joined a thrash metal band called Lawnmower Deth who were playing at the Download Festival, and we did their version of Kids In America which was very fast, very punky, and mad. I really loved doing it, so yeah, it's from one extreme to the other – thrash metal to quiet acoustic. Astonishing!
What other projects are you currently working on? 
We've virtually finished recording a new album which we've been working on over the last couple of years and we're over the moon about. At the moment we're talking shop with various record companies… I imagine at this point it won't surface until the very beginning of next year now but I'm very excited about it!
Looking forward to hearing it! Is it the same genre of music? 
Yep, it is. It's quite 80s-influenced pop-rock, and it's not a million miles from what you can imagine a Kim Wilde record to be.
I recently read an article about your love for horticulture. How did the interest first come about?
We moved from London to the countryside when I was very young and the difference was so dramatic and it had a big impact on me. I went from London to the countryside where people were growing vegetables and flowers and there was a lot of natural beauty everywhere. I absolutely fell in love with it as a child. Then when I got married and we were going to have our own children, I wanted that to be a big part of their life too. When I went back to the countryside I started growing lots of plants and studied at a local college for a while. I just got immersed in it. I ended up writing books and got involved in competitions and doing TV. It just became a massive part of my life. Now it's more on the down low. I work with local horticultural projects, but music has taken over. Music is on the front-burner again, but I have both of them. They compliment each other.
Do you have a horticulture specialty? 
I love knowing as much as I can about different kinds of plants. I'm very interested in acquiring knowledge about more plants and how they do well. I love working with shrubs and herbaceous perennials and I love the design aspects of it. I'm an old art student, so for me working with plants is just a different way of working with paints and drawing and composition. It's a very creative process for me to garden. I've had a go at growing vegetables over the years but normally the slugs get into it before I have a chance to eat anything.
You've been a part of several charities including Thrive, Waste Not and a Breast Cancer fund. How did you get involved in those charities?
Thrive and Waste Not are projects that work for people and plants and I've always felt there was a lot of healing to be done there. It's very therapeutic being outside, especially for people with mental health issues and people who've found themselves in difficult situations, or people who are just lonely and need some company. You're never alone when you're working with plants. I mean, I talk to plants quite often and I don't feel like I'm working with inanimate objects like a can of baked beans. When you're working with a plant, it's a part of this earth the same way we are, so I really believe in the therapeutic benefits of people working with plants. Thrive does that nationwide while Waste Not does that locally, and I volunteer there regularly. I'm a big part of that project here at home.
Breast cancer has infected members of my family and I'm raising money for a local unit, which screens women locally. I like to do things I can see the results of and stuff that doesn't get swallowed up by bigger charities. I do give to big charities too, but I'm more interested in working with projects where I can see where my effort is going.
What is essentially the heart of your music?
I was brought up on music as a small child and it was the one thing I responded to most powerfully even as a three or four year old and that's never changed. I think music has a great capacity to unite people in a way that most things fail at doing especially religion. It's a great leveller. Music is one place where everyone can come together and unite humanity and it's inspiring and fun. It reminds you what it's like to be alive a lot of the time and so for me that's never gone away. It makes me feel the most alive I can feel!
Catch Kim Wilde on her Australian tour in November! 
Kim Wilde & Howard Jones Australian Tour
WED 2 NOV
Canberra Theatre, Canberra
FRI 4 NOV
Enmore Theatre, Sydney
SAT 5 NOV
Eatons Hill, Brisbane
SUN 6 NOV
Jupiters, Gold Coast
WED 9 NOV
Rooty Hill RSL, Sydney
THU 10 NOV
Wrest Point, Hobart
FRI 11 NOV
Palais Theatre, Melbourne
SAT 12 NOV
The Gov, Adelaide
SUN 13 NOV
Astor Theatre, Perth
Get Tickets HERE