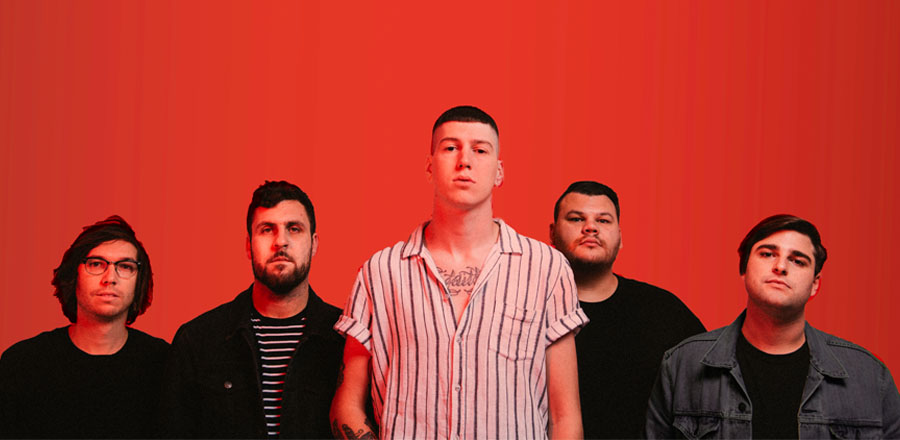 With their third studio album being released today, Trophy Eyes have brought their sound to a whole new level. 'The American Dream' is an absolute masterpiece full of huge, anthemic tracks. We also had the pleasure of having a chat with lead singer John Floreani, who shed some light on how the album came to be. Check out what else he had to say below.
Can you tell us a little bit about how you approached writing the album, and where the concept for 'The American Dream' came from?
I finished 'Chemical Miracle', got home from Thailand, sat down and started writing again… I went to Texas and lived there for a little while with my girlfriend, Bianca DeLeon, and continued writing. I found that the sound of where I was living and how I was feeling was starting to create a theme in the songs, and maybe even a pattern. I noticed a similarity between each song, and that was that they sounded like where I was. That was Texas in summer… hot summer nights by the fire and honky-tonks, smoking in bars and things like that. I wanted to get that feeling and put it together. When I found a pattern and a theme I said, "Ok, well this is what I've gotta make this sound like." And I guess that's where the title of the record came from as well, the American dream idea of leaving Australia behind and going to the States and starting somewhere new, and with a bit of hard work I can achieve what I've always dreamed of. I guess that is the American dream.
You've previously worked with producer Shane Edwards on your last two albums, yet 'The American Dream' feels so much bigger and more dynamic. How did you work with Shane to build this new sound, rather than doing what most bands would do and bring in a whole new producer?
As a creative person, Shane is always growing just like us. As you write more and you practice your trade more, you slowly get better at it. I think we came in with something bigger again than 'Chemical Miracle' this time and we showed Shane and he said, "Yeah, I'm ready for this record now too." I think both working together and having all these new tools at our fingertips like anthemic strings and different ways of doing choirs, gang vocals and guitar tones and all these different kinds of things—we realised that as both of us has kind of advanced a little bit we'd both made the record sound much, much bigger than we ever could have hoped.
Speaking of gang vocals, whose voices can we hear singing them?
We just wanted to get that sound of there being a lot of people, much like a soccer chant or football chant, just like a large group of people singing. Instead of the aggressive punk rock/pop punk sound of gang vocals, there was no aggression. We didn't want any aggression in there, we wanted more anthemic singing. There were a lot of us, Trophy Eyes included, all the boys were standing in there having a sing. There were friends, other songwriters, producers, and people from all over the world. In the chorus of Miming In The Choir, we had Bianca and her brother and sister… I actually tracked them at home singing the little counter melody in the chorus of Miming In The Choir, so that was a fun little thing to do.
The fans have been responding very well to the new stuff so far. While writing new material, do you ever think about how the fans will respond or do you try to stay focused on what you want to do?
I think if you focus on what people are going to think of what you're creating, that'll be the death of what you're creating. I think all the best art that comes out of anywhere in the world is honest and different, expressive and risk-taking. If you start writing for a demographic, you start writing for what you think people might like and I think that becomes unoriginal, boring, done already. I think that's where scenes get stuck, sounds get old and dry, and genres ultimately die… When we write, it's strictly from the heart. We write whatever we want to hear and we go into the studio in an attempt to write our favourite-ever record. If you go into the studio to do anything other than that, you're wasting time.
Listening to the album, every song feels like it was written to be heard live, what can fans expect from the upcoming American Dream tour?
It's going to be much bigger than your average Trophy Eyes tour. A lot more production, a lot more thought put into it. Trophy Eyes has always been a raw and emotional band that's relied on expressing that emotion and energy on stage and I feel like we've always done that well. That's kind of been why people have come to see us over all that time, and as we've grown we've been finding other ways of being able to do that. Bigger and better ways of expressing ourselves to make people feel something while we're playing… The level of production will be different, and much more inclusive and immersive. This time around, for 'The American Dream' tour, Trophy Eyes aims to make our listeners and friends feel really immersed in the album. Hopefully, people can expect to be moved by what they're going to see.
And finally, is there a track that you're most looking forward to playing live? 
Yes! I really can't wait to play I Can Feel It Calling. I think it's the best thing I've ever written in my life. It's the best job I've ever done at getting the time, and a place and a feeling into a sound. Ultimately, I believe that's kind of my job as a musician. After every song I've ever written I feel like this is the closest I've been to really nailing it. It makes me feel a certain way and it's definitely going to be hard to play that and have the emotion behind the track as well, but I'm looking forward to experiencing that myself and looking forward to playing one of my favourite songs that I've ever written, I think that should be really fun.
Trophy Eyes are on tour this October—see dates below. Read our review of 'The American Dream' HERE.
Trophy Eyes Live Dates
THURS 11 OCT
The Tivoli, Brisbane
FRI 12 OCT
Enmore Theatre, Sydney
SAT 13 OCT
FKA Festival, Hope Estate
THURS 18 OCT
The Gov, Adelaide
SAT 20 OCT
The Forum, Melbourne
TICKETS