Live Review: Laneway 2017 @ RNA Showgrounds, Brisbane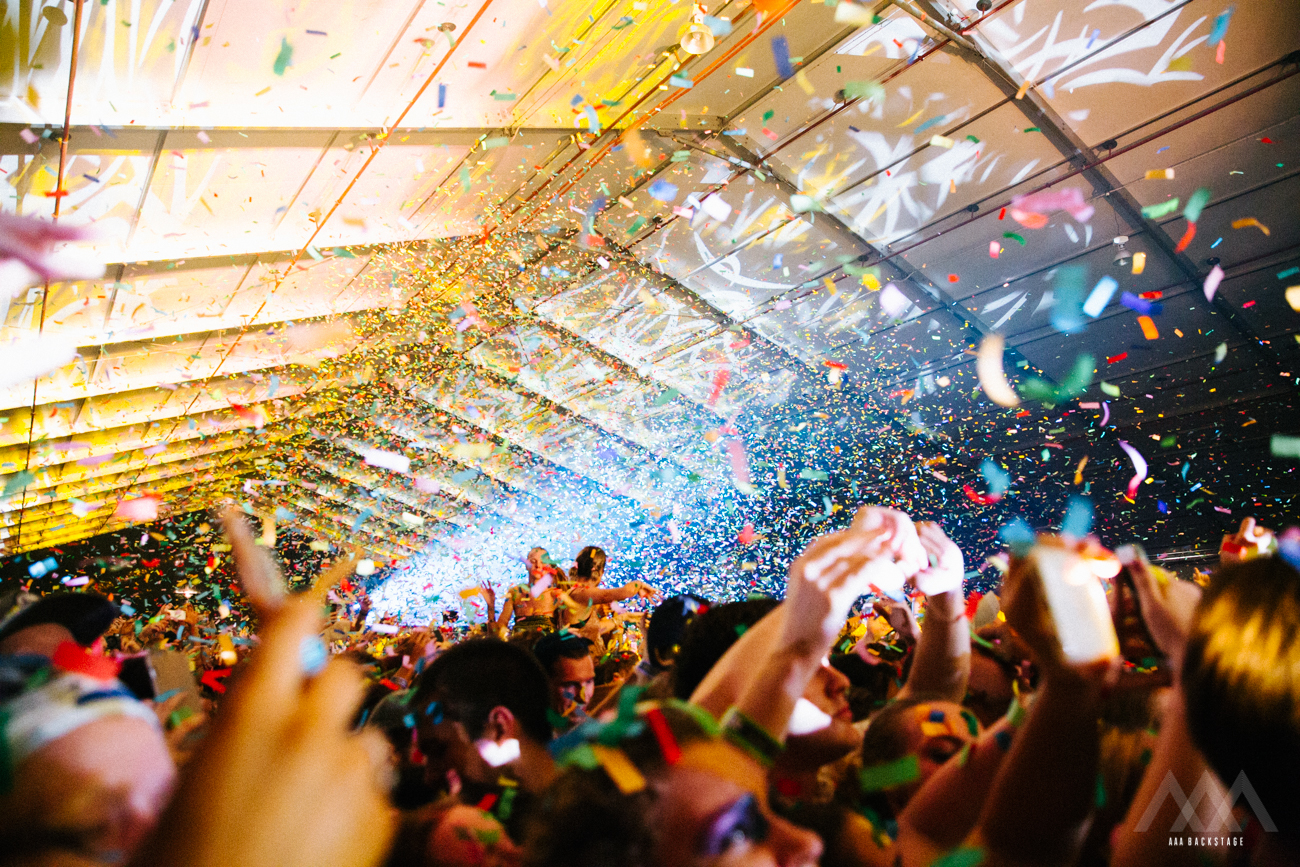 Australia Day: our nation's annual date (although that's up for debate) for cracking too many tinnies, sizzling BBQs, temporary flag tattoos, speed-dealer sunnies, backyard cricket in pluggers, and triple j's Hottest 100. But if you were in Brisbane, 2017's 'straya day also meant the Queensland leg of our nation's tastemaker live music event St Jerome's Laneway Festival, affectionately called 'Laneway'.
Tie-dye, faux leather, sarongs, high-waisted shorts, and an unusual amount of Akubra hats dominated the festival fashion. Compared to 2016's festival, which was headlined by Australia's freshly knighted king of music Flume, it seemed the crowd were mostly at Laneway for the music rather than ingesting god-knows-what and pretending they were at Stereosonic. As we walked through the colourful entrance hall, the vibe of Laneway was a mixture of excitement and survival with many punters chatting about both their anticipation for the day's sets countered by how damn hot Brisbane is in summer.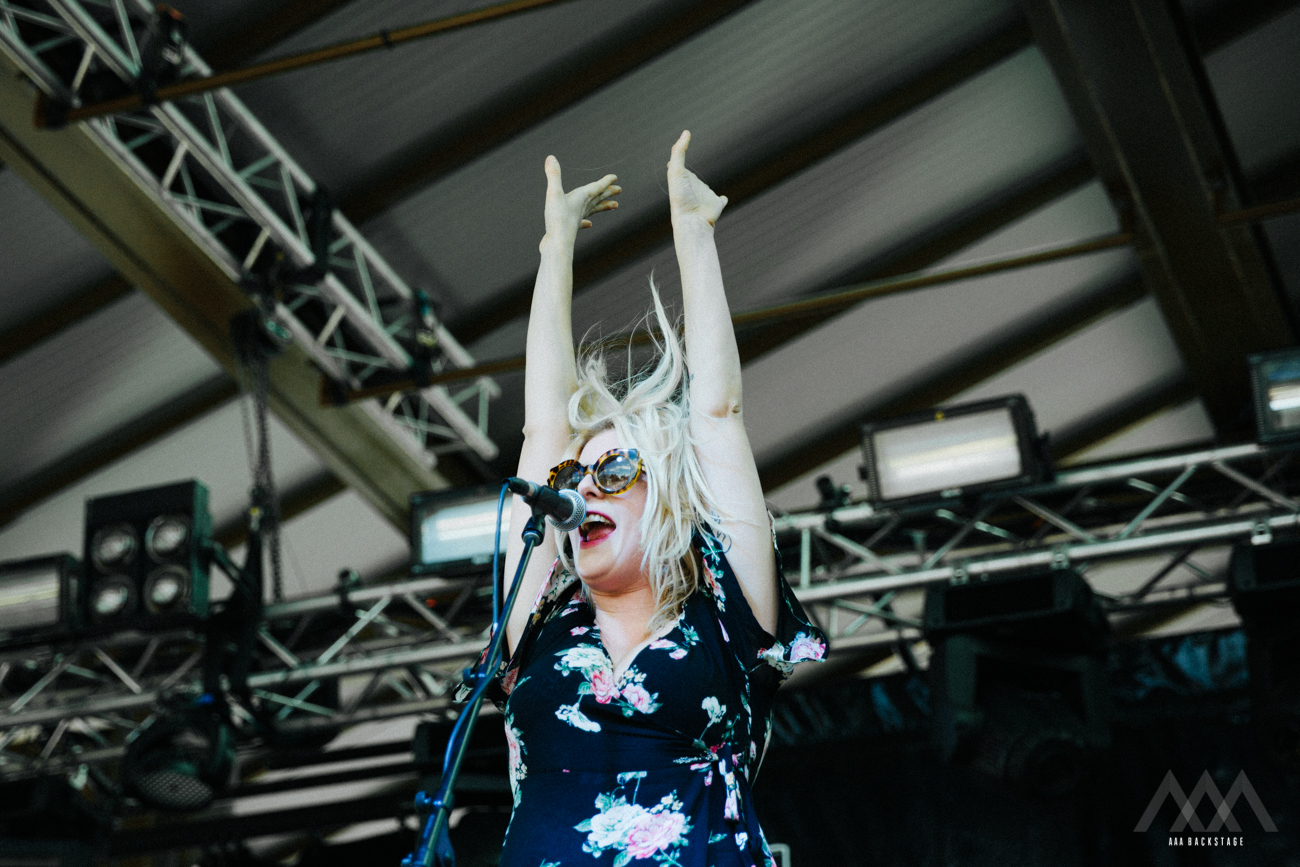 We started our 2017 Laneway experience with a set from Canadian punks White Lung at the 'Spinning Top' stage. The quartet exploded out of the gates opening with the one-two punch of I Beg You and Narcoleptic from their superb 2016 album 'Paradise'. The commanding presence of frontwoman Mish Barber-Way encouraged those braving the searing sun in the mosh to throw their limbs around as she howled, waved her arms at the sky, and even lied down on the stage during their raucous set. While they gave their performance their all, the sub-par sound mix (which would prove to plague all but the headliners' sets) frustratingly meant Kenneth William's intricate guitar work was mostly inaudible.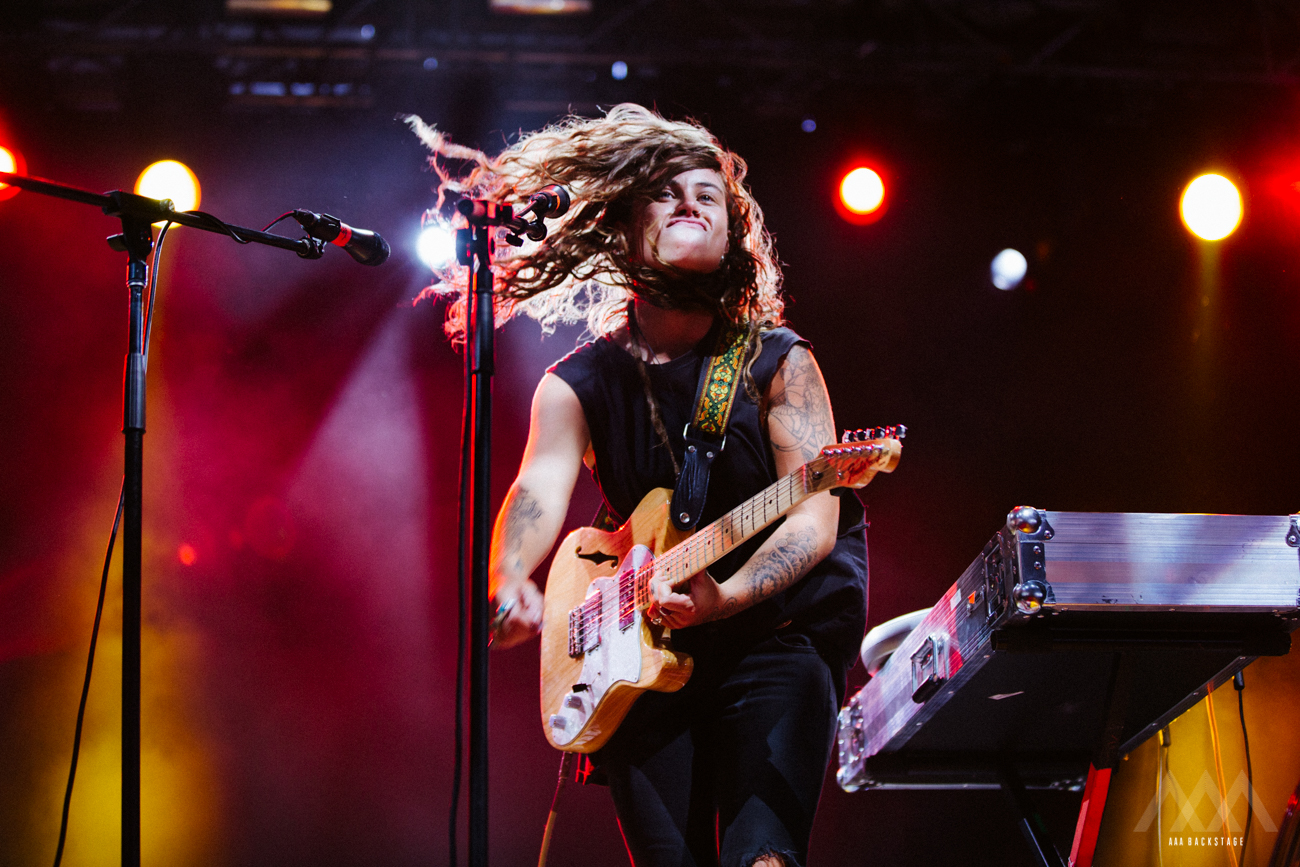 Power-walking across the RNA Showgrounds, we just made it in time for the start of Tash Sultana's set. The Melbourne self-taught multi-instrumentalist and looping-queen has enjoyed an incredible past year, thanks to her breakthrough debut EP 'Notion'. Playing for an audience size that would usually be reserved for festival headliners, Sultana delivered an absorbing set built on beautifully layered loops, a passionate and soaring vocal range, and charisma that could even make a rock crack a smile.
Between the atmospheric ebb and flows of her set, Sultana wowed with emphatic hair flicks, mandolin shredding, and the smoothest beat boxing you've ever heard. Her closing track Jungle was met with thousands of screams, and the dozens of girls atop shoulders had an envious view of one of the day's best guitar solos.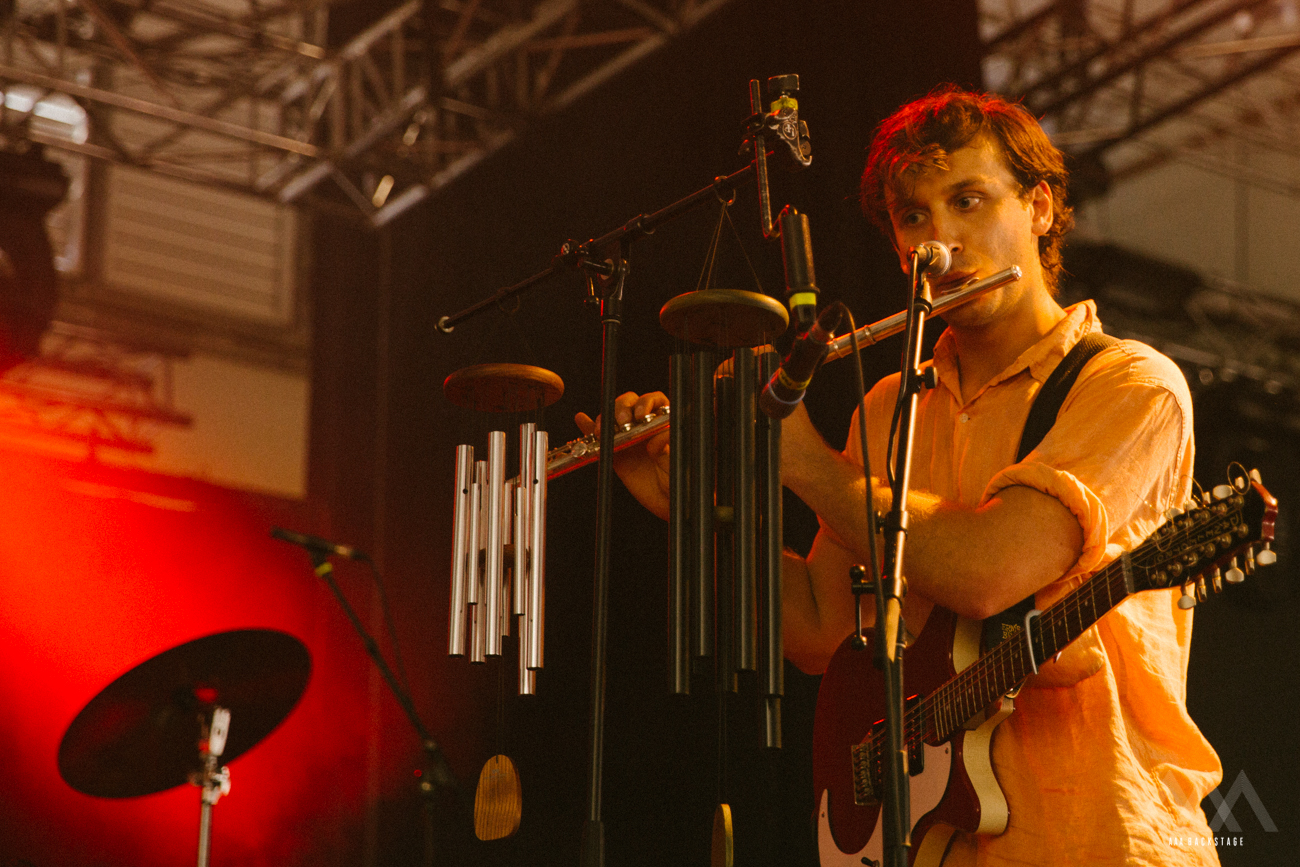 Next up on the other main stage was fellow 2016 Aussie breakthrough artist D.D Dumbo. His 2016 debut album 'Utopia Defeated' took out the J Award for 'Australian Album of the Year', and as such most of Sultana's crowd simply moved 30 metres to their left. Weaving through a sea of instruments set up on stage, Dumbo and his three band mates were met with a warm welcome before launching straight into Walrus.
The sight of a contrabass saxophone, a series of bongos, and a harp suggested Dumbo was going to attempt to recreate the multitude of musical textures of his debut album, but sadly the sound mix meant his lavish arrangements were heard sporadically at best. It also became clear the most of the crowd was there to socialise rather than to drink up Dumbo's beautiful soundscapes. As such, after hearing Satan we figured grabbing some lunch was more productive than not be able to hear Dumbo amidst the chitchat of thousands of Glitter Kweens.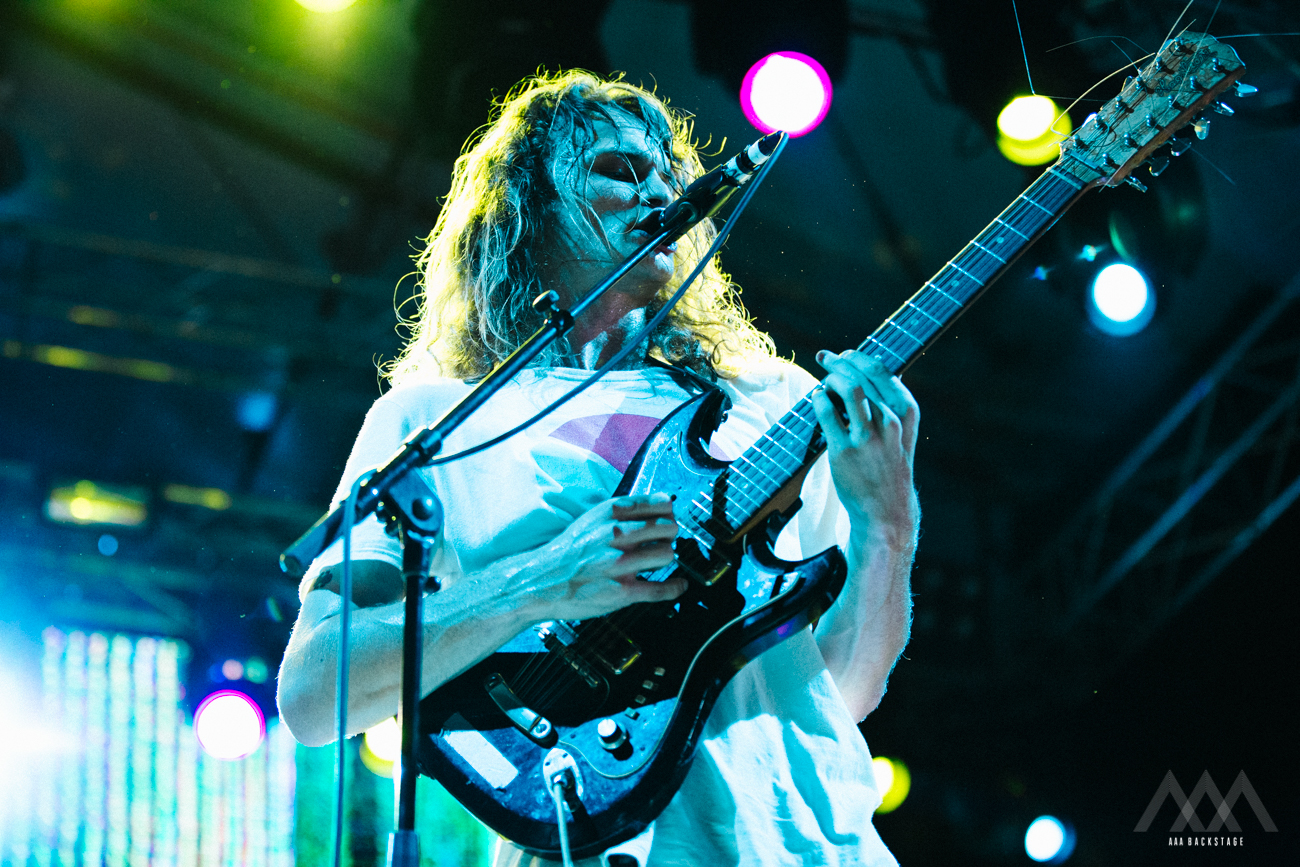 King Gizzard & The Wizard Lizard provided the perfect soundtrack to waiting for my 'Mr. Meat' burger, with caramelised onions that were nearly worth the slightly too long line in the sun. Craving some tunes that would cause less of a sweat than Robot Stop, we headed to the 'Spinning Top' stage to catch Norwegian songstress Aurora. Sporting a crisp white lace dress, the alt-pop artist's three-way harmonies and upbeat songs entranced the hundreds in the shaded courtyard. As delightful as Aurora was, even though we couldn't hear the 3+ synthesisers and guitar onstage, it was time to high tail it back to the main stages to catch Sydney's Gang of Youths.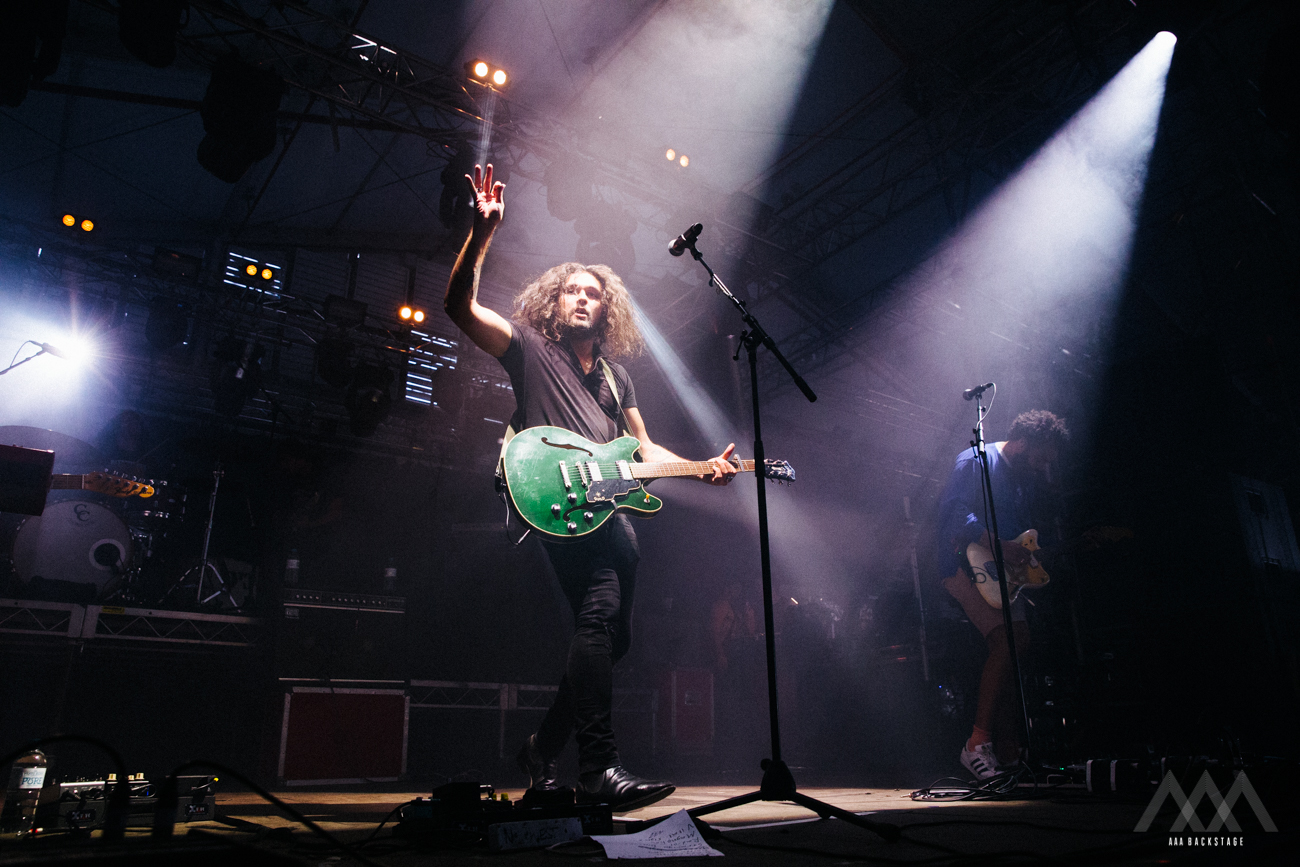 With David Le'aupepe at the helm, the quintet always throw everything they can into their set. After a brooding upbeat opener, Le'aupepe addressed the heaving mosh, "We're not good enough to be at this festival, so thank you for coming along and showing your support for the arts!", before kicking into Poison Drum. Even though their two guitars were nowhere to be heard in the mix, the song's driving beat had everyone moving, and Le'aupepe had everyone yelling "I'm not afraid" as he climbed the stage's scaffolding.
Strange Diseases and Radioface descended into a sing-along conducted by Le'aupepe, and their biggest song to date Magnolia was given a special introduction, "Say yes to life. Be kind and compassionate, especially on a day like today, say yes to life!". Their short but sweet set concluded on Vital Signs, which saw Le'aupepe hit some incredible notes and the group leave the stage in a mist of blazing strobe lights timed perfectly with frenzied guitar strums and crashing percussion.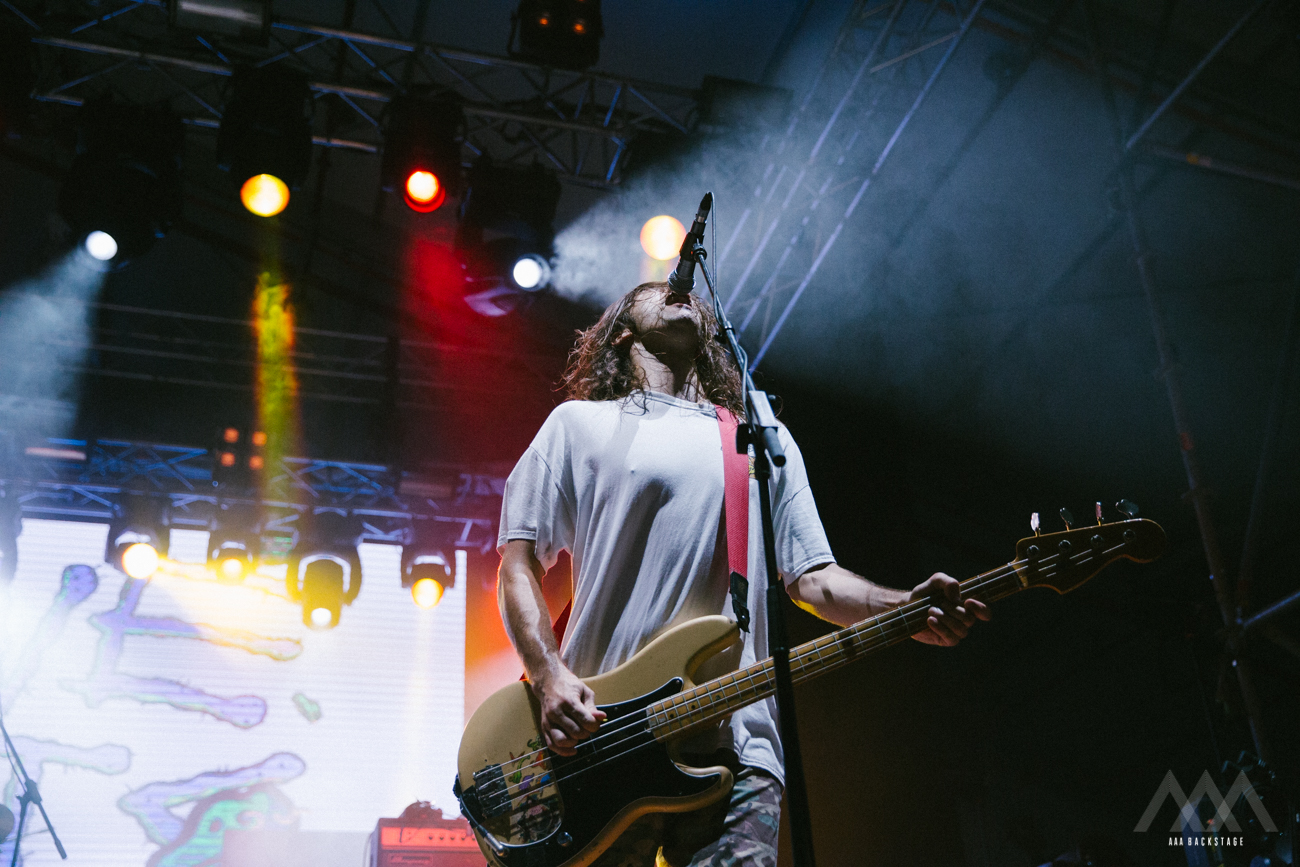 After being yelled at by bar staff for filling up my bottle at the "FREE WATER" station, we quickly re-hydrated and found a spot on the bleachers as Brisbane's favourite stoners Dune Rats took to the main stage. The replacements for Young Thug were the perfect band to deter the crowd from taking it easy in the unrelenting heat. We knew we were in for a fun set when guitarist Danny Beusa's first words were "How yar farking goin' Brissie?", before bursting into Dalai Lama Big Banana Marijuana.
Bassist Brett Jansch was a hair-flicking ball of energy as usual, and the feel-good vibes somehow lead to a hilarious game of mime-tennis at the back of the mosh while the front became a friendly wall of death during Red Light Green Light. Even though they come across in the media like loveable idiots, their vocal cannons in Bullsh*t and overall accomplished set proved Dune Rats are building to be one of Australia's premiere rock bands… of sorts.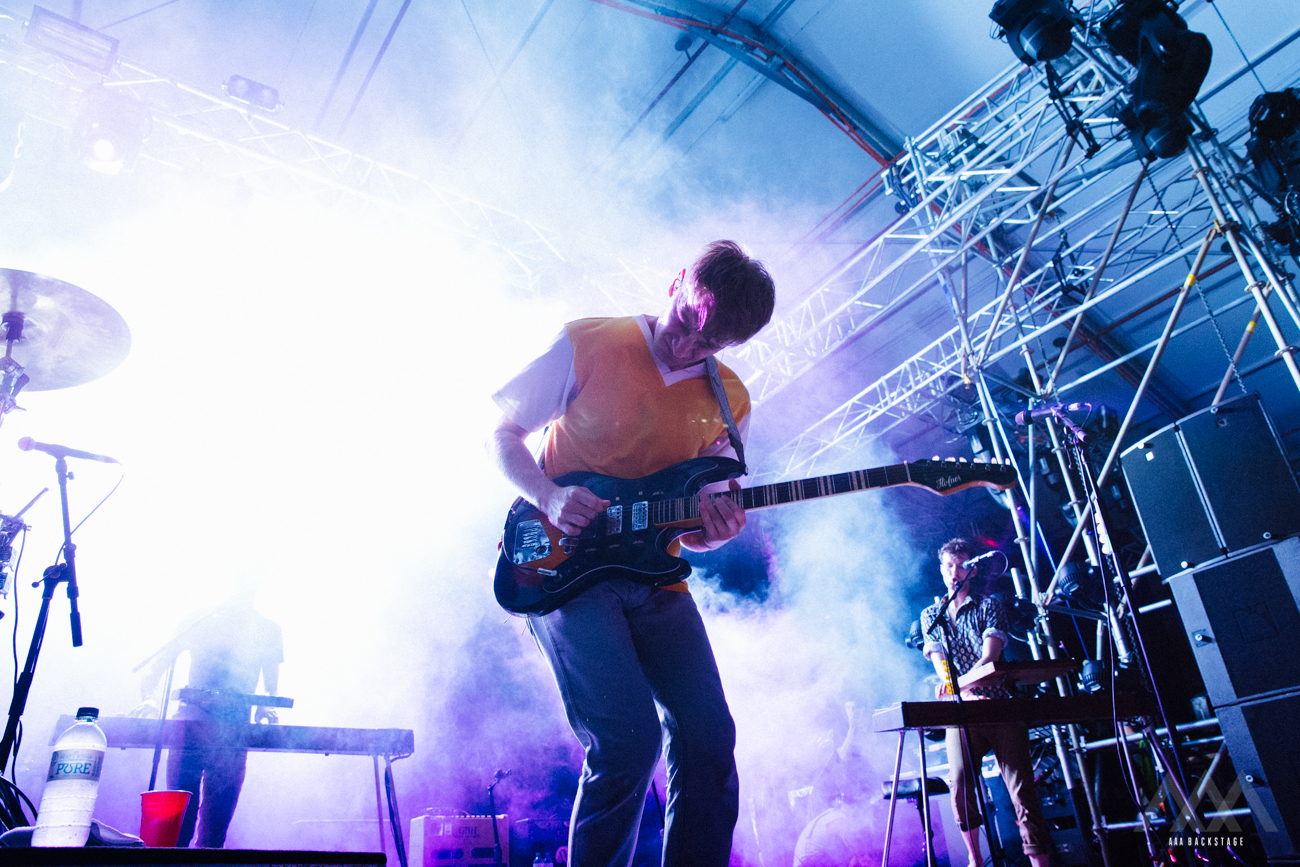 UK's Glass Animals, off the back of their acclaimed 2016 album 'How To Be A Human Being', unsurprisingly attracted a huge crowd. Enigmatic frontman Dave Bayley was ridiculously entertaining thanks to his unique dance moves, and drummer Joe Seaward had plenty of fun triggering a multitude of kooky samples and sounds. A strong aroma of Mary Jane meant Youth, Life Itself, and Season 2 Episode 3 were grooved along hard to, but their alt-pop hit Gooey proved to be the set's biggest sing along.
Glass Animals' affiliation with pineapples finally manifested in the set's closer Pork Soda, which saw Bayley playfully hit a pineapple before ripping a killer guitar solo while the adoring crowd deafeningly yelled "Pineapples are in my head/Got nobody because I'm brain dead".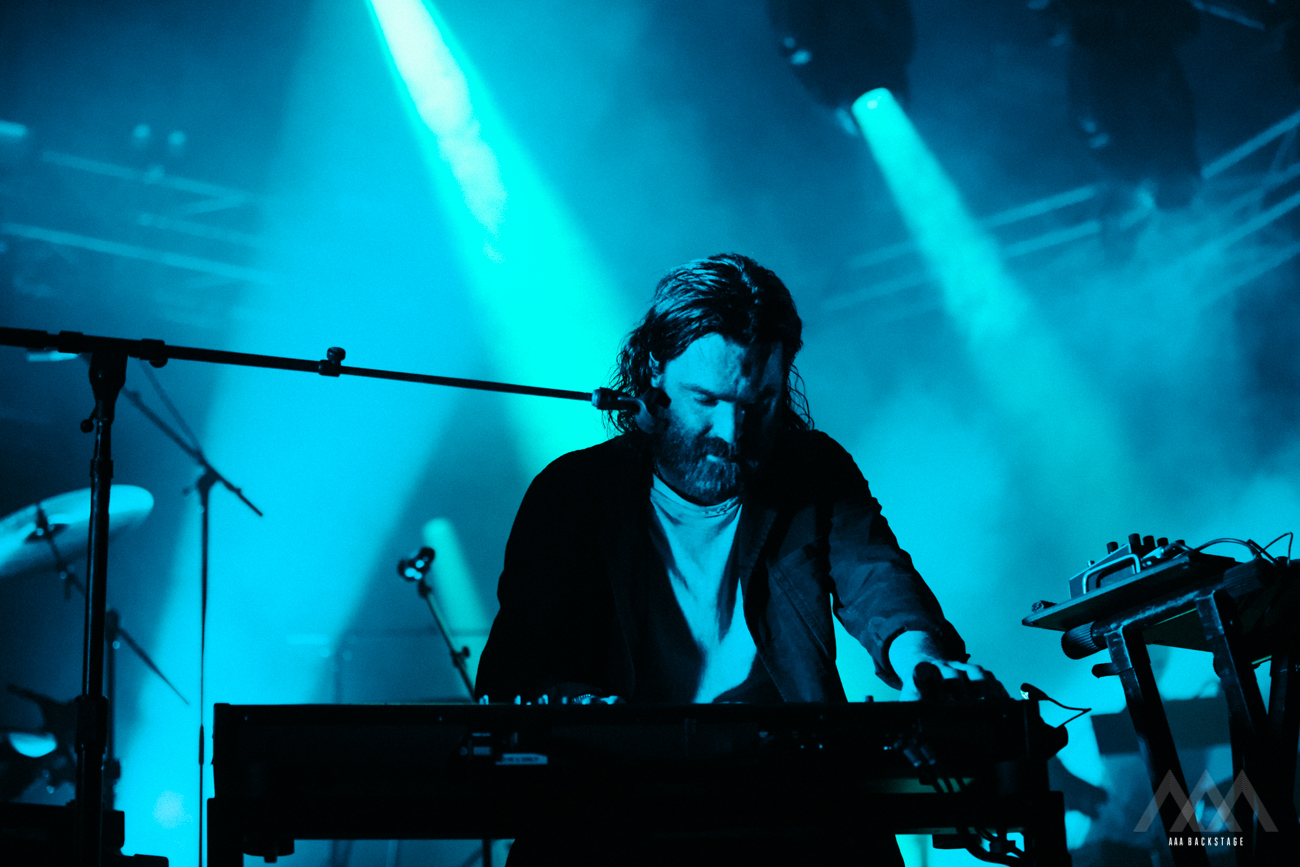 With plenty of atmospheric fanfare and brooding silhouettes, Chet Faker Nick Murphy opened his set with a wall of lasers and ethereal synthesisers as he gave Brisbane the first taste of his new musical direction. Between choruses Murphy bounced between guitars, keyboards, and howling like a wolf into a heavily delayed microphone, producing an incredible wall of sound even before his three band members added their layers. Much to the delight of the Laneway crowd, his 2015 collaborator Marcus Marr was brought onstage for a short cameo, with their funkilicious The Trouble with Us making the thousands of punters dance like bunch of lunatics.
The familiar cool-cat riffs of Gold, 1998, and the opening saxophone melody of Talk Is Cheap were cheered with euphoric screams, but Murphy drove home the fact he's no longer Chet Faker by adding a funkier swing to his 'Build On Glass' hits. In contrast, Cigarettes & Loneliness and his latest single Stop Me (Stop You) featured a much heavier electronic vibe, suggesting Murphy's upcoming album is going to be a melting pot of his soulful 'Faker discography and ethereal electronica. However, the set's closing refrain of just his voice and his trusty organ proved at the end of the day the real magic of his music is built upon his incredible voice and genuinely raw lyricism.
After giving Murphy a deafening applause off stage, the crowd simply shifted 30 metres to their right and began calling for the 2017 headlining band Laneway to appear. A swirling projection of a radar sight signalled the start of Tame Impala's set, and as Nangs approached its end Kevin Parker and his merry band of super-talented Perth musos walked out to a deafening roar. Confetti showed the hall as Let It Happen crashed like a wave on the crowd, and Parker's falsetto was replaced by the voices of thousands of worshipping fans.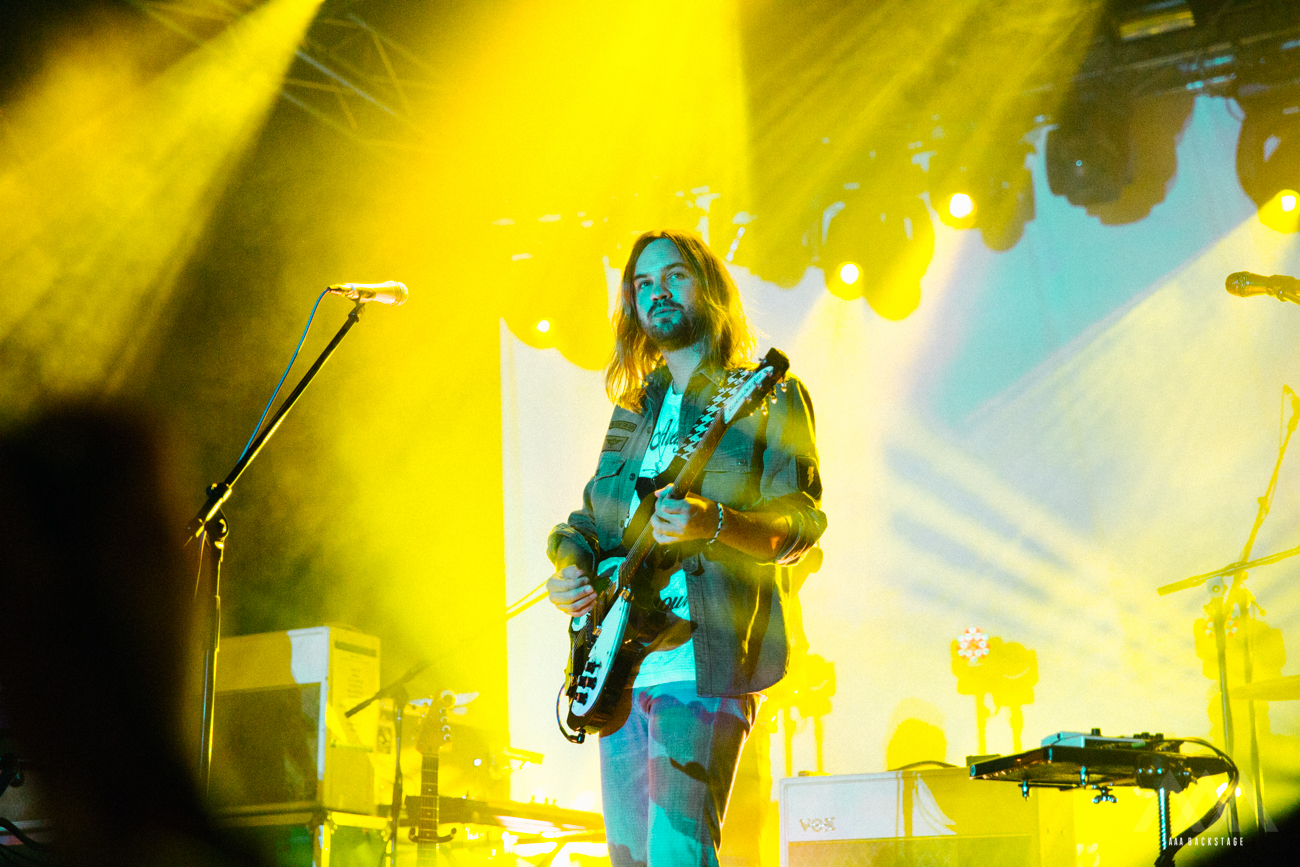 Psychedelic tunes Mind Mischief and The Moment allowed Parker to show off some new guitar moves, before Elephant evoked a frenzy of limbs and air drumming. Towards the end of the song some 8-bit drum tones and helium-manipulated vocals showed Tame Impala still know how to have some fun even after playing the track for the millionth time. Truly trippy projections and disco lighting meant 'Currents' tracks Eventually and The Less I Know The Better took on an even greater psychedelic feel, while a growing giant eye during Apocalypse Dreams even unnerved this sober reviewer.
Feels Like We Only Go Backwards was a massive sing along, which only got louder with another shower of confetti. After thanking the crowd, especially those who'd been there for Tame Impala's opening set at Laneway all those years ago, the psych-rock heroes finished on New Person, Same Old Mistakes. As the hall was illuminated in a magenta hue Parker and his crew seemingly cast a spell over the crowd, as thousands swayed in unison like docile zombies along with the spacey track.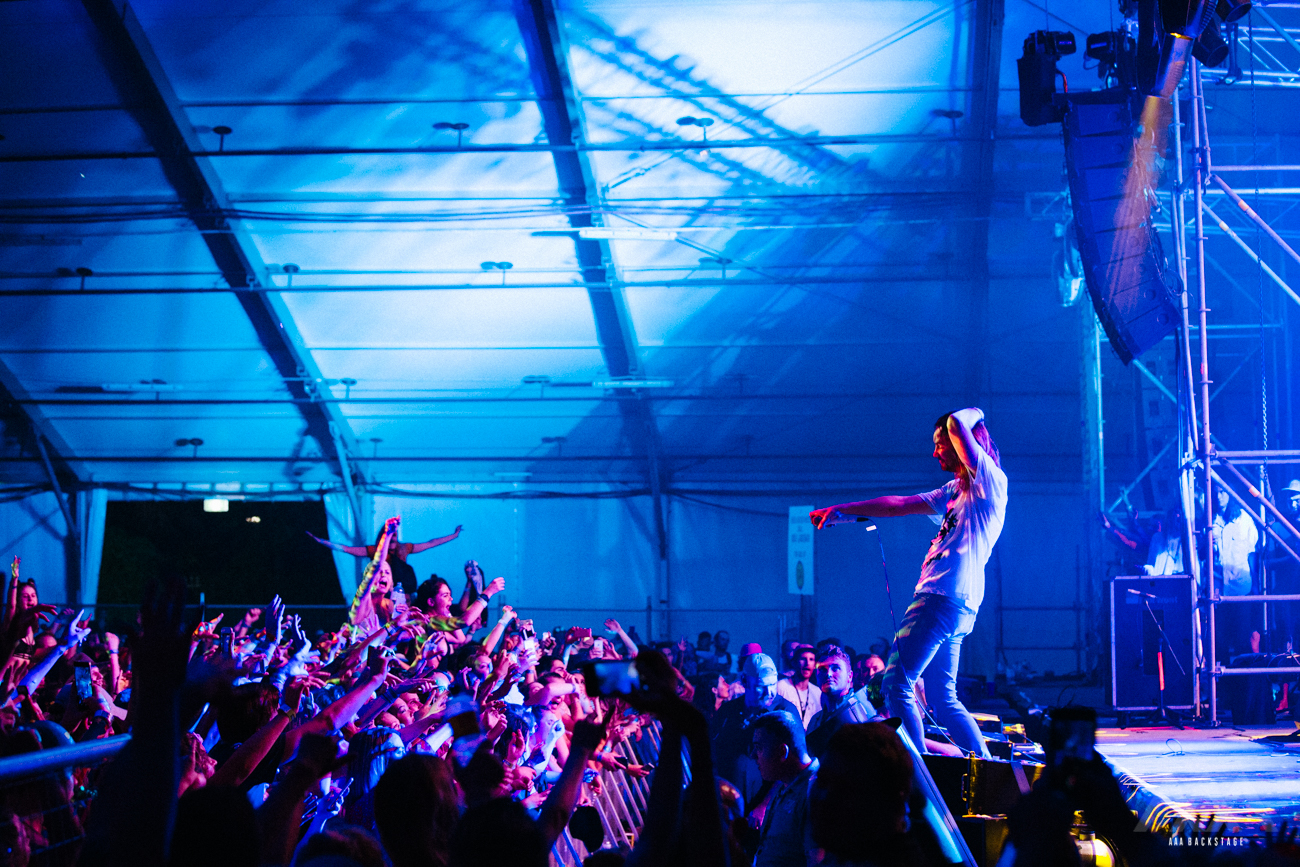 Covered in sweat and confetti, and suffering varying degrees of heatstroke, most punters chose to end their night on a Tame Impala-high, even though the pulsating beats of Jagwar Ma beckoned from across the showgrounds. Even though 2017's Brisbane Laneway threatened to divide friends who chose the festival over smashing tinnies and counting down the Hottest 100, a strong Aussie-led lineup and festive atmosphere meant drinking enough Vodka Red Bulls water was the only real issue on Australia Day at Laneway.
Check out our full Photo Gallery HERE