Live Review: Montaigne @ Brisbane Festival Spiegeltent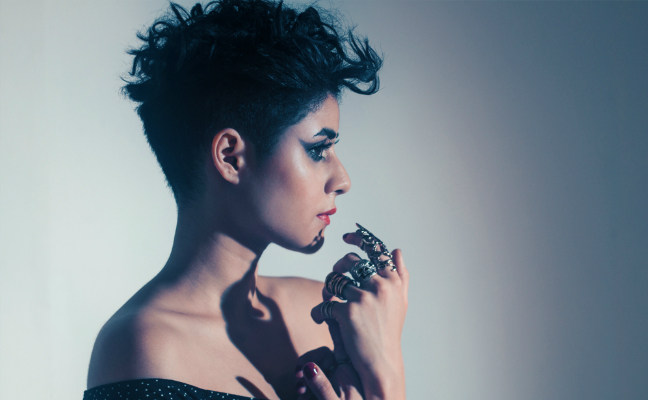 The first ever sold out Spiegeltent show on Tuesday night belonged to Montaigne, and her performance was more than deserving of the honour. As she opened with Fantastic Wreck, her powerful vocals could be heard from outside the tent, every note placed with grace and skill. Dressed in a blazing red coat, she seemed almost unnaturally comfortable on stage, building an instant rapport with the crowd through her sharp sense of humour and live versions of tracks from her "album of bangers".
Her shrieks and theatrical stage presence was everything that fans have come to love and expect – vocally flawless and brilliant in its eccentricity. Through Someone Greater Than Me she poured even more theatricality into her facial expressions, pointing out into the crowd with exasperated looks as she asked, "Are you the one?" As her small band filled the packed tent with thick sound, she took a moment to encourage anyone brave enough to copy her twitchy dance moves.
Montaigne created a new level of complexity with What You Mean To Me, contrasting subtle vocals with eccentric performance style. The crowd bobbed along happily but no one looked quite as overjoyed as Montaigne herself, who was visibly pleased with her high-note hit rate. The crowd clapped along and the band kicked up an energetic performance, finishing with a beautifully subtle held note.
Her shrieks and theatrical stage presence was everything that fans have come to love and expect – vocally flawless and brilliant in its eccentricity.
She was amazingly comfortable and confident onstage, cracking jokes all the way through the set, and as she coaxed a hesitant crowd into singing along during Lonely, she cheekily declared it "good enough". Still, it was clear that nothing could have compared to the feeling of singing to a room full of fans who knew every word.
Her voice was as steady as the constant drum beat through Glorious Heights, and even toning down the vocals couldn't cap her performance energy, but it was her performance of Consolation Prize that changed up the whole dynamic. Easily the album's most emotional track, it was best performed from the middle of the cosy crowd with only a piano for backing. She stunned the crowd into silence with a single note, long and high, before they erupted in cheers.
A perfect contradiction, her performance of Come Back To Me seemed somehow well-rehearsed and spontaneous at the same time. The intensity of each note showed on her face, her angelic held notes set an almost meditative aura over the room as the air began to smell of smoke. Even the quick succession of repeated falsetto in I Am Behind You couldn't trip her up, and she watched on as the crowd sang along.
Through In The Dark she showed off impressive control over her hands and facial expressions, like an actress portraying a character, and even shrouded in smoke and coloured lights, the emotion came through clearly as she threw herself around on stage. Til It Kills Me made for another dramatic performance and gorgeous restrained ending, a perfect warm-up for her latest crowdpleaser Because I Love You. The floorboards quivered as the crowd bobbed along, turning into a rumble as the song finished and they begged for an encore.
Montaigne returned to the stage with a guitar and launched into an acoustic version of I Am Not Your End, laughing that "they told me to tune the guitar, but I don't see a tuner". It was only a few moments before her band returned to the stage, and the crashing drum rhythms brought the song to life in a way that could never be captured on a recording.
Montaigne left her fans with an hour's worth of lasting memories and a few wise words: "It's good to thank people, it's good to be grateful, it's good to drink water" – solid life advice from one of Australia's most fascinating emerging artists.
Check out our interview with Montaigne HERE
Find out more about her latest single Because I Love You HERE