PREMIERE: The Northern Folk Wear Their Heart On Their Sleeve With 'Get On'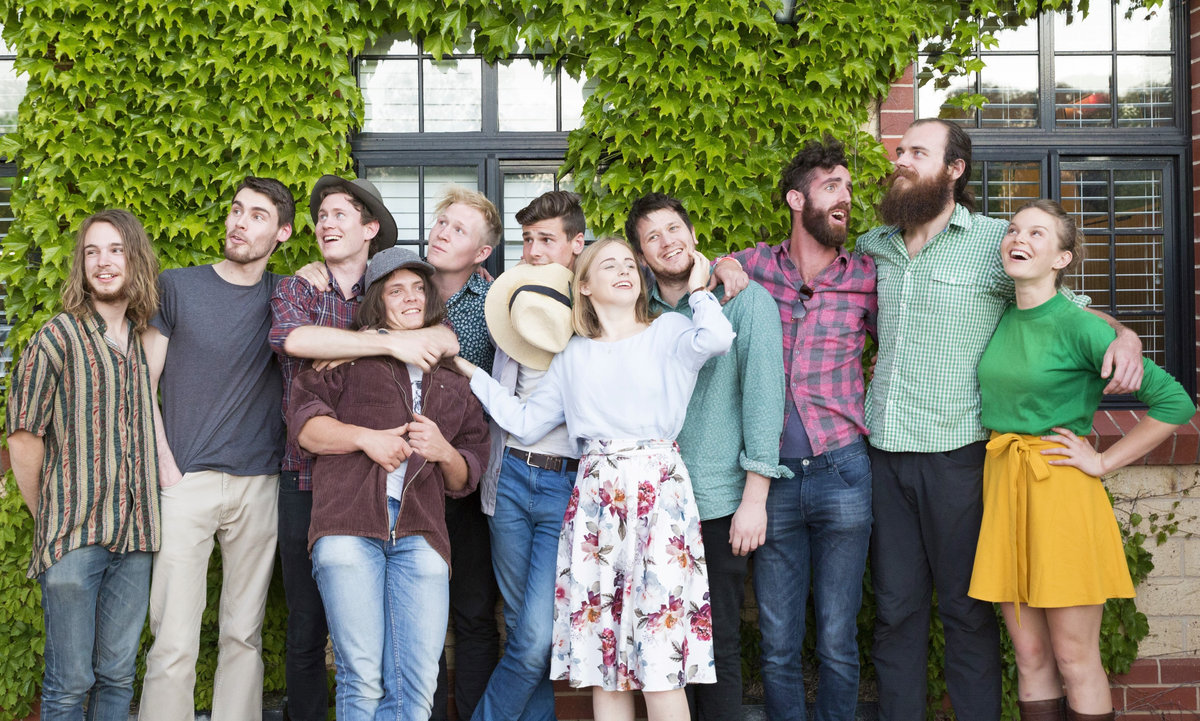 Put your heart where your mouth is and dive deep into the Northern Folk's waters. Attaining as much soul and genuine passion as much as an 11-piece can provide, the Northern Folk create heaving, smoky folk and jazz music that appeals to all senses. The group's new video, Get On, is being premiered exclusively through AAA Backstage before its official release.
Mashing heart-bending lyrical deliveries with a explosion and deep instrumentation as its platform to bounce and play on, the Northern Folk are one of the country's most dynamic group's to perform both live and in the studio. Although their influences may be apparent, the Northern Folk, due to their sheer numbers and amount of instrumentation and musical background all the members bring to the table, is almost genre-agnostic. Call it what you will, the Northern Folk fall into a beautiful and untouched musical category that sets them apart from the rest. Charm and energy ooze from every second of Get On.
Ever felt like a bit of a hermit sometimes? Trapped in your home, asked to come out but, instead, opted to stay home? The Northern Folk get it and wanted to tell a bit of tale through the video.
"The clip tells the story of a hermit frustrated with the world and going to some absurd lengths to escape it all, egged on by the band. We brainstormed the idea with director extraordinaire Callum Goodes, a housemate of some friends of ours with exactly the right amount of prop-making enthusiasm and scone-eating flair, who, together with his brother Ben (actor and owner of amazing hair), brought it to life in the sunny suburbia of Clifton Hill," said the Northern Folk.
Join the crowds and see what the hype is all about by attending an upcoming the Northern Folk gig. Luckily for you, the group will be on the road for the better half of 2017 leading into next year; including a round of festival dates. Scope all those details below along with the exclusive stream of Get On.
The Northern Folk Live Dates
SUN 15 OCT
Spring Fling St Festival, North Melbourne
WED 18 OCT
The Gasometer, Melbourne
THURS 19 OCT
Transit Bar, Canberra
FRI 20–SUN 22 OCT
Kangaroo Valley Folk Festival
MON 23 OCT
Rad Bar, Wollongong
WED 25 OCT
Brighton Up Bar, Sydney
THURS 26 OCT
The Black Malabar, Newcastle
FRI 27–SUN 29 OCT
Dorrigo Folk & Bluegrass Festival
THURS 9–SAT 11 NOV
Bendigo Blues & Roots Festival
SUN 12 NOV
Healesville Music Festival
SAT 9 DEC
By The Banks Festival, Albury
SAT 27 JAN
Summer Sounds Festival, Bermagui
FRI 2–SUN 4 MAR
Cobargo Folk Festival