Review: Falls Festival @ Lorne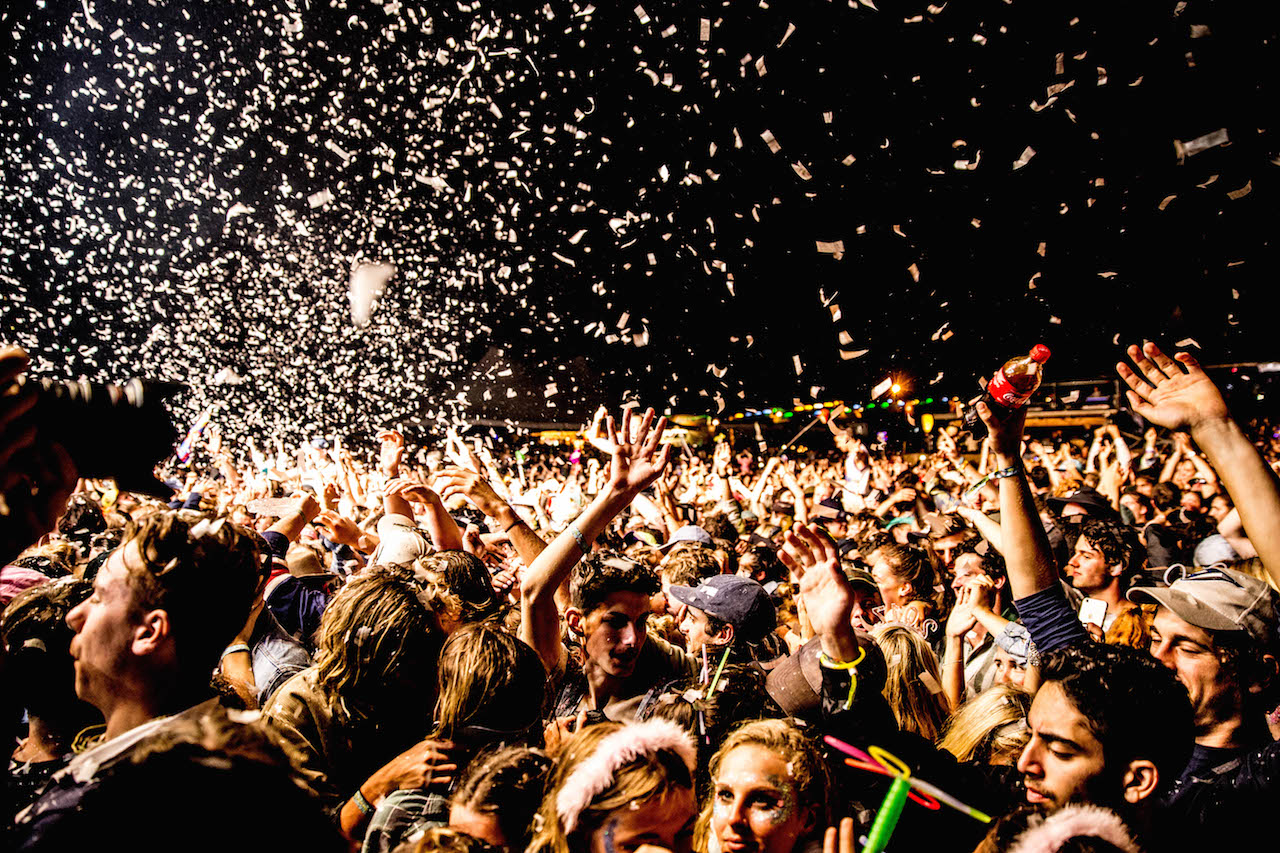 The Grand Theatre at Lorne's edition of Falls Festival 2016 was already heaving, courtesy of a blistering set by Remi Kolawole, Melbourne's hottest hip-hop property. The crowd basted in sweat and Smirnoff, most choosing to wait the 30-minutes until DMA's, another act who'd made 2016 their own. Falls Lorne was about to make national headlines.
The festival grounds proper, carved out of the Otway Rainforest, are not that large. The Valley Stage is at the bottom of a natural amphitheatre, the sides of which are lined with food trucks. The Grand Theatre is at the top of the amphitheatre, and this proximity prompts organisers to wall the Grand Theatre, leaving four exits. At Byron Bay, the crowd for DMA's was twenty deep outside the tent. The walls at Lorne, on the other hand, had them packt like sardines in a crushed tin box, as Thom Yorke might have observed.
Exits 1, 2 and 3 were narrow, about four metres wide. Exit 4 was larger, but led nowhere and wasn't used much. Exit 1 led back to the festival entrance. So, when DMA's ended at 9:50 pm, the same time London Grammar was starting in the amphitheatre, the heaving mass almost universally went for Exits 2 and 3.
Lay Down explodes into a final crescendo. A million strobes, smoke, Tommy O'Dell's frantic rasping—it's over. We all scream, jump, pant and shake our heads. We didn't know the carnage had just started. The space gets tighter and tighter as thousands of bodies move the same way. I get turned into my friend by the writhing bodies as we near the exit; we now crab, faces touching, just managing to keep moving the right way.
A short distance later and we are inexplicably free, like a vexatious knot suddenly unwinding. My friend and I look to each other, raving about the nigh religious experience we'd just shared as we danced down the hill. Six-foot-two boys like us, escaping the pandemonium in the first couple of minutes, were always going to be okay.
So captivating were London Grammar, I didn't even notice the ambulances. I don't think a large portion of the crowd did, truthfully. I found out from a raving lunatic with wild eyes and feathers in his hair, who said that 20 people had died.
Day 1: Grand Theatre
6:45 pm: Northeast Party House
There is a lot to like about Lorne's first night being hosted on the one stage. The precocious Mallrat and the furious Spit Syndicate had put the fast-growing crowd in a boisterous mood, and Party House came on at just the right time to scratch the itch. Zach Hamilton-Reeves moved like a bedsheet in a cyclone with his tambourine, reaching nirvana with Embezzler—still their best song, in my opinion. Blur's Song 2 is a cover that always gets the blood-pumping, and here is no different. Set-closer Youth Allowance, dance punk at its finest, confirmed Northeast Party House as one of the best live bands in Australia.
8:15 pm: Client Liaison
The flamboyant trio strut onstage and take their places between giant watercoolers and potted-plants. This is not your average day at the office. Firstly, we let Canberra know we won't be calling tonight (sorry, Malcolm!), before we check in to our Hotel Stay and revisit some old classics in Feeling and Queen. Savage Garden's I Want You is a pleasant yet cheeky diversion. There's plenty of time for a lascivious Tom Tilley bass-solo, and by the time we depart in our Off White Limousine, one can only wonder how Monte Morgan learned to dance so damn well.
9:25 pm: Grandmaster Flash
Unique as an experience; the legend in flesh. Accompanied by a pseudo-historical AV narrative contextualising Flash in hip-hop myth, the great man played a surprisingly restrained set that nevertheless ticked all the boxes it needed to. Compulsively told everyone to put their hands up, every 20 seconds or so. We obliged, like believers receiving mass.
10:45 pm: Hot Dub Time Machine
Boooo! Like the kitschy wedding band that comes on at the reception after everyone has had a few too many champers, DJ Tom Loud satisfied a very inebriated crowd with very little talent. Fist-bumped his way back through the decades and on into Thursday morning. Music made for people who are on drugs, and while I'm all for a good time, I'm afraid I find it just a bit too crass.
Day Two: Valley Stage
2:30 pm: AlunaGeorge
Incredible. An argument to say she was wasted at 2:30 pm in the persistent afternoon sun. Aluna Francis, clad in prison-suit orange, led the enormous crowd in fifty minutes of unrestrained hedonism. Crowd-surfers, more prominent at this Falls than others I've been to, made their debut at this set—a good and bad thing.
7 pm: Fat Freddy's Drop
Played an extended ninety minute set, presumably because of the length of the New Zealand genre-fluid jam-band's songs (describing bands is hard sometimes). A thoroughly enjoyable, watch-from-the-hills-while-taking-stock sort of experience. I think someone in the band's pants came off at some point.
9 pm: Ta-ku / Broods
These go together because their sets bled together so naturally. Ta-ku's live show delivered an amazing AV experience of purples and blue-pinks, which contrasted with the flashing whites of Broods. I initially thought Broods didn't have the game to pull off 10:30 pm, but I was happy to be proven wrong—how far they've come! Georgia Nott delivers her vocals with far more conviction than she did before the duo's sophomore album, 'Conscious'. LAF went off, as did perennial favourite Mother
12 am: Childish Gambino
A huge burden on Donald Glover as the undoubted star-power of a festival bill light on international acts. And he delivered, opening with Me and Your Mama, the first song of his recently released third album. His range was on full display, as he played a set full of greatest hits, including Sober and Sweatpants. Donald Glover the actor frequently finds roles in Gambino's performances—every song is accompanied by writhing, twisting, and miming. Redbone and California were the other 'Awaken, My Love!' cuts to make the set, and both were received as if they'd been played for years. The loudest cheer, however, was of course reserved for set-closer 3005, where Glover's lyrics could scarcely be heard over the sound of ten thousand screaming them back at him.
Day 3: Grand Theatre and Valley Stage
4:10 pm: Ball Park Music
Despite their mid-afternoon set, Ball Park pulled such a crowd that grass was no longer visible on the hill of the Valley Stage. 2016's 'Every Night the Same Dream' got a good run, with Leef, Whipping Boy, Pariah, and Nihilist Party Anthem all making appearances, while the band's other three albums had a few songs each represented. There was a time, not long ago, when songs from debut album 'Happiness and Surrounding Suburbs' would elicit twice the audience uproar than other cuts—no longer. Every festival set is now effectively a greatest-hits show.
5:30 pm: The Jezabels
I've seen Jezabels countless times before, yet somehow have never managed to see an entire set. I made a point of rectifying that this year, and Hayley Mary rewarded me richly. WHAT A ROCKSTAR! There was more than a touch of Lou Reed about her, clad in leopard-print pants and enormous sunglasses, presumably to hide an even bigger hangover. Best of the new cuts was easily My Love is My Disease, with honourable mention to Pleasure Drive. Endless Summer and Hurt Me were both performed with verve, the latter finally losing its place as Jezabels' set-closer to The End (duhh). Best performance of the set though must go to the lucky punter who leaned in for a pash when Hayley Mary went for a crowd-surf. That Ball Park should pull a bigger crowd than Jezabels is a travesty
6:50 pm: Bernard Fanning
Unparalleled in the public esteem. While of course Wish You Well went off like a dropped tinnie, it was surprising how much the crowd got into his newer cuts from 'Civil Dusk'. A nasty piece of me thinks that the only reason Darren Middleton was on the bill was so Bernard could drag him out for a Powderfinger classic—in this case a stripped-back Sunsets. Best moment of the set was Fanning's medley of These Days and Purple Rain, which provided a poignant moment to send us into the evening.
7:30 pm: Remi
I'll confess to not knowing a Remi song off the top of my head. I stuck my head in purely to set myself up for DMA's, but ended up utterly captivated by the prodigious rapper. Less is more when it comes to Remi, eschewing loud outfits and complex AV productions for pure charisma. In fact I suspect, from a purely performative aspect, Remi outperformed Gambino. Higher international honours await.
8:50 pm: DMA's
We all know how it ended. But only those who were there can know what a bat-shit journey it was. The biggest band in Australia currently, especially with Tame Impala's upcoming hiatus (there is also an argument that Tame Impala is more Kevin Parker's performing name, rather than a band per se). Feels Like 37 was the moment the crowd sparked to life, and it really didn't cease from there—although Step Up the Morphine stands out as a definite peak. They are so good they almost obsolete the smoke machines and strobes.
9:50 pm: London Grammar
Ethereal. However, the essential Grammar paradox is they are obviously headliners, but their sombre pop is more suited earlier in the evening. This Gordian knot is not their fault, of course, but it does mean they rely on image and lights to keep the crowd intensely involved. Nevertheless, an immensely engrossing experience—like watching Michelangelo paint the Sistine Chapel (I imagine). New material fell a little flat, but again, I suspect this is more to do with their style of music, rather than any performative aspects.
11:20 pm: Violent Soho
The juggernaut shows no signs of slowing down. Unsurprisingly, 'WACO' and 'Hungry Ghost' were well-represented—it's been pointed out how similar Luke Boerdam's expression in the snarl of a chorus becomes to the 'WACO' man's grimace. Like Soda, Viceroy, No Shade, and, of course, Covered in Chrome were all sung word-for-word by the audience, who were, by Violent Soho's standards, incredibly well-behaved. So thank you, everyone, for that—my delicate constitution can't take a true Soho smash. I said earlier that DMA's were Australia's biggest band at the moment, but on closer inspection I'll have to retract that—they're second, behind the boys flying the Brisbane flag.
12:50 am: Alison Wonderland
I don't know what it is, but she just fell a little flat. Violent Soho are a tough act to follow. The suspicion remains that, for all Alex Sholler's production talent, her live performances leave a little to be desired. I want a producer's live show to surprise me, whereas there wasn't a single moment that stood out. However, when the crowd is as gacked as they inevitably are, you can serve up pretty much anything and expect a nigh-religious reception.
Day 4: Grand Theatre and Valley Stage
12:40 pm: Hockey Dad
Only playing Lorne, but drew a crowd for all three legs of Falls. The Valley Stage wouldn't get this busy again until the Rubens at 5:40 pm. The Royal Blood of 2016?? Started off with Can't Have Them (a pick of mine for the Hottest 100) and ended up playing most songs from last year's debut, 'Boronia'. Drummer Billy Fleming turned a shade of beetroot-red from the exertion of their set, and puked his guts up between most cuts. What a performance. Well done, boys!
2:20 pm: Good Boy
A guilty pleasure of mine (I bought their shirt!). The Brisbane three-piece grew their crowd slowly throughout their set, and by the end of their performance, had a satisfying crowd for Lorne. Rian King sweated absolute buckets in a yellow raincoat and Doc Martens, looking, with his scraggly beard, a bit like late-era Jim Morrison. Saved Poverty Line for last, but my personal highlight (and, judging from the crowd noise, a few others' as well) was Millie.
3 pm: Parquet Courts
Irrepressibly cool. Cooler than a Lorne shower at 2 am. Cooler than early-2000s Strokes. So cool, in fact, that it seems like no-one could be arsed—there was no-one there! Never have I felt more embarrassed to be Australian; this is almost our musical Trump moment. Those who made it were treated to an autotuned, robotic announcer explaining the origins of Parquet Courts and the appropriate ways we should dance. There is more than a little Velvet Underground in the New York City quartet. If only people appreciated them as much.
4:20 pm: City Calm Down
A smaller crowd than they deserved, but still about triple the size of Parquet Courts. I feel like City Calm Down suffer for their similarity to Gang of Youths; the atmospheric, epic songs, the stadium vocals, the storied lyricism. In a way, it's just desserts for City Calm Down dithering so long with their debut album, allowing Gang of Youths to swoop in and stake their claim first. City Calm Down sound their best when being beefed up with brass instruments. Pleasure & Consequence, the only older cut that made it to their set, is always a moving experience.
5:40 pm: The Rubens
Ugh. I was really enjoying their set, boogying though My Gun, Lay You Down, and, my personal favourite, Hallelujah, when Sam Margin had to light up a cigarette on stage. GET OUTTA HERE! It was so gauche, so crass, that I instantly lost interest. This isn't Woodstock, pal! It's a fifty-minute set, so it couldn't have been nicotine cravings. But boy do I think Sam Margin is cool!
7 pm: Jamie T
Crass, but in the best possible way. There's something intensely salacious about Jamie T. His older material, none more so than Sheila, got a noticeably warmer reaction than his newer material, but his insouciant charm was on display the entire set. I'm a bit disappointed he didn't play Tinfoil Boy, a furious, razor-sharp song, but he made up for it with a blistering rendition of Zombie. Could have even played later. He was that good.
8:20 pm: Pond
Stepping into Grouplove-sized shoes was never going to be easy, but the crooked Nicholas Allbrook and his merry band of psychonauts filled them with aplomb. Allbrook in full flourish is a sight to behold—in overalls three sizes too big for him, he looks a bit like Chuckie, and I have no doubt there is just as much evil in his heart. Fitted the bill so perfectly, it's a wonder they weren't initially on it. Could maybe have switched slots with Jamie T, but I'm nit-picking. Pond look good for another half-dozen albums of mind-melting psychedelia.
9:40 pm: Catfish and the Bottlemen
Aside from Childish Gambino, probably the biggest international act on the bill—and they lived up to those expectations. Mercifully unplagued by the technical issues that so spoiled their Byron Bay set. Really, what we're talking about here is stadium Britpop delivered with a swagger—something Aussie audiences have never gotten tired of (i.e. Kooks). Unlike Kooks, Catfish have just taken sliiiightly longer to get there. But to hear the crowd reaction to cuts such as Hourglass, 7, Cocoon, and Kathleen, is to think they've been there the whole time. Their next album should show a slightly more restrained Catfish, I should imagine—it's time for evolution.
11:10 pm: The Avalanches
During the interminable hiatus after the release of 'Since I Left You', one wondered if such a night of whimsy and fun was possible. For this wasn't a visceral experience like seeing your favourite band, nor the involved one of seeing an absolute legend (like Grandmaster Flash). No, after all this time, seeing Avalanches was like bumping into your sixth-grade best friend at four in the morning at a nightclub. In a way, nothing has changed at all—but in another way, everything has. 'Wildflower' featured much more prominently in the set—witness the inimitable cool of Subways and the pseudo-gramophone crackle of Frankie Sinatra. Since I Left You took us to 2017—should another song? It was slightly too blasé to bring in a new year. A really enjoyable set, but I've had the Roots take me into the New Year before….
12:40 am: Tkay Maidza
It is a measure of Tkay's esteem that the young rapper from Adelaide should be trusted with what is really the most important set of the festival: the first of the New Year. Her 2016 debut album, 'TKAY', has a lot to do with that—if you can record something beautiful over fifty minutes, then you can perform something beautiful over fifty minutes. Simulation, Brontosaurus, and Uh-Huh were probably the highlight songs, the crowd turning into a heaping, unified mass for Simulation especially. Tkay Maidza will really enjoy 2017, I think.
1:50 am: LDRU
Really furious trap. Volume was WAYYYY too loud for my liking—like, eardrum-splitting painful. Music for people on drugs—there's no two ways about it, and you know my rule. I simply can't abide music that doesn't even put a coat of veneer over its attractiveness to people on drugs.
Epilogue: I OH YOU DJs
LDRU was like being hit over the head with a 2X4 (and not in a good way), and, numbed, I stumbled up the hill to partially collapse in the Grand Theatre. Johann Ponnias, half of I OH YOU, was spinning RnB classics, and I swayed in front of them, not really dancing, waiting for my friends. It's 3 am. My bones feel like glass. My mind is incapable of feeling thought. That I had fun is a given. But how to possibly evaluate a festival that put twenty people in hospital? How to view the paucity of international acts? Falls Festival is going through a crisis of identity currently, I think—no longer satisfied being a satellite-Splendour with an artistic emphasis, they've struck out this year to find a new niche. I wish the very best of luck to one half of the last of the major music festivals in Australia.