Interview: Dan Marsala from Story Of The Year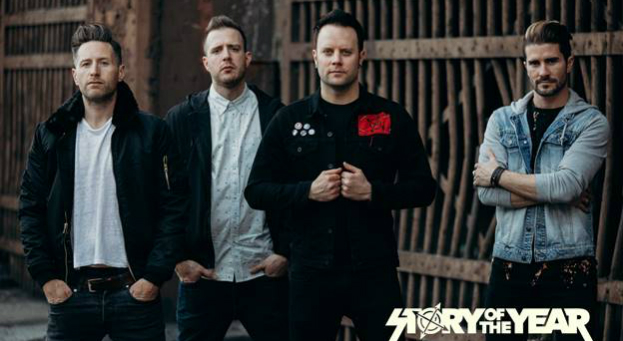 After a seven-year record hiatus, Missouri post-hardcore rockers Story Of The Year finally released 'Wolves,' their fifth studio-length album last December. Before the blazing quartet hits our shores next month for the highly anticipated 'Wolves' tour, we caught up with scream god frontman Dan Marsala to discuss accidental fan violence, the secrets behind this latest musical chapter and what the future holds for the lads.
Hi Dan! What's your day been like so far? 
I'm just hanging out in St Louis, at home. I'm actually installing a door on the front of my house and it's not working properly, so just the usual stuff…homeowner things (laughs).
Living the secret life of a rockstar? 
Yeah, just being a real man in America. 
We can't wait to have you in Australia! What are you most looking forward to about this tour? 
We always have the best time in Australia!  It's one of our favourite places to tour in the world other than the flight to get there, which is very long and has a lot of layovers. I think we figured out it's going to take about 34 hours to get from St Louis to Perth, which is our first stop. That's a long journey but it will all be worth it.
And yeah man, the shows are just amazing!  I don't know why Australian people love Story Of The Year so much but they do and we're very thankful and happy we can keep coming back.
What Aussie experiences would you like to try while you're down here?  
We've gone to a lot of wildlife park type things. They're always cool and we'll probably do something like that again. We've never done shark swimming or anything but I know we keep talking about it. I hear Perth is the best place to do it. We always get into some kind of adventure and have a great time.
Your latest music video 'How Can We Go On' is a visual masterpiece of what happens when you hit the stage. Is this just a taste of what fans can expect from these shows? 
Oh yeah, absolutely! It's going to be the usual high-energy craziness we always have. We are getting a little older now but we still put every bit of energy to each show and have a great time. Luckily, we have a new album so we're going to play a bunch of new songs as well as a bunch of the classics. It's going to be an all around fun time.
What has been some of the craziest things to ever happen at a Story Of The Year show? 
I was trying to think about this the other day – how many shows we've probably played in the last 15 years. There have probably been about 5000-6000 shows and there's been a lot of injuries from us on stage and crowd members. We hear a lot, like, "Oh man, you jumped this crowd and broke my nose but I loved it and it was awesome," and I'm like, "Oh my god, I'm so sorry, like that's crazy! "
Other than that, something weird always happens to somebody in our band. If there are any weird props or anything the club has it will end up on stage and we'll somehow use it and climb on it or break things that costs us a lot of money (laughs). We basically just do whatever seems fun that night and get into all kinds of crazy stuff.
Do you use any herbal concoctions or secret recipes to help soothe your voice after a night of screaming? 
(Laughs) I was talking about this with my friend Ryan (Key) from Yellowcard, and I kind of do the opposite of most singers.  Most people won't drink certain things or eat cheese before they sing.  I definitely have to warm-up before every show no matter what.  It's not that hard, only 15 minutes of vocal exercises.  Then I usually have a couple of Jamesons', do a couple of stretches and get loosened up but I don't baby the voice too much and it usually works pretty good.
Weirdly enough Australia is always one of the hardest (places) for me to recover because the sleeping schedule is completely opposite for us and it's hard to sleep a lot there. I end up losing my voice more in Australia than anywhere on the planet, although the last few years I'm been pretty good at warming up properly and I rarely lose my voice.  I don't want to jinx myself because now I'll probably just be screwed when I get there, but yeah, I do nothing too special. Singing properly is the key.
Your latest album 'Wolves' has come after a 7-year gap.  How did this impact the writing and recording process?  
7 years is a lot of time to reflect, get inspiration and figure out what you may or may not have done right in the past.  Me and (lead guitarist) Ryan Phillips have been writing off and on for a 3-4 year period, but a couple of years ago we realised we had a couple of songs of what Story Of The Year needed to sound like. I think Bang Bang was the first of the newest batch that we were like, "Okay, this sounds like a Story Of The Year song that needs to be on the next record." There were probably 30-40 demos Ryan had sent me and that I had recorded some vocal stuff and sent back. We're always writing in some fashion but we just weren't ready until the last year. We finally figured out what direction we were going in and locked it down.
Lyrically, it's more of a personal record than some of our past ones, just because a lot has happened in the last 7 years and I had a lot more influences. I had children, and there's a lot of other cool stuff in the new record that couldn't of happened if we hadn't gone away for a while. 
What made you decide to use the crowd-funding platform Pledge Music this time around?  
We were a little sceptical ourselves and didn't really know if it was the right direction. We knew we wanted to have as much control as possible and weren't sure if we wanted to sign to another label. We weighed our options, took a gamble on crowd-funding and were very pleased with the turn out. We reached our goal in about 36 hours. We had no idea if anybody even wanted to hear a new Story Of The Year record or if anybody cared at all so we were super psyched that we had this kind of response right off the bat.
It inspired us to really get going and work hard on putting out the best product we could. It was totally different for us and was a learning process every step of the way. There's a lot that goes into a crowd-funding thing and a lot of work. It's crazy but ultimately it worked out perfect and the support of the fans has been amazing. 
Aside from Story Of The Year, you also have a comedy punk-rock side project 'The Fuck Off And Dies.' Can we expect any new material to be released this year? 
We have a few things floating around and we've been trying to get some stuff together but obviously this last year has been a lot busier with Story Of The Year so my focus has been there for now, but yes, that band is hilarious and super fun. We do whatever we want, just write dumb songs and sing about partying and stupid stuff. I wanted to have a band that was the complete opposite of Story Of The Year – something I didn't have to take seriously and it ended up being super cool.
We play a lot here in St Louis but we've done a little bit of touring. We've just toured with The Bombpops.  We'll do some more stuff in the future but it's obviously not the priority right now. But it's cool to have this other outlet of being able to play music just for the fun of it. It's like when you're 15 years-old and you just play music because you want to hang out with your friends, which is still what Story Of The Year is too but it's obviously a business and our job too. Sometimes you have to get back to those roots and try some other fun things. 
What's next for Story Of The Year after this tour? 
We have a few other dates here and there but we're not doing any crazy touring right now.  We're just doing a week or two at a time – like the Australian tour, and then we have a few fly out dates in the U.S and Canada. We're just doing stuff as it comes because we want to devote as much time to the band as we're devoting to our home lives – prioritize what's important. We're not going to tour 300 days of the year anymore. We've done that plenty of times and we're past that now.
Our plan is to just be creative, put out as much content and keep making music now that we have our own system in St Louis where we can record stuff at my house and can do stuff at Ryan's house. I think we're going to focus more on that than touring, which is exciting because we can only tour so much. Luckily, Australia is one of our bigger, better markets and we can always depend on getting there and making it worthwhile. 
What would you say is essentially the heart of Story Of The Year? 
It's always been about friendship. Me, Ryan and (drummer) Josh Willis met in 1995 and we've been friends for twenty-something years. We grew up skateboarding together and playing music but it was more about hanging out, being friends and having something to unite us that we could do together. Luckily it became our job and became successful but even if it didn't, we would've done it anyway. It's a very natural thing with us and it's always been easy. I guess the heart is that we're friends and we're playing music for the right reasons. We don't really worry about what other people think, usually. It's kind of weird but cool at the same time.
Where do you hope to take Story Of The Year in the next few years? 
I would like to continue to service our fans and hopefully always expand a little bit although we have such a great fanbase already. We really hope people will keep listening. I don't think we're ever going to be the Foo Fighters or Guns N' Roses but we have a great little genre of people who really love our band and we mean something to. We just want to keep it going!
Story Of The Year Live Dates
TUEs 1 MAY
Capitol, Perth
TUEs 3 MAY
The Triffid, Brisbane
SAT 5 MAY
Metro Theatre, Sydney
SUN 6 MAY
170 Russell, Melbourne
Get Tickets HERE