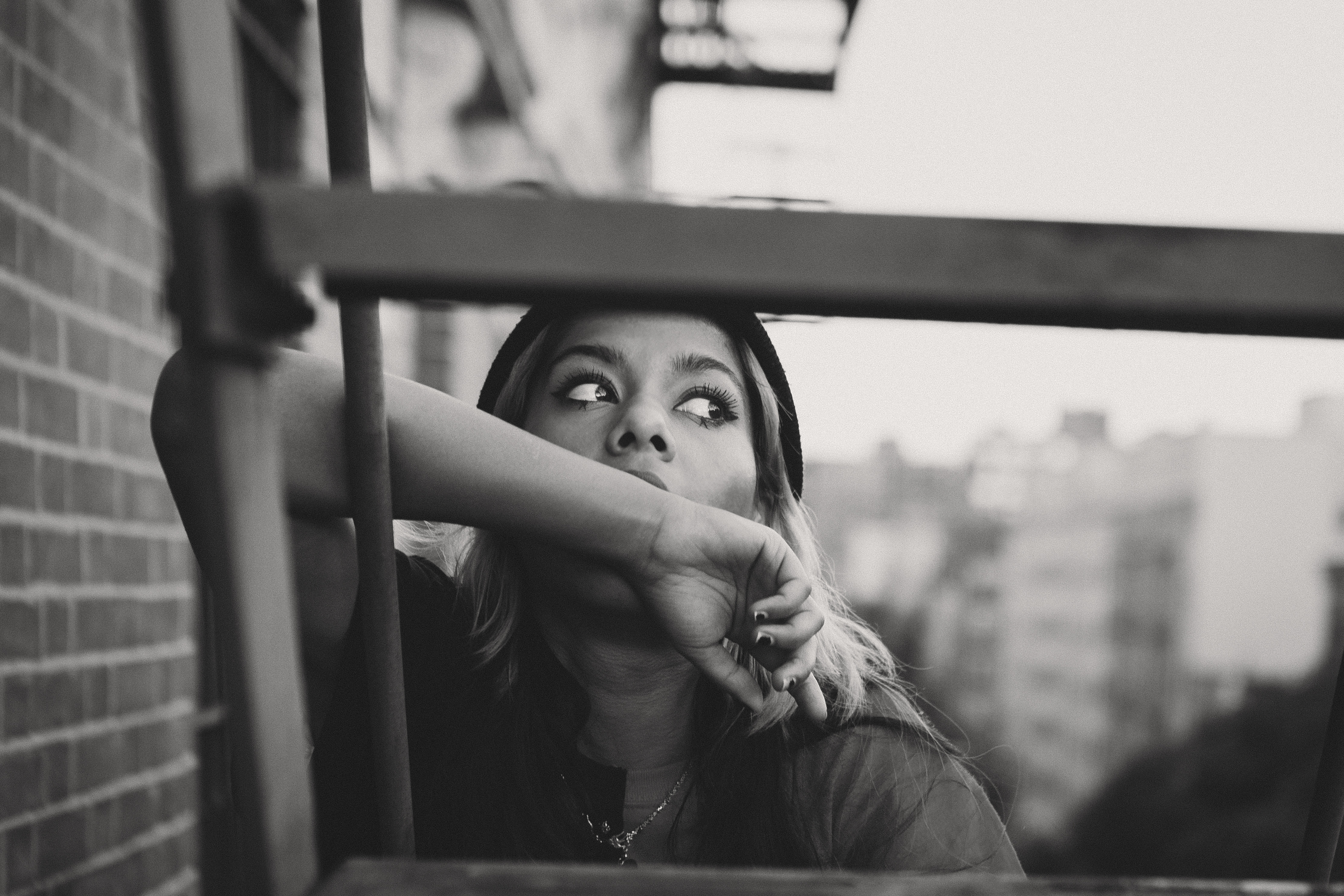 With her debut album on verge of being shared, Ecca Vandal took some time out to have a chat with us about what's been happening in the lead up to this release. Having spent the past year writing and recording in her home studio, the self-titled album is raw and diverse, with Ecca talking us through her slightly left of centre, very DIY approach to creating this work.
It's almost time for your debut album to be released. How are you feeling leading up towards that?
I'm feeling excited. It's really nice to have it all done and, at the moment, it feels like the calm before the storm. It's a lot of excitement, but there's nerves in there at the same time.
Listening to the album through in full, it's quite diverse in terms of its sound. Was that something you did intentionally or is that just how it turned out?
It's definitely diverse, I'd day. Diversity for me is a really important thing, because that's the way I like to listen to music. Day-to-day I'll go from listening to Miles Davis, to Rhianna, Bloc Party, Refused. That's how I consume music so I guess it was only natural for me to put all those sounds I love on the record.
You've got your own home studio; did you record everything on the record there or did you use outside studios as well?
Most of the record was recorded and tracked in my lounge room studio, which I'm actually sitting in now, but two songs, there were bits and pieces that were recorded in another studio. Mainly because we're just in a two-bedroom apartment in a bloc of units, and we did make very loud sounds, but when we needed to be extremely loud, we needed to go somewhere else to track little bits and pieces, but I would say 90% of the album was tracked in my lounge room.
Aside from the noise, was there many limitations recording there?
There were many limitations unfortunately, but somehow we got through it. The first one was every time I was screaming; like the scream you hear on Broke Days Party Nights, we don't have any proper studio vocal booths, so what we had to do is grab my doona off my bed, and I would sing with the microphone under that, so then I could do the scream. So all of my loud vocals came from under a blanket. We'd often go quite late into the night and get knocks on the door with people asking us to turn it down, or people asking if I was ok after hearing me scream or telling us they were going to call the police. And the other noise you'll probably hear in the background; I live right on the Frankston line and the rail crossing, so you can hear that in the background when it's crossing through. Sometimes we'd stop the vocal takes when that happened, but other times we just had to keep going. I think that the rail crossing signal sound, it will be in the background of a couple tracks.
Listening to the album, you wouldn't be able to pick that it's pretty much completely recorded in a lounge room.
Thanks so much, but I think that's really testament to the amazing technical people that I work with, which is Richie [Kidnot] who is an incredible producer and his tracking and programming skills are amazing, so he really made it sound way more pro than the environment we were working in was. Then we took it to Hayden Buxton who mixed it and really put the cherry on top and just made it sound incredible. So it really is a testament to them for making it sound so polished.
I read in your press release that these were the rawest recordings you've made so far. Can you run me through what you meant when you said that?
I think partly it's raw because of the environment we made them in—very DIY, like sometimes it was just me sitting on the floor under the doona, which felt pretty raw. The other thing that was very raw, and I'd also say vulnerable was that because I was tracking it in Frankston and I really wanted to get it done over the last year, I felt pretty isolated. I almost needed to separate myself from city life and the world at times to dig deep on these recordings, so I definitely felt pretty isolated. A lot of my friends left and went overseas, so some songs, like Cold of the World, they're very vulnerable songs and are first vocal takes. Normally I like to spend time refining and re-doing things to make them as good as I can, but on a lot of these recordings I left first takes, and as I said earlier we left some background noise in there, to really just keep it quite raw and personal so kind of give a portrait of my past year. It was very important for me to keep that in there, because as you said, it makes it more diverse and it's a very different side of myself that I haven't put out on recordings before.
You've just released the video for your single Future Heroine, which you co-directed. Where did the idea for the video stem from?
Well basically with this particular song, I wanted the mood of the song to come through visually, and even though sonically it almost has a bit of a pop sensibility to it, it has a very dark meaning and undertone, and I wanted the video to capture that. So I went hunting for someone I could partner with to create those visuals, so I came across Amy Dellar who is an amazing cinematographer; her work has quite a dark undercurrent but is also really beautiful, and I wanted that juxtaposition, which a lot of my music and art has that vibe. So I gave her a call and we brainstormed and came up with a few ideas and we tweaked it from there. She was great and we clicked creatively and the collaboration ended up being so great. It was such a great experience, and most of the team we worked with were actually females, which was so awesome, so that was something we were very excited about. I just loved looking around on the set and seeing females rocking it. It was a very special experience.
The main thing I noticed was how strong all the women looked in the clip and how much they were owning it, which really is such a cool thing to see.
Yeah, I really wanted them to be portrayed in a strong way. They're all beautiful and sexy, but still owning it and controlling it. They're not sexy, but feeling like they're in an inferior position. I really wanted that to be showed, and for them to be seen in an empowered position.
I have to ask you also, what was it like supporting Queens of the Stone Age?
It was amazing. Pretty much a dream come true. We're all such big fans of them, and to be selected to open for them really an honour. They were so warm and welcoming. We played with them two nights in a row, and on the second night they mentioned that they really enjoyed our show, and that was just so special. I didn't really expect them to watch us, I thought they'd be in their hotel or something, but they were so nice and it was so inspiring to see a show on that production level. It was incredible.
You're playing more shows soon as well, you've got a headlining tour here then you're going over to the UK to play with Frank Carter and the Rattlesnakes so you've got a pretty busy few months ahead.
It is a really busy end of the year, but I'm so excited for these shows. It's been a long time since I've played my own shows in Sydney and Melbourne, so I can't wait for them.
Ecca Vandal's debut, self-titled album is released Friday 20 October. She'll be on the road throughout November.
Ecca Vandal Live Dates
FRI 3 NOV
Fremantle Town Hall, Perth
SAT 3 NOV
Rocket Bar, Adelaide
FRI 9 NOV
Cambridge Small Room, Newcastle
FRI 10 NOV
Oxford Art Factory, Sydney
SAT 11 NOV
Rad Bar, Wollongong
THURS 16 NOV
Shark Bar, Gold Coast
FRI 17 NOV
Sol Bar, Sunshine Coast
SAT 18 NOV
The Brightside, Brisbane
FRI 24 NOV
Karavoa Lounge, Ballarat
SAT 25 NOV
The Corner, Melbourne