Interview: Ella Thompson from Dorsal Fins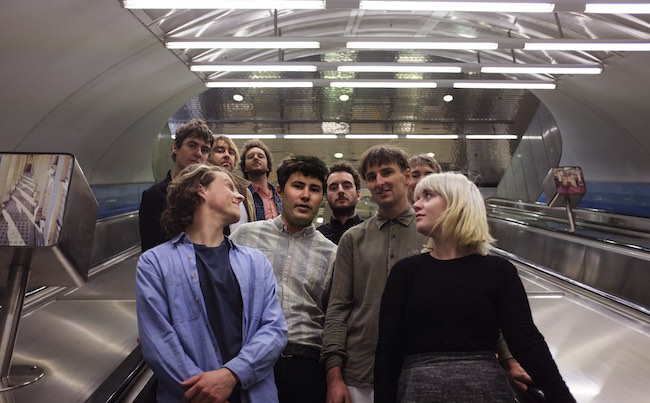 Melbourne 9-piece Dorsal Fins are set to release their second album 'Digital Zodiac' this Friday! 'Digital Zodiac' follows on from their 2014 debut album 'Mind Renovation', which began as an experimental side project for Ella Thompson (GL, The Bamboos), Liam Mcgorry (Eagle & The Worm/Saskwatch), and Jarrad Brown (Eagle & the worm/Venus II), but has eventuated into much more.
In a short space of time, Dorsal Fins have become known for their futuristic alt-pop tracks and remembered for their joyous live presence. We caught up with Dorsal Fin's leading lady Ella Thompson for a chat about the upcoming album and the dynamics of a nonet band.
Firstly, seeing as Dorsal Fins has nine members how did you all meet?

We all kind of went to university together at VCA (Victorian College of the Arts), and/or played in the merging of Eagle & The Worm and Saskwatch…we're all just friends. 

With so many people what are the logistics of practising, writing, and touring ?
Ah, I wouldn't say it's the easiest! Jarrad, Liam, and I write the songs and after that the rest of the band will play them live and we'll record them. Touring is always fun because there's always someone to hang out with, it's always a bit of a party!
Any pre-gig rituals in the band? 
Nah, we've all got our own little zones we get in but no set ritual…I usually take a few deep breaths, jump on the spot, have a drink…
Favourite live experience? 

Boogie Festival was pretty fun! I pretty much lost my voice because I was really sick, but it didn't really matter as it was a great show. It was such a good crew audience, we played at night, and the stars just aligned…
Both the older and latest album have a distinctive sound, what artists have influenced Dorsal Fins?

Well we all have pretty different and eclectic tastes, and you put those things together it makes something that's not too derivative from one particular act. Liam really likes the classic song writers like McCartney, Jarrad's really into The Happy Mondays and that sort of house thing, and I really like soul, Rnb, and No Doubt…
What we're Liam, Jarrad, and yourself trying to create when writing the new album 'Digital Zodiac'?
With the first album we we're barely even a band. It was just sort of a studio project and we were just trying stuff out as we went along. We weren't even going to play shows, but then we started playing shows and just had so much fun that we decided to keep going with it.
So with this new album we tried to make it more of a consistent sound, whereas the first album was like, "oh, lets try this genre or this thing"…I think we're defining our sound as band in this new record.
Do you have a favourite song off the upcoming album? 
I really like Full of Fear, which is a song Jarrad and I sing together and is more of a ballad. Tim Karmouche from Crepes wrote a great song too. There's lots of different moments on the new album!
One track off the album has already been released, what was the inspiration behind Sedated?

Jarrad wrote that song with Liam, so I won't speak too much on his behalf. But we started playing it live and it really worked from the first time we played it!
Lastly, what's the dream for Dorsal Fins? Where would you like to see the band end up?
We'd love to venture a lot more internationally, I think that would be a common goal for the band. Yeah, we will see how we go…