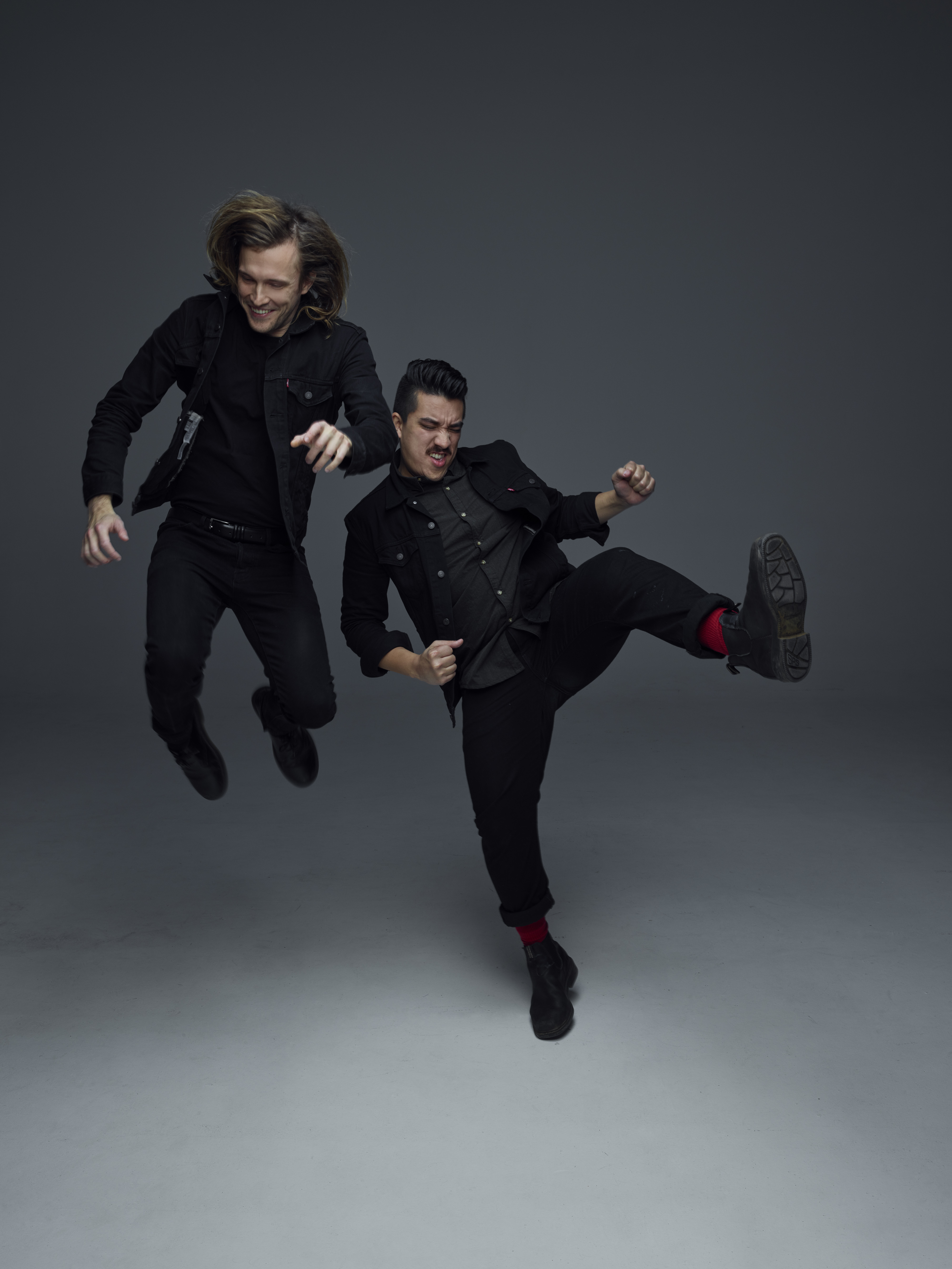 Sydney duo Polish Club have had an absolutely enormous year; from releasing their debut album earlier this year to selling out a 14 date national tour, but it seems this wasn't quite enough. They're already back with their new EP Okie Dokie, and their 'Christmas in December' tour, so we had a chat with JH to find out everything that's been happening in the world of Polish Club.
You guys just put out your new EP Okie Dokie, what else has been happening before that?
Everything's been pretty full on, it's been a really busy year actually. We put out an album earlier in the year, and went on a tour that felt like it went forever, then after that we pretty much went straight back into recording and we haven't really stopped. We toured with The Preatures in between all of that, and did a few other things in between.
We went pretty much straight back into writing and recording, and then started the whole promotion cycle again; making ads and all that, so it felt like this just rolled on from the album work.
How long did it take you guys to write and record for the EP?
Well we spent about three months writing bits and pieces, we'd only meet up once a week. So I guess if you condensed it down it probably took us a week to write, and then it took us four days to record. We tend to do stuff pretty quickly, and we recycled a couple things that we didn't use for the album, which made things a little quicker. There were a few ideas that we started when we were writing for the album that we couldn't quite finish and out into shape, so that's where they came from.
Was it hard coming up with new material so quickly after writing the album?
Not too much, we kind of went into it the same way we have in earlier times; we just sat in a room together and bung it out. A lot of the time our ideas are pretty close to where we want them to be, so we generally just have to craft them a little bit afterwards. If you hear the shitty first demo we do for a song that we record on a phone, it's structurally and melody wise pretty close to where the song ends up. We try not to overthink anything. I think we know our roles when we're writing, and we can really trust each other, which is really important in song writing, so that really helps our process.
I really wanted to ask you about the videos you did with Moira (television presenter). How did they come about?
I don't actually know, we just come up with so many ideas having random conversations with each other, so someone probably said, "remember Moira from that bloody show," and then we thought it would actually be funny to make an ad with her. We just Google searched her, and her contact number was online, there's nothing special about how it happened at all. But I guess we kind of concentrated on making ads for this EP rather than making music videos, so we did things a bit differently this time.
But we do actually have a video coming out. It's a really cheap one, for Gimme Money. We just re-purposed all out old video clips.
Did you guys come up with the concept for the video?
Yeah Novak did. We originally had this concept where we were going to get small businesses to be in our video, and we were going to have the clip like a huge ad, but it was too hard and we ran out of time. So the clip that's coming out is a real last minute job because we stuffed up the first idea we had for it.
You've got a tour coming up as well, are you mostly going to be playing stuff from Okie Dokie or will it be a bit of everything?
I think definitely a bit of everything, and because it's a Christmas tour we'll play some Christmas ones as well, I guess we'll have to figure that out pretty soon. I think most people will be coming off the back of the album, not so much the EP, so we'll definitely be playing some of the Alright Already songs. And then we'll obviously do the Mariah Christmas song, but we haven't quite that out yet, we'll just leave that until the last minute.
And have you got much planned for after the tour?
Yeah, we're actually going to start writing our second album in January. We kind of want to keep going, and we haven't released anything overseas yet; we had some trouble with someone that we signed to overseas. It was a bit of a shit fight. So we pretty much have to treat our second album like it's out first album (for overseas). We also enjoy making music, and I think we're at the stage in our lives where we have time to give it the best shot we can. So we'll start fresh in January; new year, new songs.
Polish Club Live Dates
FRI 1 DEC
The Zoo, Brisbane
SAT 2 DEC
Metro Theatre, Sydney
FRI 8 DEC
The Croxton, Melbourne
FRI 15 DEC
Uni Bar, Adelaide
SAT 16 DEC
Rosemount Hotel, Perth
TICKETS