80% Of The Original Guns N' Roses Reunited…For A Moment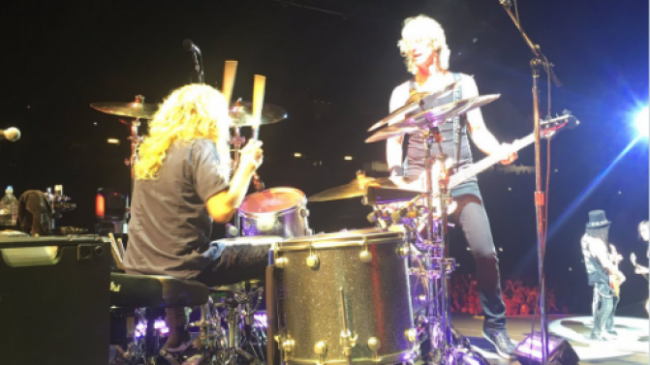 For the first time in 26 years, Guns N' Roses' original drummer Steven Adler joined the band on stage for two songs during their Cincinnati show last night.
With Duff McKagan, Axl Rose, and Slash playing on the same stage again, Guns N' Roses' current tour has been pinned as a reunion for the band, but Adler and original guitarist Izzy Stradlin have been excluded. Nevertheless, Adler's appearance has given fans reason to hope for his full-time inclusion into the band.
Guns N' Roses have had their fair share of substitute members – in fact, Axl Rose was the band's only remaining original member for the best part of 20 years. While casual fans are happy that Axl and Slash are on good terms again, the devout fan conglomerate want a proper reunion including Adler and Stradlin.
Stradlin is well-known for his reputation as one of rock 'n' roll's great recluses, and with the exception of a few solo releases, he has laid low since his departure from Guns in 1991. Even so, his latest single F.P. Money, featuring former Guns member Matt Sorum, proved there is no bad blood between them.
It's uncertain whether a full band reunion is on the cards, but one thing is for sure – if Adler and Stradlin rejoined Guns, it would be the biggest reunion on the planet. We can only dream.