Action Bronson Drops New Video With 'F***, That's Delicious' Crew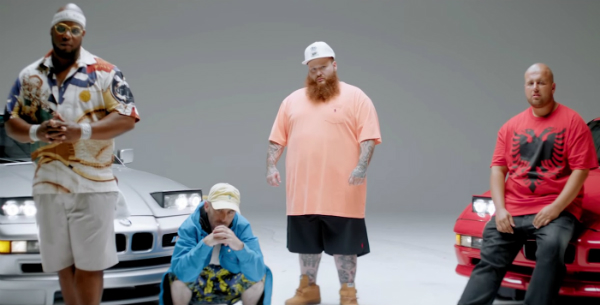 Having essentially taken over the VICELAND network with his shows 'F***, That's Delicious' and 'Action Bronson Watches Ancient Aliens', Action Bronson has decided to return to the studio and give us more of what made him so famous, bars!
Durag vs Headband is the first new standalone track from Bronson himself since releasing his sophomore album 'Mr Wonderful' in March 2015. The release of Durag vs Headband is accompanied by a Bronson-centric music video featuring Bronson's entourage of Big Body Bes (who features on the track), Meyhem Lauren, and The Alchemist.
The video was made during an episode of Bronson's show F***, That's Delicious, which is set to form part of the programming for VICELAND when it launches in Australia on November 15 (replacing SBS 2). The video is as lavish as you would expect of Bronson, not to mention Big Body Bes just chilling on a horse for the majority of the video…just because he can.
Classic rap tropes are aplenty with Ralph Lauren fashion in droves as well as Air Jordan shoes on the feet of the eccentric gang (no Timberland boots from Big Body for once). The clip is shot on a sound stage with just a few toys for the crew to play, not that it's a problem as the huge personality of Bronson and Bes shine like the jewels around Meyhem Lauren's chest.
Bronson is well-known for his hilarious, witty lyrics usually describing food, sex, or both at once, and this is no different for Durag vs Headband, "On the stage I'm like great balls of fire/One more year I'll be on lake George, retired/Big steak like a jeep Tyre". The instrumentals for the track have terrific East Coast-style booming drums and bass, although there is a controversial ad lib of Bronson seemingly doing his best impression of a terrorist yelling, though this is all tongue-in-cheek as you would expect of the New York rapper. As always with Big Body Bes his presence on the track is quite small but regardless Bes leaves a huge mark with his personality.
Check out the clip below, and F***, That's Delicious when VICELAND launches on SBS on Tuesday, November 15!