Album Review: Issues 'Headspace'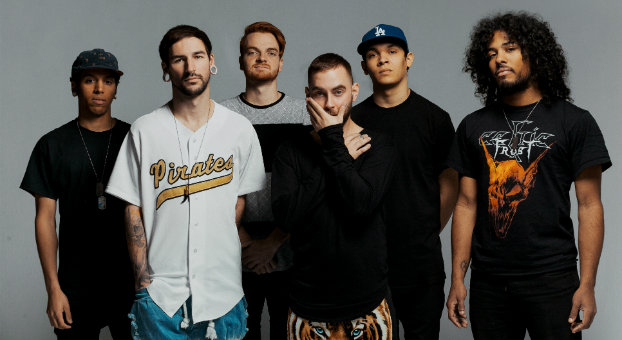 Issues are titans in what they do. The 6-piece outfit from Atlanta, Georgia have considerably expanded their fanbase over the last two years and it's incredible to see how they've broke big around the globe and how much they've progressed in the (oversaturated) market of metalcore.
Providing a fresh insight to how it's done, their highly-anticipated sophomore record 'Headspace' has allowed them to experiment even further through their passionate storytelling and unique way of combing several genres. Compared to their 2014 self-titled debut record, 'Headspace' is packed with melodic, hard rock jams and one of the most ambitious titles you could ever come across this year.
"It's an impressive mark as they both prove to make an incredible team."
When you first listen to opening track The Realest, with it's upbeat and intriguing instrumentation, you already know you're in for a treat. The drums and distorted guitar go along steady, twinning the same rhythm throughout, while lead vocalist Tyler Carter delivers an RnB and pop dynamic tone. He possesses similar clean vocals to Justin Timberlake, and second vocalist Michael Bohn brings in the unclean vocals, which are aggressive, punchy, and captures the same vibe which was last heard in their debut album.
Next up is Home Soon, featuring a solid light drum and guitar into along with Carter's melodic backing vocals and Bohn showing off his technique in transitioning from screams to clean vocals. Though he isn't singing clean vocals primarily in the track, there's a lot to love as he clearly escapes his comfort zone, allowing his vocal talent to flourish.
There's strong chemistry between the two vocalists and the band's instrumentation in Yung & Dum. It's an almost anthem tune, describing the imperfections of youth and how we should all allow ourselves to make mistakes. The track tests the band's limits by adding a country-rock theme, especially from featuring Jon Langston who is a popular US country artist, blending country music with their metal roots.
"Both tracks are emotional and you can really appreciate the maturity profession embraced in their songwriting."
Furthermore, tracks like COMA highlight what Issues do best when it comes to writing songs about love. The lyrics in the track handle such a bittersweet tone with it's infused metal/RnB instrumentation, and Carter and Bohn effortlessly power through the track with their vocals complimenting each other really well. Then as the album progresses, Issues become introspective in Someone Who Does and closing track Slow Me Down.
Both tracks are emotional and you can really appreciate the maturity embraced in their songwriting. We can clearly see the band dive into the real issues of broken families and loss of a loved one, allowing them to be vulnerable and honest in their music.
Suffice it to say, 'Headspace' exceeds expectations. The album showcases a really professional approach in making music outside of your comfort zone and this makes it an incredibly personal album. It's filled with genre experiments, vocal surprises, and old roots. 'Headspace' leaves anyone feeling good and honestly, Issues can only get better!