Oasis Documentary Will 'Definitely Maybe' Not Include "Monstrous Drug Taking"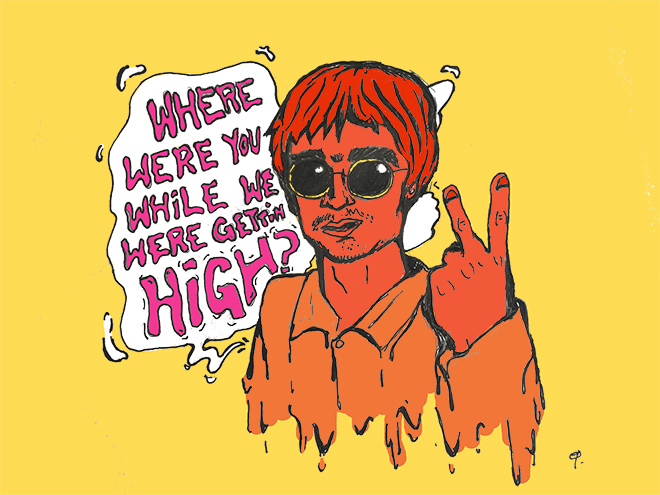 Illustration by Elly Pugh
Against all odds Noel and Liam Gallagher, the brothers that fronted legendary Britpop band Oasis, are reuniting. Don't get too excited though, it's not for music. Unfortunately the years of blasting Wonderwall in your bedroom whilst soaking in your teen angst are long gone. Though engaged in one of the most aggressive sibling rivalries the music industry has ever seen, the brothers are setting aside differences (at least for now) to help create a documentary about the band that claimed to be bigger than The Beatles.
Healthy Harold the Life Education Giraffe will be glad to know the film will contain far less drug use than one would expect. As Gallagher explained to GQ, "we have all this footage from behind the scenes leading up to the gigs, most of which can't be used as there's just monstrous drug taking". At least we can always rely on his honesty.
The film will explore the band's beginnings in 1991 and their rise to astronomical fame after the release of their 1994 album Definitely Maybe. Of course, given the sheer amount of controversy the brothers managed to kick up in their time, it's sure to be an interesting film.
The doco will be crafted by the team behind the critically acclaimed Amy Winehouse bioflic Amy. Director Mat Whitecross, with help from producers Asif Kapadia and James Gay-Rees, have been given "unprecedented" access to the band including unseen archived footage. In short get ready to relive the glory of Britpop.
When he's not insulting people, (just this morning Gallagher claimed Adele "ruins his breakfast") Gallagher fronts Noel Gallagher's High Flying Birds. In the midst of recording for their third album, the band are set to play Bluesfest next month.