Artist Takeover: Waxflower Share Their Top 5 Bars in Brisbane/Meanjin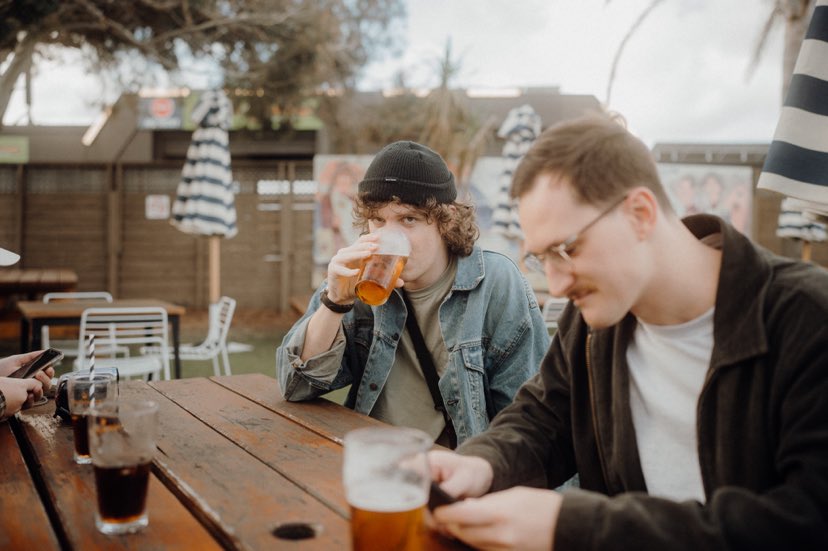 Meanjin/Brisbane locals Waxflower have blessed us with their favourite bars in the city- if you're in town for Bigsound, take note!
"With BIGSOUND coming up, we'll be hopping from bar to bar, shaking hands and watching bands. Here's our pick of watering holes in Brisbane!" – Waxflower
Range Brewing
"Has to be first on the list! Always an incredibly great beer selection on tap, as well as the yummiest beers in Brisbane. Their merch is excellent, and the pizza is some of the best in town. A go-to, always!"
Bloodhound Bar
"A beautiful little watering hole on the corner of a Fortitude Valley street. An awesome selection of beers, as well as a surprisingly wide range of non-alcoholic beers, which is awesome to see! A tasty kitchen tool, with self-defined "international comfort food"."
Greaser Bar
"Walk down a little grungy alley and you stumble upon Greaser. A great spot to catch a band, grab a bite to eat or find a little corner to have a sit in. Arcade machines and pool tables top it off, a good spot to spend a few hours during a night out."
Ric's Bar
"A Brisbane institution. Floors are sticky, the air is thick with smoke and the toilets are…. questionable. But, it's always a great time. The beer garden is a great spot to hang out & the dancefloor usually pumps up later too."
Blutes Bar
"A go to spot after a few of us have been to a gig. They've got karaoke pumping until 3:00am, super cool range on tap and just a great spot to hang out. Many vocal chords and Jimmy Barnes impressions have been tested here – to varying degrees of success."
Listen to Waxflower's emotionally-charged alt-rock music below & if you're around at Bigsound, be sure to catch them on Tues Sept 6th at 11:40 pm at Stranded Bar & Weds Sept 7th at 8:50 pm at The Warehouse– Tickets HERE!