Backstage Interview: Catfish and the Bottlemen @ Byron's Falls Festival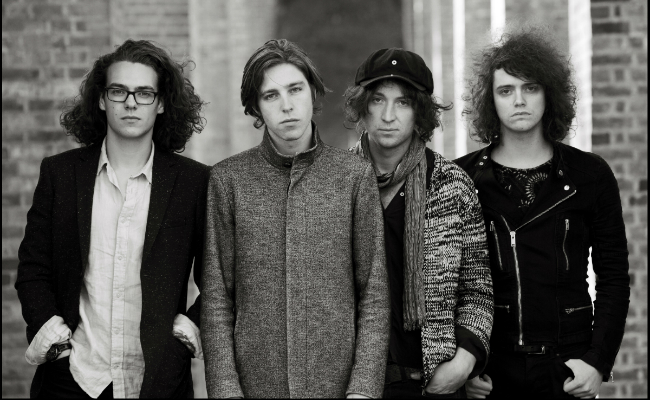 It's been one heck of a… ride for British rock quartet Catfish and the Bottlemen since the release of their debut album 'The Balcony' in 2014. Instant indie-rock anthems Cocoon and Kathleen propelled their first full-length offering to international acclaim, and their 2016 sophomore album 'The Ride', along with a charming live show, has seen the group become one of the most in-demand rock bands in the world. An hour before their torrential rain-plagued set at Byron Bay's Falls Festival, we *spoke to frontman Van McCann and lead guitarist Johnny 'Bondy' Bond backstage about shoeys, the UK 'toilet circuit", and their favourite songs of 2016.
*Sadly we weren't allowed to take a selfie, but believe us when we say Van's jacket was majestic…
It's so great to meet and chat to you guys! First of all, how's the current tour of Australia going?
Van: It has been unreal! I've loved every single show! [Compared to] when we play big festivals back in the UK, the shows here seem to be just as relatable and wild. My cousin, who's our bass tech, was saying it was like Glastonbury when we played [Lorne's Falls Festival]… the crowd was massive and singing every word. So to come to the other end of the planet and for everyone to know the words… it's pretty crazy!
Bondy: Yeah, I think Marion Bay is possibly the furthest point we could be from home and to walk out and there's people as far as we could see and losing their minds… it's great!
Van, you just touched on your Glastonbury set. You were ecstatic to play that festival, so what's the mentality like playing a world-famous festival compared to playing a little ol' Aussie one?
Van: Well when you say [Falls Festival] is a little one, it doesn't feel like a little one! It feels like Australia's Glasto, along with Splendour, so there's no real difference in mentality for us if we're walking out to 10 people or 10,000. We're always like "Yes! We get to play!". We'd say Falls stands up to any other festival we've played at.
Bondy: The atmosphere of playing a gig is what we love. We've also been pretty lucky with the time slot we've got for Falls, the sun just begins to set when we start and then it's dark halfway through. I always say that slot at a festival is the most atmospheric.
I've noticed that most of the night sets here at Byron's Falls every band has been heckled to do a 'shoey', have you guys done one yet? 
Bondy: Have you seen The Mighty Boosh?
I've seen bits of it…
Bondy: Well, there's a character called Old Greg and he drinks Baileys from a shoe. A friend of mine had a party for one of his kids and it was an 'Old Greg' themed party, so we had to do a shoey of Baileys. So that was the last shoey I did!
Van: I've not done a shoey in a while…
Would you be keen to do one tonight? 
Van: Oh yeah, I've got no issue. But not in these boots, these are felt and are pretty sharp!
Bondy: We had a pretty late night, so could we do a cup of tea or coffee instead?
You guys seem too dignified to drink out of a shoe!
Van: Yeah… we had a rough night last night, so a shoey espresso would be alright at the moment.
(laughs) You guys have done a lot of shows, so what is the craziest crowd participation you've seen?
Bondy: We find it hilarious looking out and seeing what people get up to, we did a show in Manchester and we had the whole thing filmed so we could watch it back…
Van: There was this guy in a pigeon mask among other things…
That was for the 7 music video, right?
Bondy: Yeah, it was. I don't know if it's the same [in Australia], but is there a trend of sticking flares up at every gig you go to?
Not yet, but maybe some of your hardcore fans will have brought some in for tonight's set to recreate the video.
Van: Well there's always inflatable alligators because of ['The Ride'] album cover, we see people surfing them quite a lot. Bondy and I have also noticed at every Falls show people have been holding up rags that say "TUNE" on them… we like that!
Bondy: I saw a 'naked totem pole' too at a gig…
A 'naked totem pole'? (laughs)
Bondy: Yeah, a naked guy on top held up by his mates on their shoulders…
Getting into your music rather than just your raucous shows, Van your lyrics encompass pretty much every stage of relationships and love. Do you draw from personal experiences or observing others?
Van: I've never been too good at writing songs about [observations]. I heard Paul McCartney was able to write a song about nothing, like about scrambled eggs or about his dog or whatever, and turn it into something great! My approach has always been what I've been directly involved in, so all the stories are real and all the people in the songs are real.
Y'know the first word of the album [in 7], "Larry", I was literally two steps away from the guy in the story. Both records are inspired by people close to me and people in my life. One day I'd like to open up and write an I Am The Walrus and not about my life as such…
Maybe take a trip to India for a while…
Van: (laughs) Yeah, and all that stuff. But at the moment it just comes naturally and quickly to speak about people I love.
'The Ride' also seems to be more personal lyrically than your breakthrough debut album 'The Balcony', did you write both albums around the same time or is there some time between the narratives?
Van: Yeah, everyone says that [it's more personal] and I don't know why! Maybe it is… 'The Ride' was actually written in four days, the whole body of lyrics and music.
'The Ride' was written across a weekend?
Van: Yep, a long weekend. I just brought some ideas to the boys one weekend and it just took another weekend to get it musically together. The lads are just so in my head now that when I bring [them] a song they just know where things should go, and I just stand back and watch!
Due to such an efficient process, does that mean the third album is pretty much ready to roll?
Van: We love what we do, there's nowhere else we'd rather be than making albums and playing live shows all around the planet. So we're ready to go every year… we go to the label and management (wanting to release new music) and they say "C'mon lads, give us a moment!", so we're being told to hold off to like the end of the year.
Well we can't wait for another album! The music video for Hourglass features Ewan McGregor seemingly writing the song, only for you to then accidentally steal it in the end, so is there any chance in the future Van and Ewan could do a live duet?
Bondy: On the B-side of that track is Ewan actually singing the song…
Van: So we do have that sort of version out, but we'll try hard to make it happen!
I guess it's not easy to line up the band and his schedules, I can imagine you're both pretty busy! 
Van: I think he's in a different country every day (laughs). He's still a good friend to us, and he's been so good to our band and he's been on the radio back home talking about when he first met us. So yeah, a [live duet] isn't on the radar but we'd always be up for it if Ewan was!
Bondy, you came into the band in 2014. So what's it been like in the space of a few years to go from an emerging band to one of the biggest contemporary rock bands in the world?
Bondy: Umm, probably much the same as the other guys. We have very similar backgrounds, like we've all done the 'toilet circuit' of the UK… and then did it again… and then did it about 20 more times!
When was the moment when you realised there wouldn't be another 'toilet circuit', when the band was going up in status? 
Bondy: Probably when I first spoke to Van on the phone, "Do you want to come do this with me?". Just because of the way Van is, when he said it was going to happen, I was like "yeah, it's gonna f*cking happen!".
*Van blushes*
Bondy: There was never really any doubt, and when I joined they were already doing renowned festivals like Reeds and Reading. Playing in front of a packed tent of 5,000 people was an amazing feeling!
I can't keep you much longer, unfortunately, so I've got one more question for you. I've voted for your track Soundcheck in my Top 10 for triple j's Hottest 100, so what are your favourite songs from 2016?
Bondy: Recently we did a Take 5 for triple j… I really love the new Ryan Adams track and Justice's new album, so I pick Randy from 'Woman'.
Van: There's a band called July Talk from Toronto, who came on tour in the UK with us, they're kind of like Queens of the Stone Age but with Johnny Cash and Carter vocals. They've got a song called Beck + Call, which is really good. There's a guy called Benji Hughes, he's got a song Freaky Feedback Blues and that's pretty good too! Oh, there's a band called Little Comets… they've just finished making their next album, which will be out this year, so there's some even fresher music than 2016 for you!
And to finish off, do you have a message for your Aussie fans?
Van: We love you loads! Keep doing what you're doing because we love it!
Bondy: It's only the second time we've [toured Australia] and for things to have grown the way they have, it can only be through triple j being so good to us and everyone here diggin' good music!
Van: If you guys keep coming to shows we'll keep coming back every year, we'll come back this year even though we're here now… what friggin' year is it?? (laughs)