Baywatch Babes Q & A: Chevelle Wiseman from Guantanamo Baywatch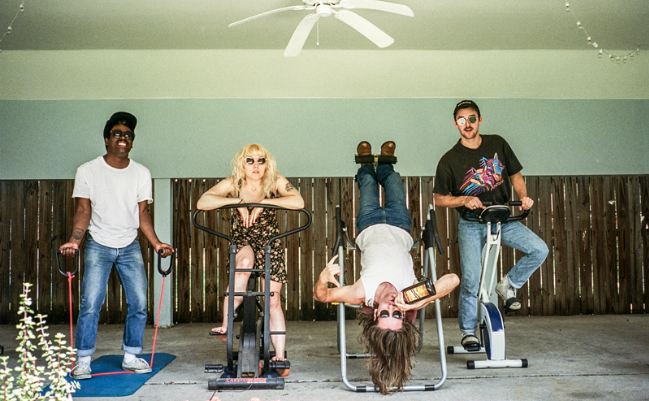 Portlandian surf rockers Guantanamo Baywatch are Down Under for the next two months in support of a new album, celebrating an extra guitarist, and fostering an enormous sense of excitement to tour their second home once again. We asked the band's bassist Chevelle who are the real baes of Baywatch and what you need to know about their upcoming East Coast tour!
Who was the ultimate babe on the Baywatch TV series?
It comes down to Hasslehoff vs. Anderson (Lee). On one hand his late night drunken-floor-cheeseburger-ramblings are amazing, but Pamela really paved the way for celebrity sex tapes (you know Tommy Lee drives a boat with his boner?). Pamela wins!
You're cruising the beach enjoying the sun and someone comes along to kick sand in your face, what do you do?
Fart on their nose!
In the event you're at the beach in need of saving, which member of Guantanamo Baywatch would you like coming to your rescue?
None of these guys could save me and I'm pretty sure they'd just pretend they didn't see me drowning!
With the new Baywatch movie on the horizon, who has more hunk appeal: David Hasselhoff or Dwayne 'The Rock' Johnson?
THE ROCK, because he's a perfect human god scorp king.
What activity in your life would be best viewed in slow motion?

Feeding dogs is best viewed in slo-mo…
David Hasselhoff is clearly a symbol of Baywatch, so which are you a bigger fan of: Baywatch or Knight Rider?
I can't say no to a crime fighting talking sexy man-car!
If you could redesign the Baywatch leotard, what would it look like?
More glitter and more dong!
For the uninitiated, how would you describe Guantanamo Baywatch's sound and live shows? 
Chicken wings and tequila shots.
We're loving Too Late, what's the story behind it?
We shot this video to explain the story behind Too Late with our bud Brett Roberts who makes vids for our friends Mean Jeans and Long Knife. We built a buncha the stuff and spent tons of time green screening and it was sick!
Lastly, what are three things we should know about Guantanamo Baywatch?
We are touring Oz in a few weeks!! Watch out m8s!
We are about to record a new record to be released on Suicide Squeeze Records this June!
From here on out we'd like to request tequila shots and chicken wings at every one of our shows
Guantanamo Baywatch 2016 Australia Tour
FRI 23 SEP
The Foundry,  Brisbane
SAT 24 SEP
The Great Northern, Byron Bay
SUN 25 SEP
Sounds Of The Suburbs, Sydney
SUN 25 SEP
Frankies Pizza, Sydney
THRUS 29 SEP
The Eastern, Ballarat
FRI 30 SEP
Yah Yah's, Melbourne
SAT 1 OCT
Chopped Festival, Newstead
SUN 2 OCT
The Bridge Hotel, Castlemaine