Being As An Ocean Announce Dear G-d… 10-year Anniversary Australia Tour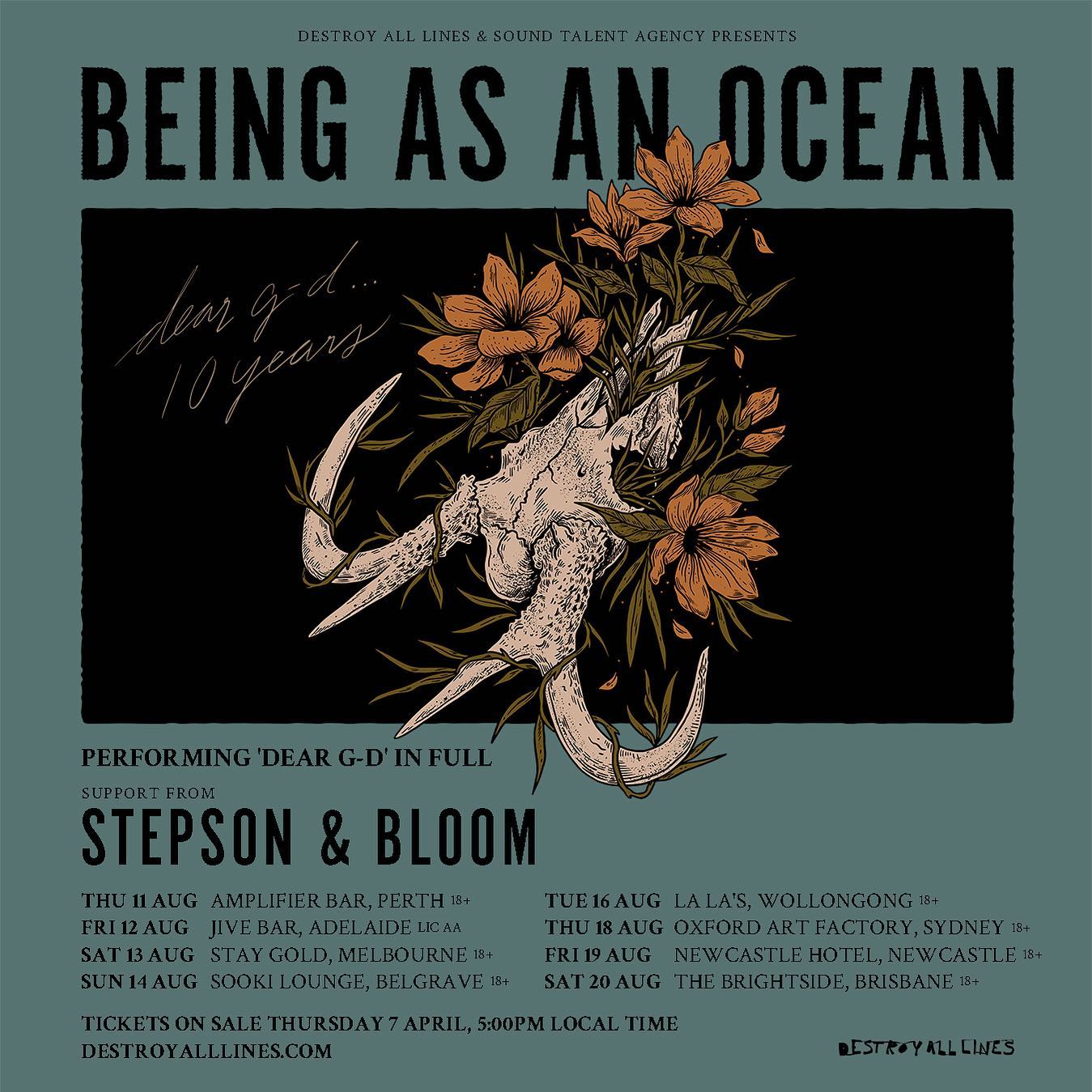 California melodic hardcore favourites Being As An Ocean and Australian event promoter Destroy All Linescasually announced one of the most anticipated international heavy tours in years last Tuesday. The band will embark on an extensive 8-date tour of the country this August for the 10-year anniversary of their 2012 debut album Dear G-d…, supported by local mainstays Stepson and Bloom.
After touring the US earlier this year for the anniversary with Capstan and Limbs, Being As An Ocean will be stopping at Perth, Adelaide, Melbourne, Sydney and Brisbane – as well as some regional shows in Belgrave, Wollongong and Newcastle. Since going independent for their pivotal 2017 album Waiting for Morning to Come, the band has also released experimental 2019 effort PROXY: An A.N.I.M.O. Story and 2021 singles 'Catch the Wind' and 'Lost'. This comes amid the departure of founding members Tyler Ross (guitar) and Ralph Sica (bass), with clean vocalist Michael McGough taking on bass duties.
Renowned for frontman Joel Quartuccio's poetic spoken-word vocals and their emotive sonic journeys, Being As An Ocean are considered one of the most important acts in the post-hardcore movement of the 2010s. Honest lyrics, blistering riffs and unforgettable melodies make them stand out from the crowd and garner lifetime listeners. They're one of those bands who come on in the car and your friend turns to you and says, "Who is this?" – another converted by their urgent passion and fervent performances.
"We will be playing the greater part of Dear G-d…, including songs we have yet to perform live and a mix of dan favourites spanning the band's career," the band says of the tour. "We know these performances will be something special and can't wait to see you all again. Here's to 10 years and the future ahead."
There are few bands who leave a mark like Being As An Ocean and their long-awaited return to our shores is more than welcomed by the parched local scene. With huge names like Stepson and Bloom tagging along for the ride, these intimate shows of the Dear G-d… 10-year anniversary tour will be one of the history books. Get your tickets now because these guys are guaranteed to sell out!
https://destroyalllines.lnk.to/22BAAO