BIGSOUND Drops Big Keynote Speaker Lineup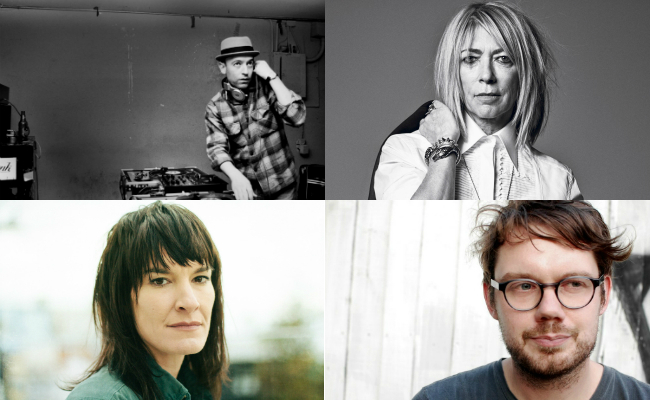 Brisbane's BIGSOUND conference is getting even bigger, with the addition of a whole stack of new speakers to flesh out an already huge lineup!
Sonic Youth bassist Kim Gordon, Hip hop pioneer Peanut Butter Wolf, Milk! Records' Jen Cloher, and musician and radio host Tim Shiel are just some of the names on the massive bill that join over 150 bands and musicians.
Gordon's career in Sonic Youth was when the band become one of the pioneering acts in Grunge in the 80s and 90s. She's also released her memoirs in 2015's 'Girl In A Band'.
"Kim Gordon has been on our dream list of speakers for years and we're so excited to hear from such an influential, challenging and still-relevant figure in music and art," said BIGSOUND co-programmer Nick O'Byrne
Peanut Butter Wolf, who now heads Stones Throw Records, was a DJ and producer who released a slew of albums and mixtapes in the 90s and early 2000s.  Stones Throw now have artists like Aloe Blacc and J Dilla, and help to promote upcoming artists.
Jen Cloher, both runs and is signed to Milk! Records, organising some of Australia's biggest and best artists, like Fraser A. Gorman, Loose Tooth, and her partner Courtney Barnett. Tim Shiel has dropped a number of tracks over the past few years, as well as hosting the Something More show on Triple J's sister station Double J.
Artists on the bill include Melbourne songstress Olympia, former Preatures guitarist Gideon Benson, and last year's Triple J Unearthed High winners Mosquito Coast.
BIGSOUND will take place from 7-9 of September, hitting multiple venues in Fortitude Valley.
To check out the BIGSOUND artist lineup click HERE and check out Powderfinger's Ian Haug giving a keynote speech at BIGSOUND 2013 below!
If you're liking what you're reading add AAA Backstage on Snapchat [aaa-backstage] and follow us on Instagram [@aaabackstage]
BIG SOUND Keynote Second Announcement
Kim Gordon (USA)
Peanut Butter Wolf – Stones Throw Records (USA)
Lars Murray – Pandora (USA)
Brodie Lancaster (Aus)
Bruce Tweedie – Music Mill (Aus)
Alex Black – Big Deal Music (USA)
Andrew Szew – Szew Law Group (USA)
Paul Barclay – ABC (Aus)
Guy Blackman – Chapter Music (Aus)
Michelle Brown – 4ZZZ (Aus)
Christine Cao -The Windish Agency (USA)
Chris Carey – Media Insight Consulting (UK)
Jen Cloher – Milk! Records (Aus)
Claire Collins – Bossy (Aus)
Katie Cunningham – Junkee Media (Aus)
Cam Durnsford – PBS 106.7FM (Aus)
Melody Forghani – twnty three (Aus)
Stephen Goodhew – FBi (Aus)
Cath Haridy – Catherine Hardy Management//Support Act (Aus)
Tim Hollo – Green Music Australia (Aus)
Chris Johnson Amrap (Aus)
Lachlan Kanoniuk – FasterLouder (Aus)
Mitch Knox – TheMusic.com.au (Aus)
Siobhan Kranz – Mushroom promotions (Aus)
Jessica Krishnaswamy – BBE (Aus)
Jared Kristensen – Ticket Squad (Aus)
Kučka (Aus)
Tom Larkin SIGNAL Agency Gour/Studios In The City/Homesurgery Mgmt (Aus)
Nikita Lavrinenko – Paper and Iron Booking (Germany)
Regan Lethbridge – Lemon Tree (Aus)
Stu McLeod RTR FM (Aus)
Ivano Maggiulli – Brace Yourself PR (UK)
Tyler McLoughlan – The Sound Pound (Aus)
Tim Price – Collision Course (Aus)
Jodie Regan – Spinning Top Music Manager (Aus/USA)
Jonno Seidler (Aus)
Roger Shepherd – Flying Nun (NZ)
Tim Shiel (Aus)
Jessica Strassman – Columbia Records & StarTime International (USA)
Marcus Teague (Aus)
Mark Vaughan – Atomic Soul (Norway)
Julia Wilson – Nice Rights/Midnight Choir/Rice is Nice (Aus)
Nick Yates – UNIFIED (Aus)
BIGSOUND Conference 2016
WED 7 – FRI 9 SEP
Fortitude Valley, Brisbane
Get Tickets HERE