Bootleg Rascal Miss the Mark On Like A Version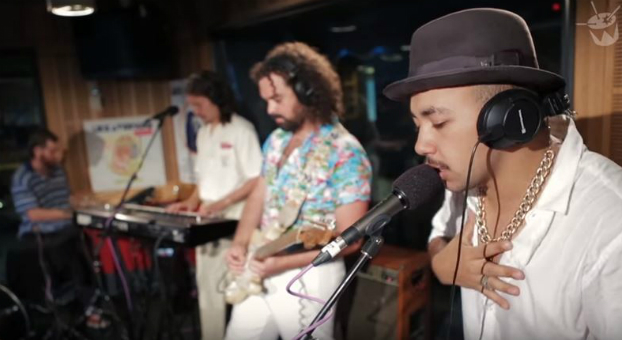 Hmmmmmm.
Sometimes things aren't perfect. Unfortunately, for the funky Sydney/Gold Coast 4-piece Bootleg Rascal this was the case with their cover of The Weeknd's The Hills for today's triple j Like a Version. Maybe the song choice was raising the stakes a little too high. The Weeknd IS one of the most popular artists right now and a LOT of people really like that song. So yeah, the expectations were definitely there.
Nevertheless this was rough as sandpaper. Granted, a polished sound isn't always a requirement for a good cover, however, in this case, it probably would have been a good idea. Though it started out as promising, the guys really stumbled on the chorus. To be fair, The Weeknd's vocal register is probably a tad bit higher than the usual bluesy rasp of frontman Carlos 'Q-Dome' Lara. However, the shaky vocals weren't exactly helped by the fact that the instrumentals were much louder than they needed to be. The guitars and drums both really drowned out Lara, who was certainly trying to belt out the chorus (to limited success).
To be fair, the verses were actually quite good, with Lara able to make use of his lower register, and the bridge was permissible. The energy is also clearly there, Lara certainly delivers on the emotional nature of the track. It's just disappointing that they couldn't quite follow through.
Aside from the obvious faults, it was interesting to hear the up-tempo, reggae style take on the track. Arguably, the beauty of The Hills is in the intensity of the slow, thick beats underpinning the vocals, so it was a nice experiment in genre bending to hear a faster paced, more frantic version. It kind of worked, but the heaviness of the original was missed.
Nevertheless, Bootleg Rascal most definitely do not under-perform on their own tracks. You can catch them on their upcoming national tour!
Bootleg Rascal 'Asleep In The Machine' Tour
FRI 11 MAR
Transit Bar, Canberra
FRI 18, MAR
Manning Bar, Sydney
FRI 1 APR
Sol Bar, Maroochydore
SAT 2 APR
The Great Northern, Byron Bay
TBC
UOW, Woollongong
Sat 4 JUN
Corner Hotel, Melbourne
FRI 10 JUN
Wooly Mammoth, Brisbane
TBC
Cambridge Hotel, Newcastle
Get Tickets HERE