Brisbane's Live Hip Hop Scene Revived with Strictly Speaking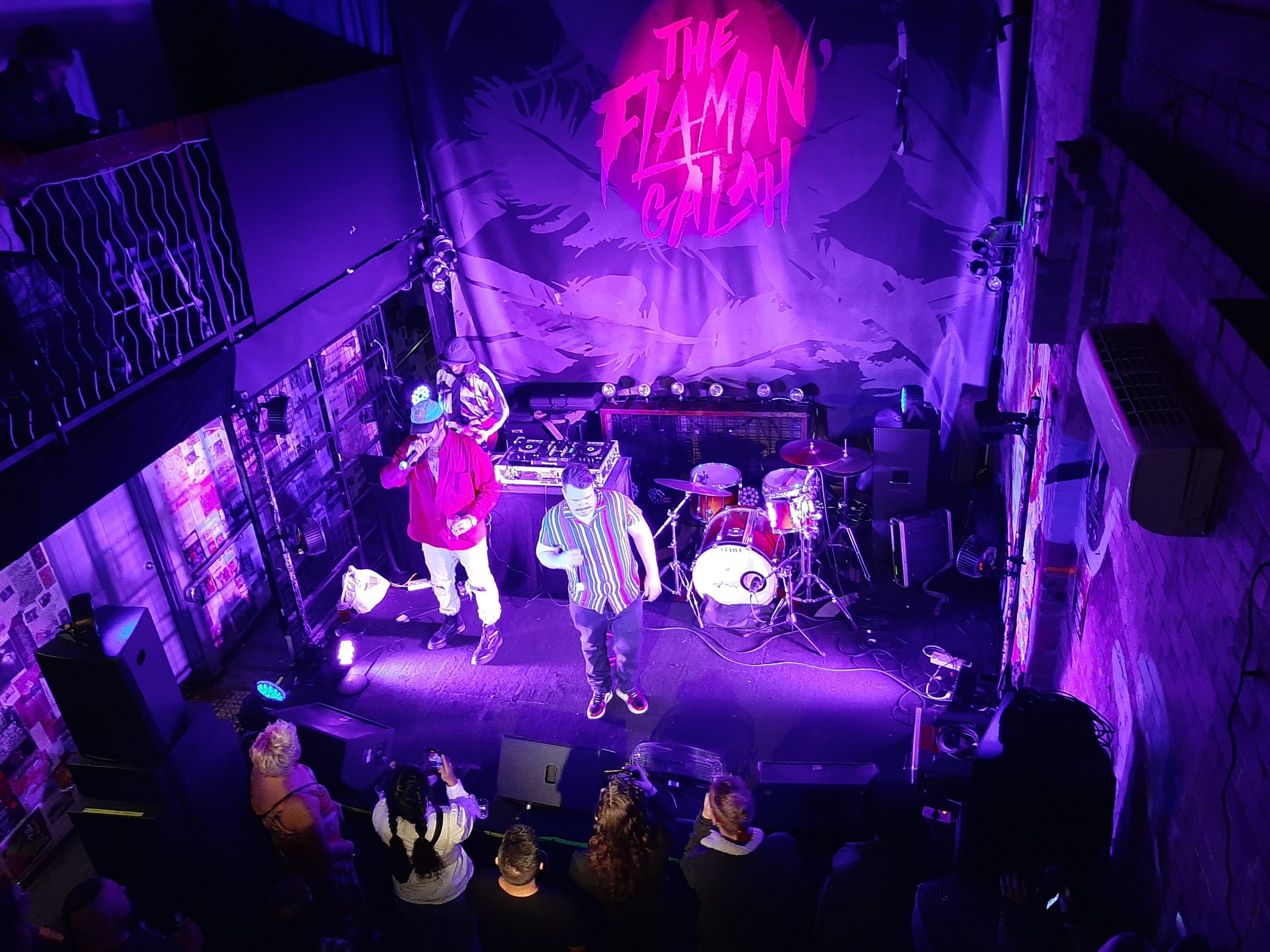 There has been somewhat of a void in Brisbane's live hip hop scene for over a year now since it was impacted by government-enforced COVID-19 restrictions and postponed shows. However, there has been one saviour responsible for reviving it: Brisbane record label Strictly for the Heads.
Managed by rapper and entrepreneur Late1, Strictly for the Heads brought back their much-loved Strictly Speaking show on Friday 8 May at the home of Brisbane hip hop – The Flamin' Galah. The shows nurture local talent and provide a platform for up-and-comers and respected names to come together for a fun night of beers, bars and beats. After a year or so of hiatus due to the pandemic, Strictly Speaking is to be held on the first Friday of every month with a different selection of artists each time. With an impressive lineup featuring new voices Jacinta Lal and Jay the Creative as well as established locals Lagoon Co., KMay, Young Vizzyand Zekiel, the diverse bill definitely did not disappoint the punters of Brisbane's hip hop underground which has been thirsting for live music.
The supportive community turned out for opening act Jacinta Lal at the start of the night, introduced by organiser and host Late1. For her first time performing her songs live, Jacinta wasted no time in getting the crowd moving to her booming trap beats. She flexed her sharp choppy flows over punchy dance cuts with a mix of sassy and vulnerable songs that showcased her Hindu influence with the incorporation of Eastern sounds. Jacinta explained that she uses fictional character narratives in her lyrics to portray her emotions and ideas in an interesting and refreshing way, making her someone definitely worth keeping an eye on.
Next up was Jay the Creative with his debut live performance backed by two dancers and an animated hypeman. At just 19 years old, the fresh newcomer and his team amped the crowd up before even playing his first track. Jay transitions between social commentary and fun bars over a blend of halftime trap beats with huge bass hits and chill vibes of dusty boom bap. He urged everyone to put their hands in the air and chant the hooks to his songs with an assertive stage presence that built up to an energetic finish.
Back from dormancy, Lagoon Co. (one half being Late1 himself) took the stage in a boisterous manner that saw the whole crowd eagerly push to the front. The well-respected mainstays boasted witty comical rhymes over modern boom bap that got every head in the room nodding. With guest features by Tayls and Just Brooks, the cute couple finished each other's lines and used seamless cues and hilarious spoken interludes to keep the set interesting. From fun upbeat jams to moody slow grooves, the chemistry between Lagoon Co.is something that only comes with years of performing together and fans were delighted to witness their return to the stage at long last.
Local favourite KMAY brought an interesting dynamic to the lineup with her diverse and powerful set. Backed by a live drummer and talented vocalist, her unique storytelling through modern rap styles showcased her spoken-word background over jazzy lo-fi beats. The crowd was waving their arms in the air from her first song to her last and it didn't take long to learn her catchy hooks by the time she brought four girls from her crew up for a harmonious ballad. Acknowledging the traditional owners of the land and frequently giving thanks, KMAY's thoughtful lyrics with a spontaneous ferocity in her delivery reflected her passionate and powerful nature.
The praised Young Vizzy wowed with his tight spitting and smooth crooning over soulful hard-hitting beats to a bustling crowd reciting the lines back to him. A highlight of the set was getting Late1 up on stage for their catchy nod to the old school with Go Your Own Way, the call-and-response participation confirming his innate ability to control a room. Vizzy also brought local rapper Trigz up for a track before leaving the stage to him and collaborator Geran while taking a drink break then launched back into his set with rapid-fire bars over hard trap beats. The crowd demanded an encore after singing and clapping along to his final song which saw Vizzyget down amongst them and replay Solo for a fun sweaty finish.
The crowd was well and truly warmed up for anticipated headliner Zekiel, who was introduced by Late1wearing his merch. The breakthrough talent opened with an unreleased energetic bopper and kept the momentum going through his versatile set. Zekiel writes and performs with a burning passion and his sensitive lyrics over melodic trap beats appeals to hip hop heads and moody pop fans alike. Fast-paced bars, catchy low singing and airy falsettos demonstrated his own brand of ambiguous lo-fi rap. Performing fan-favourite 9 Days Straight, latest single Like Gold and the vehement Energy, an intimidating stage presence and ominous rhythmic lighting made for an incredible live set with people bouncing and shirts flying before he joined the crowd for closing banger Lil Bich.
Strictly Speaking is a chance for emerging artists to sew themselves into the fabric of the tightknit network of established locals and perform for their peers in a welcoming and supportive environment. The first-timers crushed it and the seasoned veterans turned up to give everyone who attended a hell of a night to remember. This event was a strong reminder that the Brisbane hip hop scene is still alive and well and hungrier than ever for live shows in their own backyard.