But Wait, There's More: It's Now Even Easier To UNIFY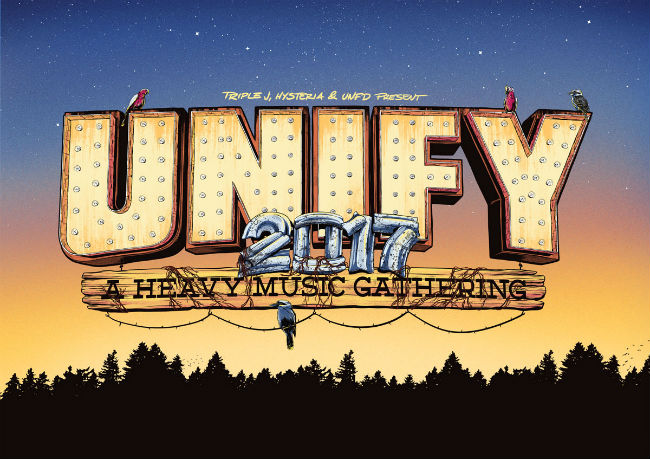 Australian heavy music festival UNIFY has introduced a new payment initiative for the 2017 installment of the festival.
The event has introduced Afterpay, a payment plan system for purchasing tickets. Afterpay will allow punters who are keen to head down to the 3 day event next year to purchase a ticket, and pay later. Once purchased, the ticket can be payed off in four interest-free payments of $51.67 every fortnight. The team behind the festival introduced Afterpay due the large number of international acts touring and releasing tickets, as well as realising the upfront cost of purchasing tickets might put some fans off of coming to the event. Afterpay will now allow these fans to get their hands on tickets before they sell out, which seems like a sure thing.
The 2000 ticket allocation for early bird pre-sales, which was offered to punters from previous years, sold out in less than 24 hours. What makes this even more impressive is that this was before the festival line-up had even been announced. Since its inception in 2015 the festival has seen massive success, with the 2015 event selling out its 3000 ticket allocation in less than 24 hours, and the 2016 event selling all of its 5000 tickets well before the event.
The festival, organised by Australian record label UNFD, fills the void of that the death of juggernaut Soundwave festival (R.I.P.) left. However it does so in a uniquely Australian way, with a focus on showcasing Australian bands, rather than international bands.
Tickets are selling fast, and if the trend continues will sell out, so grab yours before they're gone. With one hell of a line up, this is one you don't want to miss.
Unify 2016 A Heavy Music Gathering Lineup
Alexisonfire
Violent Soho
Northlane
Everytime I Die
The Getaway Plan
Letlive.
Thy Art Is Murder
Luca brasi
House Vs. Hurricane
I Killed The prom Queen
Moose Blood
Storm The Sky
Counterparts
Deez Nuts
Trophy Eyes
King Parrot
Ocean Grove
Saviour
Columbus
The Dirty Nil
Polaris
The Brave
Bare Bones
Justuice For The Damned
Drown This City
Ocean Sleeper
Get Tickets HERE