City Calm Down Give Goosebump Triggering Like A Version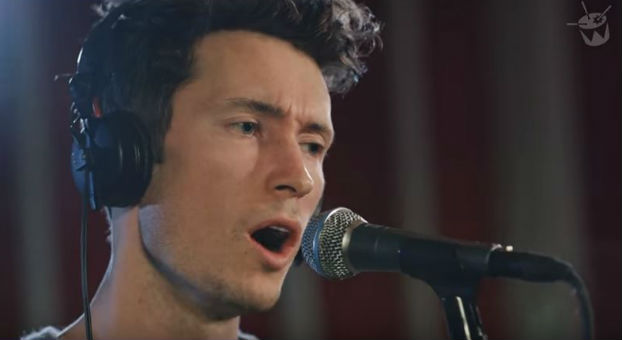 City Calm Down was dolling out mass doses of Goosy B's for this morning's triple j Like A Version. The Melbournian 4-piece, joined by a few extras, decided to punch us all in the heart with their cover of Foals' ever emotional Spanish Sahara.
Frontman Jack Bourke's bassy vocals are super intense and spine tingly, so intense in fact that he barely ever blinks for the entire song. It's both impressive and slightly alarming…
The gents start the song off with a serene intro, building layer upon layer of instruments and inflections in time. The first chunk of the song is pretty great, but everything takes a complete turn into chill-ville when the trumpet and tenor saxophone kick in. Brass and wind instruments make everything better, this is fact. Especially in the emotional rollercoaster that is Spanish Sahara. Also you can tell just from his facial expressions that the sax player really feels it.
Sure the sound may not be as polished as the original, but the roughness really works given how passionately City Calm Down perform. It's raw and real and kind of heartbreaking, but in a cathartic sort of way. Definitely worth a listen, even for the horns alone!
City Calm Down have just embarked on a quickly selling national tour, if you're keen to engulf yourself in more of their dulcet tunes hit up one of the dates below!
City Calm Down National Tour
FRI 1 APR
Oxford Art Factory, Sydney
SAT 2 APR
Wooly Mammoth, Brisbane
THU 7 APR
Corner Hotel, Melbourne
FRI 8 APR
Fat Controller, Adelaide
SAT 9 APR
Corner Hotel, Melbourne
FRI 15 APR
Jimmy's Den, Perth
SAT 16 APR
Mojo's, Fremantle
SAT 23 APR
Corner Hotel, Melbourne
SAT 24 APR
Wooly Mammoth, Brisbane
Get Tickets HERE