David Bowie Honoured With His Own Lightning Bolt Constellation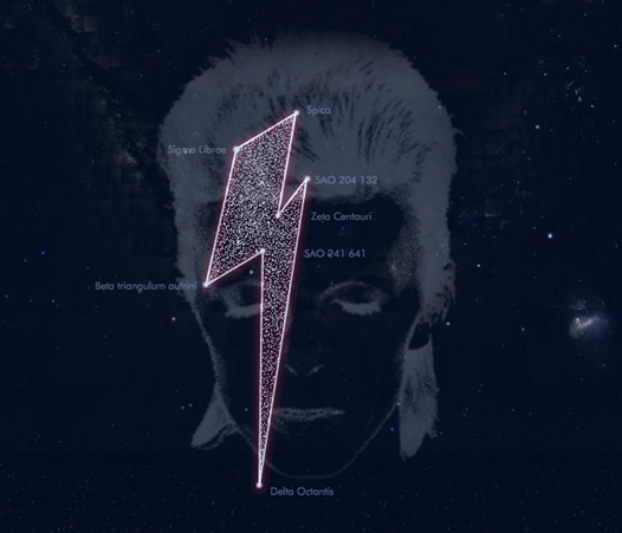 The Man Who Fell To Earth has returned home to outer space after astronomers have honoured him with his very own lightning bolt constellation.
The MIRA Public Observatory have registered a constellation in Bowie's name shaped like the Aladdin Sane lightning bolt.
Bowie's constellation is made up of seven stars and located near Mars taking place alongside 88 other existing constellations.
Determining which stars to register wasn't all that easy according to Philippe Mollet from MIRA but a solution was eventually found.
"Referring to [Bowie's] various albums, we chose seven stars — Sigma Librae, Spica, Alpha Virginis, Zeta Centauri, SAA 204 132, and the Beta Sigma Octantis Trianguli Australis — in the vicinity of Mars. The constellation is a copy of the iconic Bowie lightning and was recorded at the exact time of his death."
Studio Brussel have also launched a 'Stardust For Bowie' project, which lets fans interact with Bowie's constellation using Google Sky, where they can assign their favourite song by Bowie and leave a short message.