Down For Tomorrow Share With Us The Records That Shaped Them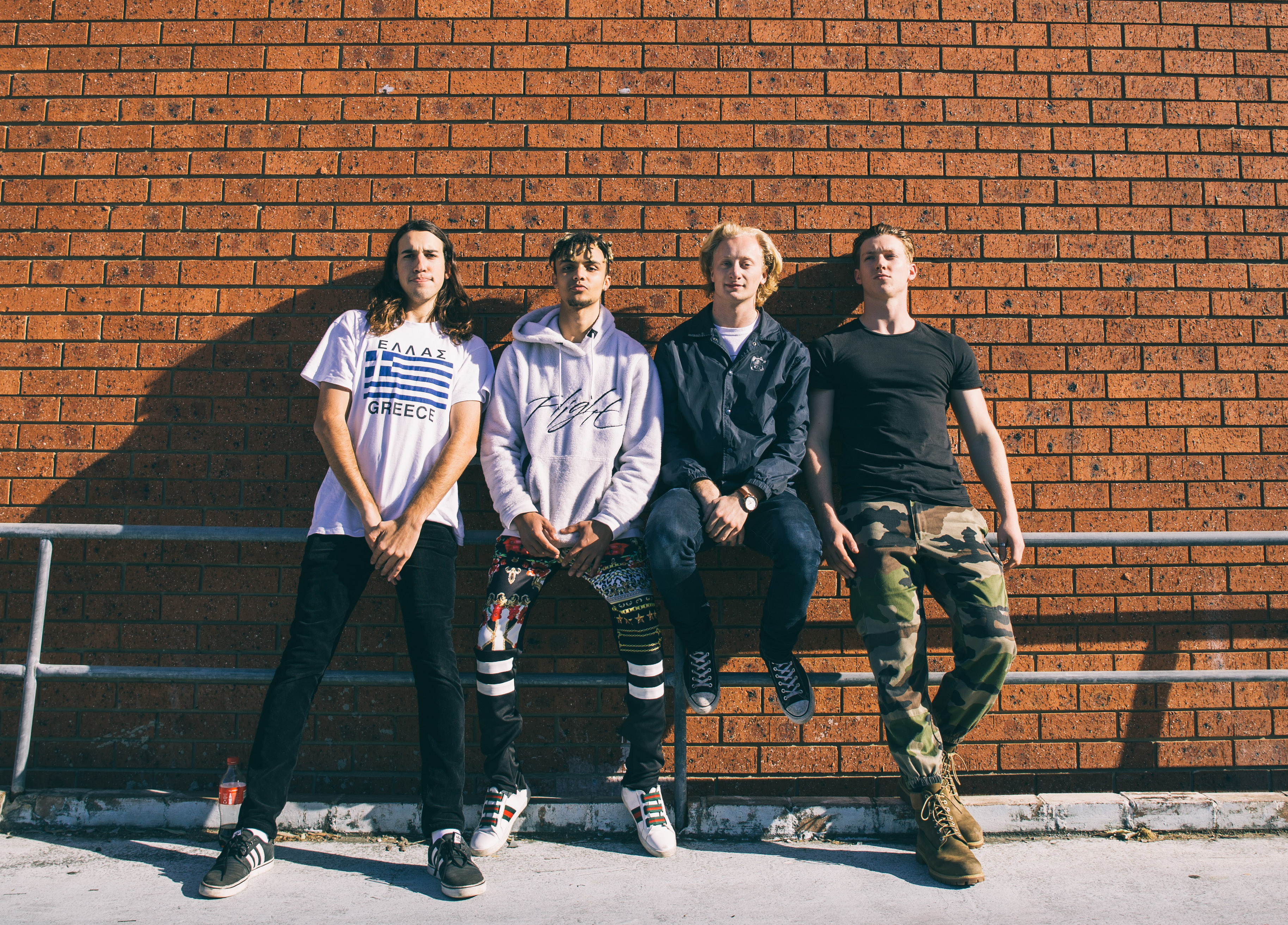 Following on from releasing their sophomore EP 'Thanks To You' in June, Sydney-based grunge-punk quartet Down For Tomorrow have returned with their wholehearted new single 'Show Me That You Care' – produced and mixed by Stevie Knight (Yours Truly, Stand Atlantic, The Dead Love). We sat down with the boys to find out the records that shaped the band as we know them today.
Green Day – 21st Century Breakdown (2009)
Cody: 21st Century Breakdown came out when I was in year 6, and all but confirmed my love for Green Day, and for punk rock music all together. They were the only band I would ever listen to back then. In fact, Henry and I bonded and became close friends thanks to this album. It was on repeat from the moment I was gifted with it, and Billie Joe Armstrong rapidly became my idol. He was the reason I picked up guitar. I would mimic both his nasally singing voice, and live performance antics from time to time. It sure was an obsession.
Ten years on, I'm still barely finding words to describe how much Green Day and this record have impacted me as a person and musician. I look back and know that 21st Century Breakdown was the album that secured my love for Green Day and injected punk rock in my veins. Their influence on me is evident throughout my early song writing years, and even in the early days of Down For Tomorrow. There are still little hints of it in our music now. If only Billie Joe Armstrong knew the influence he has had on my life, and many others. It would be extremely fulfilling to write a record anywhere near as mesmerising and impactful.
Smashing Pumpkins – Melon Collie and the Infinite Sadness (1995)
Henry: Without this album I would not play the drums and Down for Tomorrow would straight up not exist. I mean, Cody would have found someone else and made another band with strippers and cocaine, but "Down for Tomorrow" would be no more than a text message I sent to my girlfriend in 2015.
This masterpiece is a beautiful tapestry of contrasting themes which reflect the inner workings of Billy Corgan's creative, frustrated, passionate and at times psychotic mind, prior to projecting into the mainstream output of Grunge in the mid-90s. Mellon Collie is the epitome of a concept album, with a visceral soundscape that transcends the sense of hearing. I struggle to think of an album which is able to create such clear visual images in the mind's eye of the listener. It's a long journey to get through all 122 minutes, but to me there has always been 4 separate sections in the album, each of which has its own distinct atmosphere. One of the more profound experiences of my life was finding myself within the setting of how I always imagined track 20 to be. Taken from an excerpt of my travel journal when going through Kazakhstan – "this landscape is a visual manifestation of Billy Corgan's 'In The Arms of Sleep'. The sparse, rolling rhythm of steel guitars and careful brushes paints a picture of a nomadic romance between clear skies and open Steppe that I'm seeing in front of me. I've been visualising this moment for years.".
Aside from all the feels this work gives me, Mellon Collie has some kick ass drums and awesome moments that just make you want to pick up some sticks and give it a crack yourself. Which is exactly what I did. Thank you, Jimmy Chamberlin.
This album changed my life and is still really important to me.
Rush – Moving Pictures (1981)
Tom: Rush is not a cool band, but it's the sophistication and musicianship that they produce, especially in the album 'Moving Pictures', that has played a huge influence on me. For the band Rush, it was never about the rockstar life of drugs, sex and alcohol, but the music. Every member of this incredible three piece is a master of their instrument, from Alex Lifeson's lead guitar dynamics, sounds and phrases which are incomparable to any other guitarist, to Neil Peart's robotic and hypnotic drumming which will always amaze me and finally Geddy Lee's incredible and unprecedented bass lines which I've always admired and his exceptionally high pitched vocals.
Rush is not a band for everyone, but they have remained a huge influence on me, and how I listen to, and think about the meaning behind different songs and the musicianship behind it.
I think the biggest reason as to why I love Rush is because they never cared about becoming rich or famous. It was always about "how can we challenge the music scene and create something that is unique", and Rush succeeded so well at doing this that they became rich and famous, which for them was a bonus.
As well as this, Rush has influenced a myriad of other bands that I also love, including Smashing Pumpkins, Rage Against the Machine, and many more.
Eminem – The Slim Shady LP (1999)
Sam: The Slim Shady LP is one of my favourite albums. At the time, it showed young Eminem's "no fucks given" attitude by rapping about things like drug use, being broke, and causing trouble. Eminem stands out to me in comparison to most rappers due to his high-pitch twangy voice, and his unapologetically offensive lyrics. In The Slim Shady LP, he doesn't hold back on the insults, taking shots at his past school teachers, Vanilla Ice, Hillary Clinton and of course, himself. When I listen to this record it reminds me of a time I was so inspired that I ended up dying my hair blonde and starting a rap side project, which is now in retirement.
DOWN FOR TOMORROW
'SHOW ME THAT YOU CARE' TOUR
THU NOV 28 | CROWS NEST HOTEL, SYDNEY NSW
SAT NOV 30 | THE GASOMETER UPSTAIRS, MELBOURNE VIC