Exclusive: DROVES Interviews Rachel Maria Cox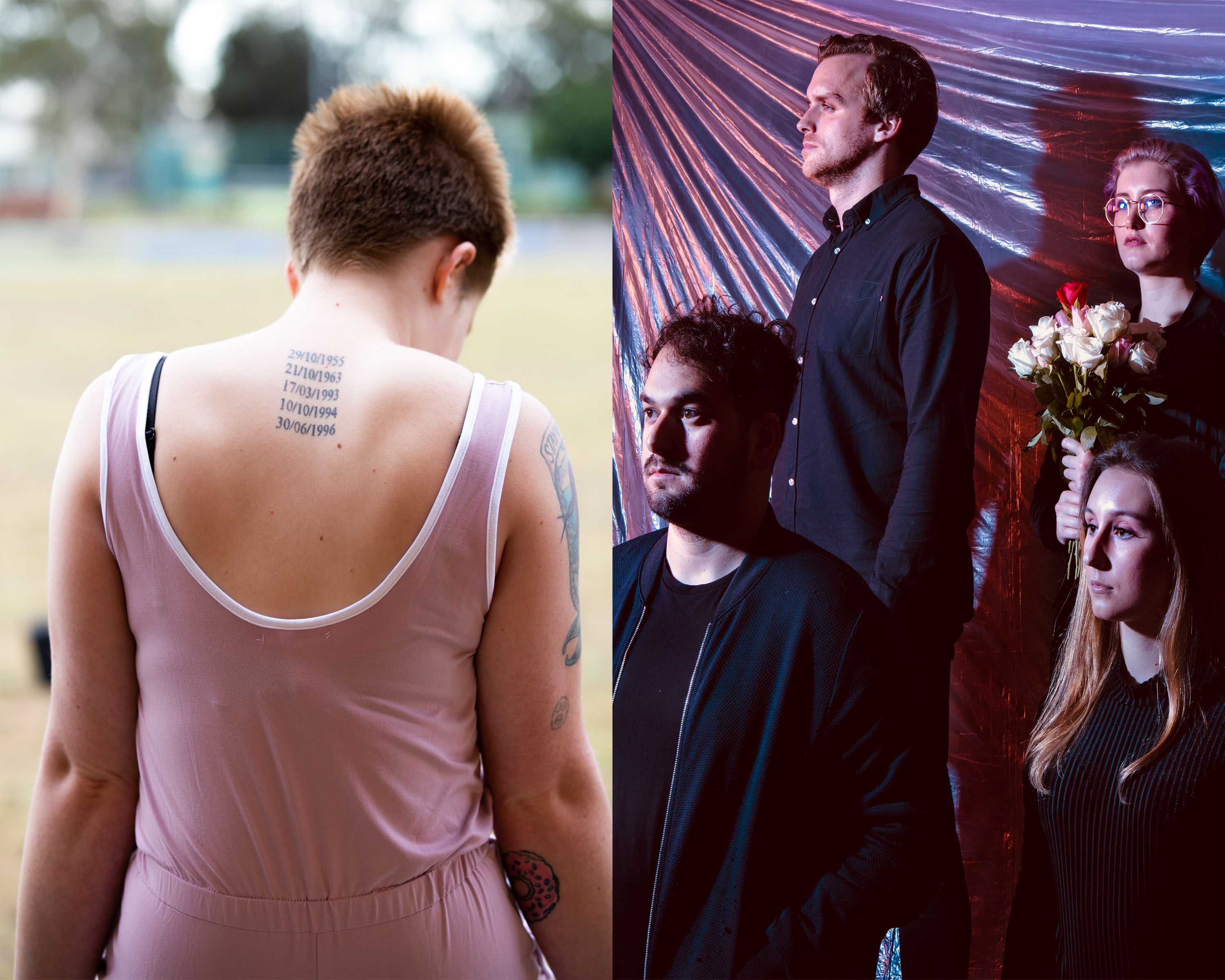 Newcastle's Rachel Maria Cox and Wollongong's DROVES coincidentally release two separate songs named Time on the exact same day. What a better way to celebrate regional NSW artists than for DROVES to interview Rachel Maria Cox about their latest singles.
Rachel Maria Cox is a non-binary musician and professional feelings haver from Newcastle. Time—surprise—is their latest single and places honesty on a pedestal and shines a bright light on its ugly face. It's a refreshing look for a musician from a budding local scene.
After debuting their first show at this year's Yours & Owls Festival, DROVES' debut single Time is a reaffirming throwback of new-wave and punk aesthetics. With hard reverb saturated snares, rising synths and anthemic vocals sung by DROVES' two lead singers Phillip Spiteri and Taylor McAuliffe, DROVES breathe new life into electronic-punk.
With all the excitement of the two singles, DROVES thought it would be a perfect opportunity for the two artists to find what other similarities they share by interviewing Rachel Maria Cox on their new single Time.
What is Time about?
Time is about mental health recovery and the importance to me of both having a supportive family and also coming to a point of acceptance of yourself. It was written at a time where I was really struggling with not relapsing with my eating disorder, and my family were really crucial in making me realize that I needed to stop trying to force myself and my life to be something that it wasn't. They've always been really supportive of me in all my periods of struggling with mental illness and I wanted to acknowledge that.
What artists were you listening to when you were inspired to write Time?
I was definitely listening to Camp Cope a lot at the time but otherwise probably a lot more indie and electronic pop than I had previously—heaps of Betty Who, Allie X, Charli XCX, Carly Rae Jepsen, Hayley Kiyoko, Dua Lipa, Confidence Man, Janelle Monae, lots of stuff like that.
Where was Time written and what gear did you originally write it on?
I wrote time sitting at an electric piano at my work in about an hour.
Has being based in a regional NSW town like Newcastle had an influence on your music?
I think it's hard to avoid letting your musical community influence what music you make. I grew up in Western Sydney and I have lived in Newcastle for five and a half, nearly six years now. I think if you are based in a regional NSW location, your music community is a lot smaller. It means I played on a lot of weird mixed bills especially early in my career which means that there's a lot of eclectic influences in my music I guess. It also means that the community is really supportive and that's something I'm really grateful for.
Who are some of your favourite local acts?
Newy has a lot of fantastic artists and bands right now, and I think Newy and Wollongong are finally getting national attention for the music communities here which is exciting! Some of my favourite local acts are Vacations, Good Thanks, Boots Porter, Belle Badi, and if you like my single you also should definitely check out Skyepaint who produced the song!
Do you think David Guetta would be interested in doing a mashup of both Time singles?
I should really hope so. He's not replying to my tweets, though.