DZ Deathrays Release Music Video & Add Tour Dates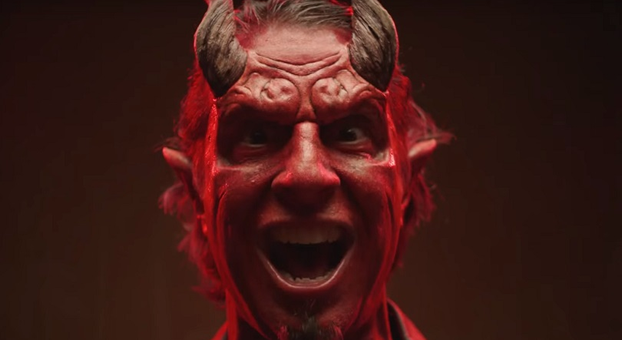 DZ Deathrays have released a devilish music video for their latest single Blood On My Leather, featuring comedian Arj Barker under a tonne of red make up and a killer set of horns.
This isn't the first time Arj Barker has joined the Brisbane dance-punk duo, with the American making his DZ debut in the video for No Sleep.
The Blood On My Leather video follows the DZ boys on a day hijacked by the Prince of Darkness himself, Satan. Beers delivered by demonic hands kicks off the day before facing a group on nuns on the basketball court. We're next graced by Dune Rats for a bar-side cameo, then DZ down some drinks and finish the night off with narcotics possession charges and a drug overdose…it's a rough time with Satan.
Blood On My Leather is a yet another ripper tune from the Brisbane duo, showing you don't need dedicated bassist to write a killer punk anthem. All DZ needs is hella attitude laced through their sick guitar, drums, and vocals.
Luckily the boys have recovered from this hectic video to tour with Violent Soho and Dune Rats on the national 'WACO' tour. Violent Soho have even added extra dates after most of the initial dates were quick sell-outs.
Violent Soho 'WACO' Tour w/ Dune Rats & DZ Death Rays
Tuesday, 10th May – NEW SHOW
The Tivoli, Brisbane
Wednesday, 11th May – SOLD OUT
The Tivoli, Brisbane

Friday, 13th May – SOLD OUT
The Tivoli, Brisbane
Saturday, 14th May – SOLD OUT
Forum Theatre, Melbourne
Sunday, 15th May – SOLD OUT
Forum Theatre, Melbourne
Monday, 16th May – NEW SHOW
Forum Theatre, Melbourne
Thursday, 19th May
Thebarton Theatre, Adelaide
Friday, 20th May
Metro City, Perth
Thursday, 26th May – NEW SHOW
Enmore Theatre, Sydney Violent Soho
Friday, 27th May
Enmore Theatre, Sydney
Get tickets HERE