EP Review: Ecca Vandal 'End Of Time'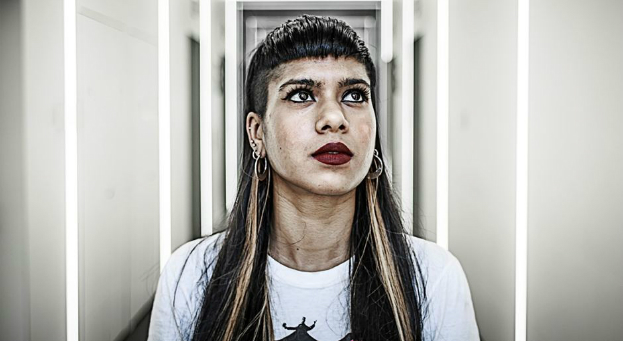 Oh boy! Now this is something else. Forget Rhianna's drop of her Tame Impala cover, there's a far more kick ass release that you can wrap your ears around. In the true fashion of the modern era, Melbournian singer-songwriter Ecca Vandal has unleashed her EP 'End of Time' without any notice. From first listen, it's clear this lovechild of 90's era Gwen Stefani and current era MIA will enter your life like a kick to the teeth.
Sorry to say, but you will never be cooler than Ecca Vandal. 'End of Time' is a genre defying repertoire of tracks that meld distorted guitars, heavy beats and pounding synths into a collection of pure gems. In true punk fashion, Vandal aims to not only defy conventional genres, but also just about everything expected from her. Speaking of the release, Vandal says "whenever there are expectations, or whenever there is a formula set, that's the time to change direction, that is essentially the essence of this – pivoting whenever anyone senses there's a trend, or challenging myself to go in a different direction."
"From first listen, it's clear this lovechild of 90's era Gwen Stefani and current era MIA will enter your life like a kick to the teeth."
It certainly payed off. Every one of these songs are commanding in their own right. The whole experience kicks off with Running at People Exiting, a heart racing, nervous twitch of a track thanks to its chugging guitar and fiery percussion. In short, get ready for sweaty palms and a sudden urge to break something.
Fortunately the lead single, End of Time follows in to ease whims of anti-authority and presents a slightly soft, more hip hop-esque track. Here, Vandal really displays her vocal prowess, easily transitioning between punchy, staccato verses, a sweeping, emotional chorus and a delightful vocal sample that is likely influenced from her Sri Lankan heritage.  The third track, Truth 2 Trade offers an explosion of noise and electro beats which Vandal belts like a war cry.
Divided comes as an especially gut-punching yet poignant addition to the album, as Vandal relates the racism she has experienced with spitfire guitar chords and damning lyrics. Basically, it makes you want hit the person she is singing about really hard. In the nose.
Vandal finishes it all off with the explosive Battle Royal, with vocals reminiscent of Led Zeppelin's Immigrant Song and No Doubt's Just A Girl, this is the perfect final blow to a masterful combo-attack.
This high speed car chase of a release will blow your mind and double your heart rate. So please, buckle up before listening because this is a wild ride through the end of time.
Illustration by Elly Pugh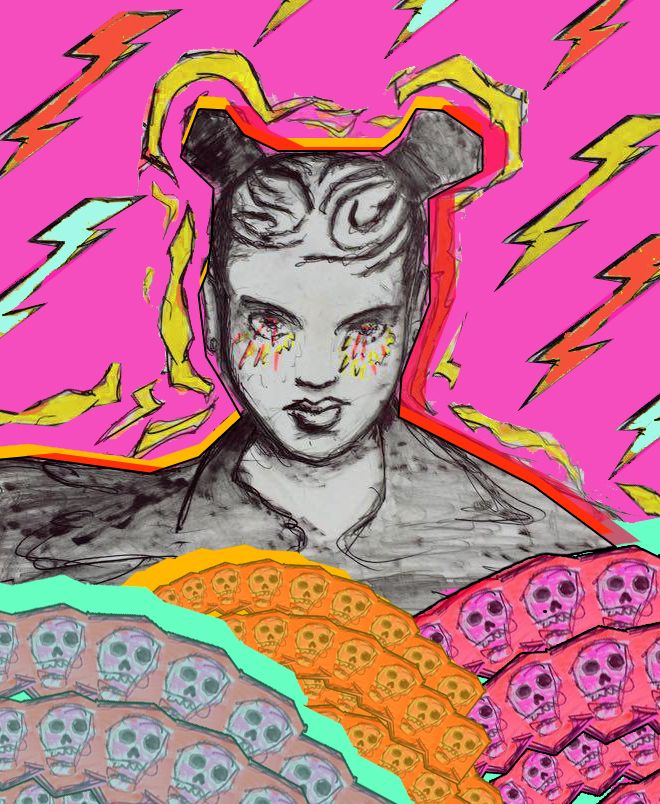 Bask in the glory of Ecca Vandal as she tours 'End of Time' next month.
ECCA VANDAL 'END OF TIME' TOUR DATES
FRI 19 FEB
Party in the Paddock Festival, Burnscreek, Tasmania
SAT 20 FEB
Jack Rabbit Slim, Perth
THU FEB 25
The Foundry, Brisbane
FRI FEB 26
Rocket Bar, Adelaide
SAT FEB 27
Howler, Melbourne
THU MAR 3
The Small Ballroom, Newcastle
FRI MAR 4
Newtown Social, Sydney
Get Tickets HERE