Extreme sports Q & A: Nick Herrera from 'Kalacoma'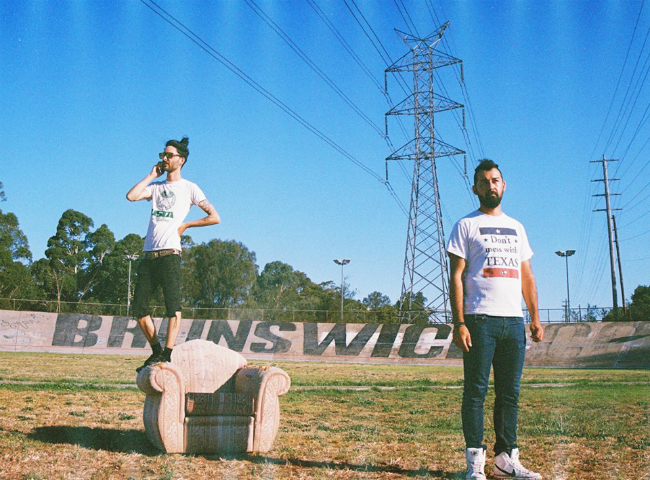 Kalacoma are possibly one of the most sonically interesting bands coming out of Melbourne right now. The 5-piece blend electonic and acoustic elements with intricate layers of rhythms and soundscapes, the prime example being their latest single Kaleidoscoper. We asked their unofficial frontman Nick Herrera about his approach to extreme sports and Kalacoma's approach to music.
If you had the sickest Parkour skills ever, where in the world would you put them to the test?
Machu Picchu, because ancient things on mountains that's why!
You're about to go white water rafting with four of your favourite musicians of all time. Who would you choose?
Well I certainly wouldn't choose Jeff Buckley! Ooooh too soon? This is a hard question, do I choose my favourite musicians or the ones I think would be best at rafting crazy waterfalls? TLC would be no good as they would prefer to stick to the easy runs like the rivers and lakes that were used to. But we're talking white water here, The Beatles would do well, with Neil Young doing the soundtrack like the canoe scene in 'Dead Man'.
After ice climbing your way up an arctic glacier, you realise you left your phone at home. What do you do to pass the time?
Hmm no possible way of doing selfies, I'd do as Da Vinci would do and draw my name in the snow with my pee.
Where in the world would you most like to go wing suit skydiving?
The moon…oh wait in the world. Ok, the sky over Japan. Through the buildings and neon signs.
Apparently scootering is an extreme sport. What would be your radest trick you would pull to impress the opposite sex?
Rockin' up late to the party with four slabs on the scooter, IMPRESSIVE!
What do you think would be the most annoying song to have stuck in your head while paragliding?
She's So High by Tal Bachman.
Who do you think would win in a fight between Tony Hawk and Mick Fanning?
Clearly Mick 'Sharkpunch' Fanning would demolish.
For the uninitiated, how do you describe Kalacoma 's sound?
Like punching a shark right in the face, dark and a bit scary.
Your latest single Kaleidoscoper is off-kilter in the best kind of way, what's the inspiration behind the track?
I wanted to capture that moreish crazed feeling you get when you've taken things just a little too far. Intoxication and the confusion that comes with it was an interesting feeling that I felt could translate through the music.
Will your upcoming EP continue to push the boundaries of alt-pop or will there be a few surprised for your fans?
Everything we do is a surprise. Our motto is to keep moving, once we have nailed an idea we tend to let it go and move on to the next thing. It's our code of logic when making creative decisions that define the Kalacoma sound, not one specific genre or instrument.
Kalacoma 'Kaleidoscoper' Single Launch
THURS 16 JUNE
Shebeen Bandroom, Melbourne
Get Tickets HERE