Falls Festival Day Two Wrap: Mud, Feminism & Glass Animals
On the second day of Byron's favourite summer festival, the temptation to stay at the shaded stages was strong, and the acts playing on them didn't disappoint. triple j Unearthed winners Bugs were up first on the Forest stage, keeping cool by showing up half-dressed, and no one in the crowd seemed to blame them. Their buzz was loud enough to draw a steady trickle of punters, still feeling the effects of the post-NYE comedown. No-holds-barred guitar riffs were a set staple, along with a playful stage presence, so much so that they seemed uninhibited even by the little stops and starts. With tunes like Neighbourhood to keep the crowd going, these dudes set the day up for a win.
When WAAX followed onto the stage and kicked off their set, it seemed relatively screech-free, an uncharacteristic development for the band, but it wasn't long before their charismatic frontwoman delivered the goods. Her uncanny ability to flip between smooth vocals and passionate screamo was enough to inspire fascination amongst the crowd, even those who had clearly come to the wrong tent and were destined to make an early exit.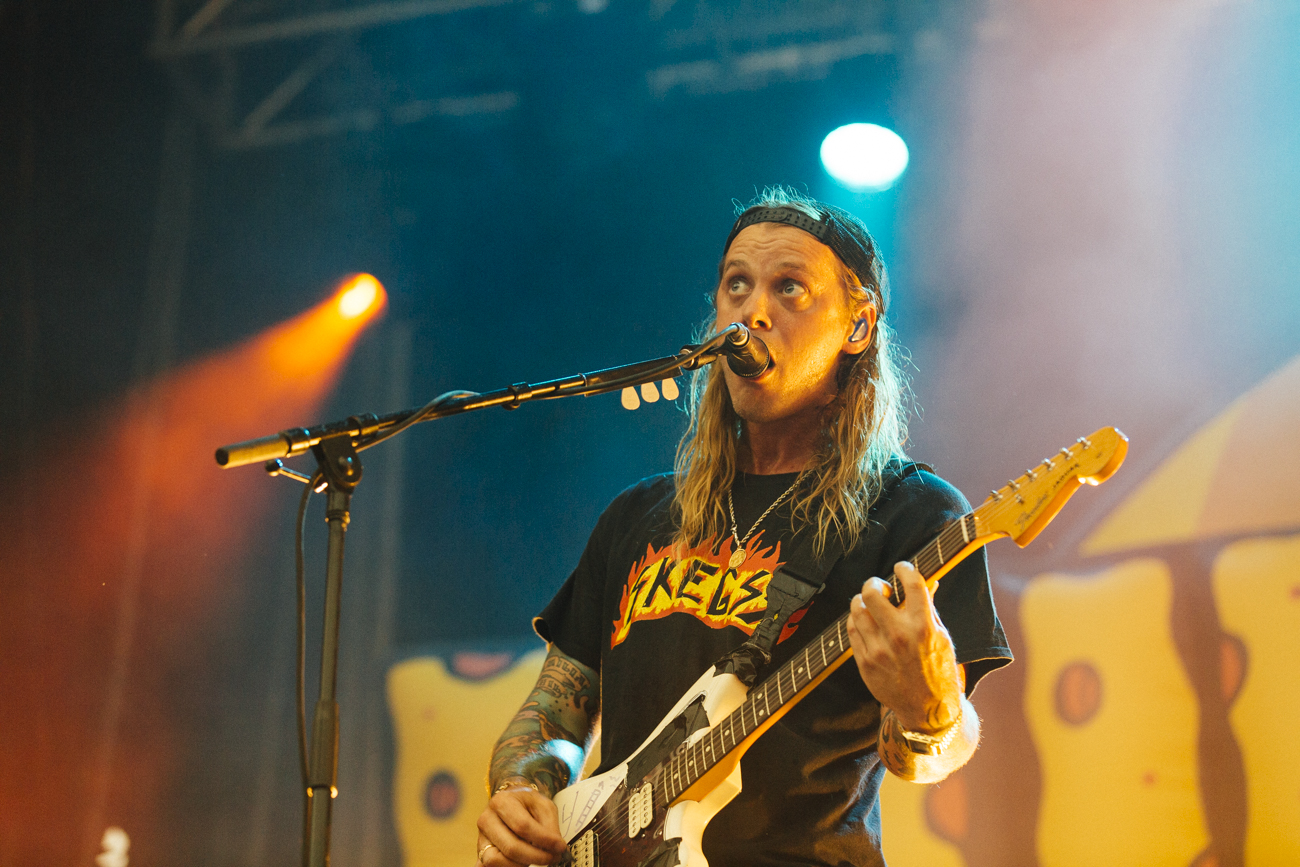 Another triple j favourite, Alex Lahey had crowds building up well in advance of her kick-off time, and she delivered the goods. Her super-smooth vocals, sung in time with enthusiastic guitar strumming, made for a distinctive show. Combining that with performance confidence in the form of hair-whipping saw her ascend from popular musician to pop-culture connoisseur. Arts Degree was a set highlight, and a painfully real anecdote for some, if not many, amongst the crowd.
Camp Cope's Falls set has not gone without its fair share of publicity, thanks to Georgia McDonald's impassioned feminist rant about the lack of female musician representation in music festivals. If one were to ignore the politics of it and focus on the music, the set was good, and definitely worthy of the strong crowd it drew. The band's hit tunes Jet Fuel Can't Melt Steel Beams and The Opener had onlookers tapping feet and singing along, and with a track about nurses and childcare workers, the social activism set list was complete. The crowd was more than satisfied – one might even say motivated – by the combination of clever lyricism and drama creation this trio delivered.
Crowds were still in recovery and drowning in sweat when Allday, king of the fist-pump, stepped up to the plate, but they were quick to flood towards the stage. Although his new hair style rendered him almost unrecognisable, his performance was anything but. The setlist, featuring such cult hits as Switch Sides, Right Now, and Send Nudes, set his feet in constant motion, and as he dashed back and forth on the stage, the crowd seemed to soak up some of his energy. Everything bar the set design went smoothly, and to be honest, the pop-up error on the computer projector only served to add some novelty to the show.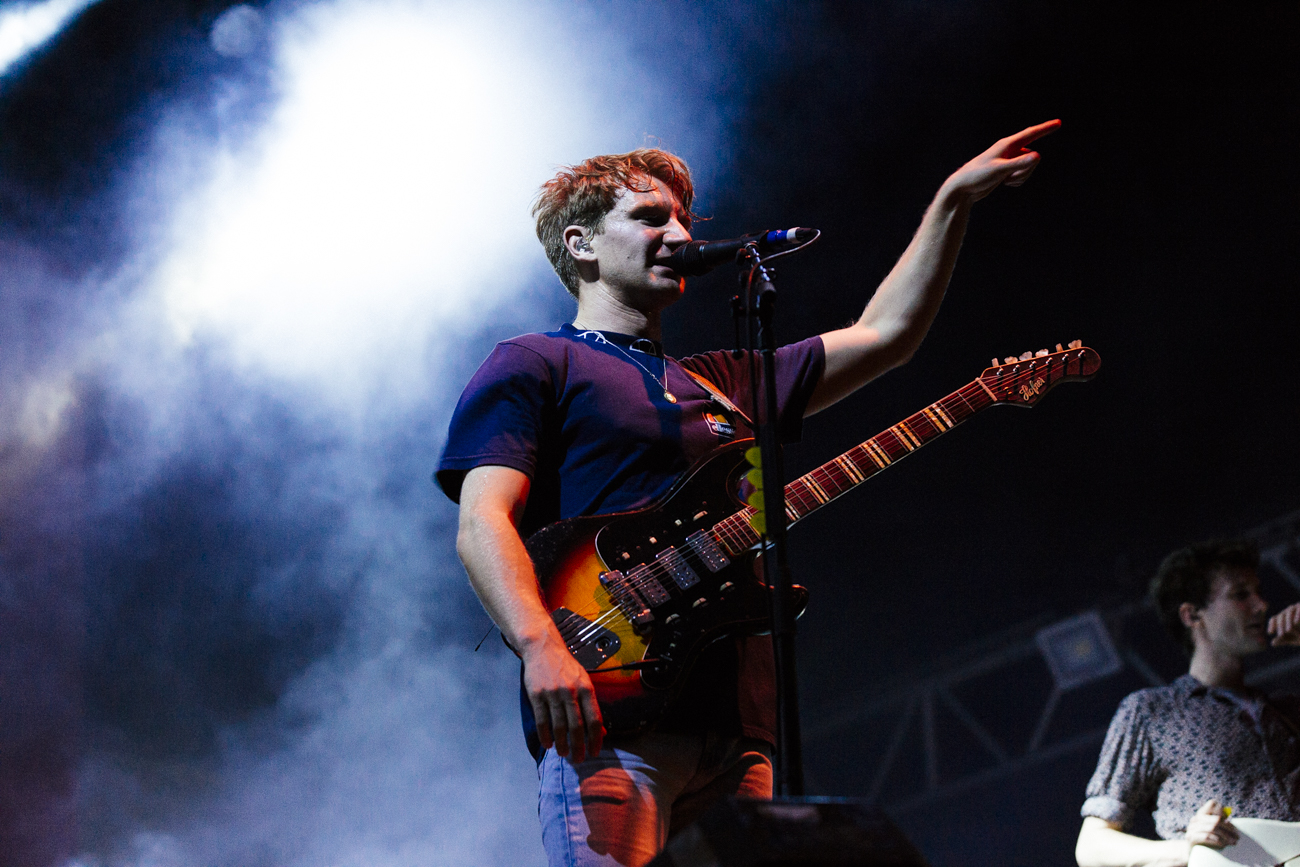 The rain began to fall sometime in the mid-afternoon, turning the grass to mud and the hills into mudslides, and a great many punters took the opportunity to ride them. A slew of 20-somethings were emerging from the hill as brown snowmen, and somehow looking happier than they did when they were clean. Even the mud couldn't have stopped them from catching Glass Animals in action. The unique rhythms and endless energy of the music was just what Byron needed after the downpour to re-energise, ignore the chill of the wind, and make the best of the day's final hours. They had a confident command of the stage, dancing as though they were the kings of the world, confidence which turned into adoration when frontman Dave Bayley declared, "I'm gonna come and get muddy with you guys." True to his word, he jumped down off the stage as Gooey began to play, and the crowd could not have been more appreciative; at least, until their Like A Version cover of Crazy by Gnarles Barkley kicked in. That, plus a couple of pineapple maracas and their closing number Pineapples Are In My Head, made for an unforgettable, and tasty, performance.
When the sun had disappeared and the rain had slowed, it was Cosmo's Midnight's time to shine, and shine they did. In a tent full of mud and liquor, they delivered a set full of hits spun into a neat web, working as though they were one person with two sets of hands. Spotlight by Frank Ocean, Lovesick by Mura Masa, and their own tracks Mind Off and Snare kept the crowd lucid and happy until late into the night, which is all anyone could really ask for when soaking wet, coated in mud, and/or probably sunburnt. To put it simply, it was all worthwhile.
Check out our Photo Gallery from Falls Festival 2017 HERE