Format Festival Hits The Gold Coast This April With A Huge Line-up of Australian Talent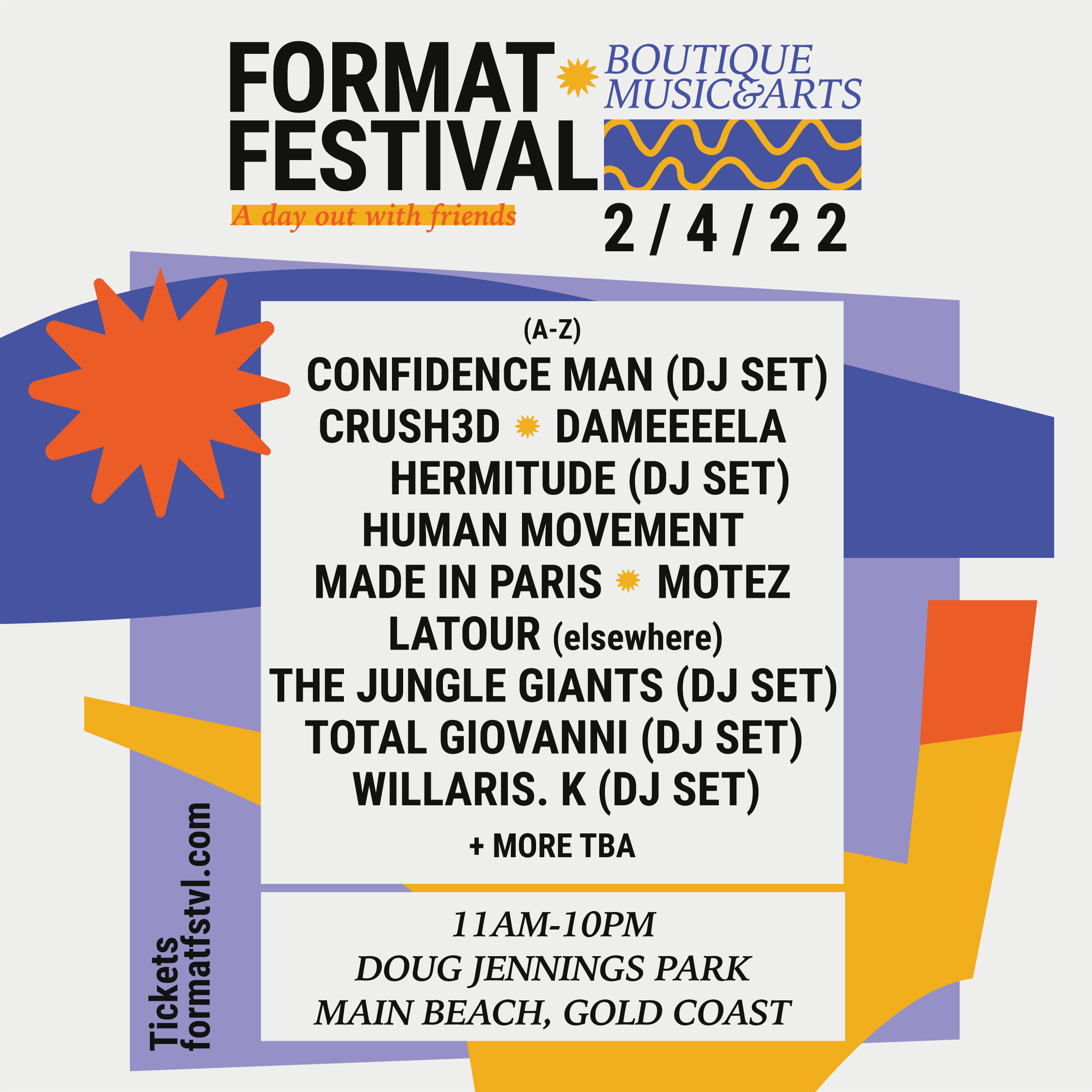 This April the Gold Coast is going to be treated to a an epic day out with friends as Confidence Man, Crush3d, Dameeela, Hermitude, Human movement, The Jungle Giants, Made In Paris, Motez, Latour, Total Giovanni and Willaris K plus more perform at the inaugural Format Festival.
Set to take place at the iconic waterside, Doug Jennings Park on April 2nd, Format Festival features a program that is diverse and represents a new era in Australian music spread across two, epic undercover stages.
After a three-year pandemic hiatus, I feel that the landscape for music, events and festivals on the Gold Coast is going through immense changes. The demand is ever-present, and over the years, we've seen the introduction of new sounds and exciting ideas and, most importantly, punters yearning for more.
Format Festival has been created purely out of love and excitement for the music; we feel we have identified a gap in the entertainment eco-system on the Gold Coast and wanted to make a (hopefully) regularly occurring niche boutique music and arts festival.
The music direction for our festival has been created to showcase new and familiar sounds; from the get-go, the goal has been to present a grassroots concept that is different to what is currently available in the local festival market.
On our main stage, we will be showcasing some of the biggest names in Australian artists such as Hermitude, The Jungle Giants, Confidence Man, Total Giovanni and more. 
On our "sun-stage", we will be presenting new sounds to the area, which are ever-present in Melbourne and Sydney and iconic night-time fuelled cities worldwide. 
Over the weekend of the festival, we will be announcing side show's during the weekend at venues such as; The YOT Club and elsewhere bar. – Charlie Fisher, (Format Festival director)
Format Festival is not be missed, tickets are sure to sell out quick, so prepare yourself for the ultimate day with friends.
Tickets on sale NOW from $110 BUY HERE