Get To Know Indie-Pop Darlings Little Guilt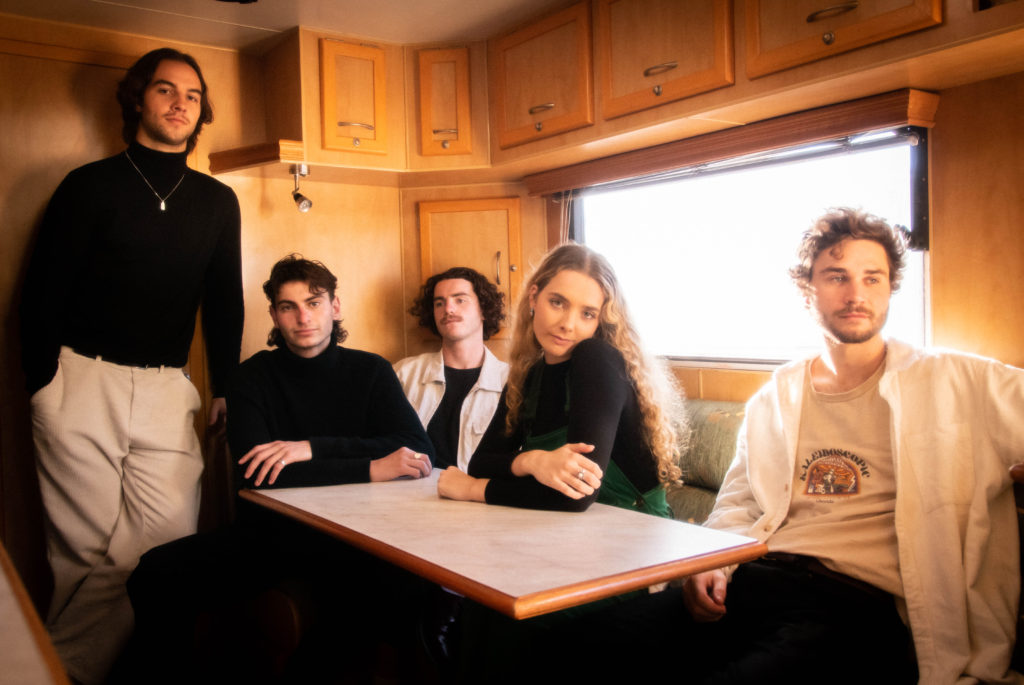 Emerging Boorloo/Perth band Little Guilt dropped their debut EP 'I Do Everything Around The House' yesterday, and today they've shared some fun facts about each band member.
Following on from singles 'Nowhere', 'Old', 'Mum's Advice' and 'slow burn', the 5-piece have once again created a charming slice of sonic sunshine, evoking images of a swirling sunset, a lazy summer breeze and ocean views. Their upbeat sound reminiscent of Stella Donnelly, Angus & Julia Stone and Middle Kids is brimming with fuzzed-out guitars, airy vocals and shimmering percussion.
RELATED – PHOTOS: Bigsound 2022 Day 1
They commented on the process behind the EP: "This EP is super special to us, as we've tried going down a slightly different path with our music by chucking Mop in the deep end to sing. When Ella had covid he rescued the day for guide vocals and stole the whole song because of how great it sounded! We are all huge Angus and Julia Stone fans and we intend to use Mop's vocals more from now on."
Get to know some more about the artists behind this gorgeous collection below!
Mop: 
HATES the wind
loves a good council park with a well-maintained oval
Has a memory of a goldfish
Jarrod:
Red wine connoisseur
non-official handicap of 23 over 18 holes of golf
has his steaks rare/blue
LOVES smores
Joe: 
lost a brand new set of earbuds, and ended up having sat on them for an entire year in the driver's seat before finding out.
managed to drive around for 4 years in a $300 Getz without breaking down
probably has no idea where his keys are at any given moment
Brady: 
Extreme Darren impressionist
has deleted tinder over 50 times
really good at throwing food in the air and catching it in his huge mouth
Is a great singer!
Ella: 
Loses her voice every week
Major plant mommy
Can't follow cooking instructions unless the ingredients are placed in order on the bench
Can catch anything thrown at her by surprise
Listen to 'I Do Everything Around The House' out everywhere now & grab tickets to their two launch shows below!
EP LAUNCH SHOWS
Saturday, September 17th The Aardvark Fremantle, WA Tickets
with Sago, Ken Paolo, Space Cadets & King Ibis
Friday, October 14th The Sewing Room Perth, WA Tickets
with Bush Telly & more