Grapevine Gathering Reveals Stellar Lineup For 2023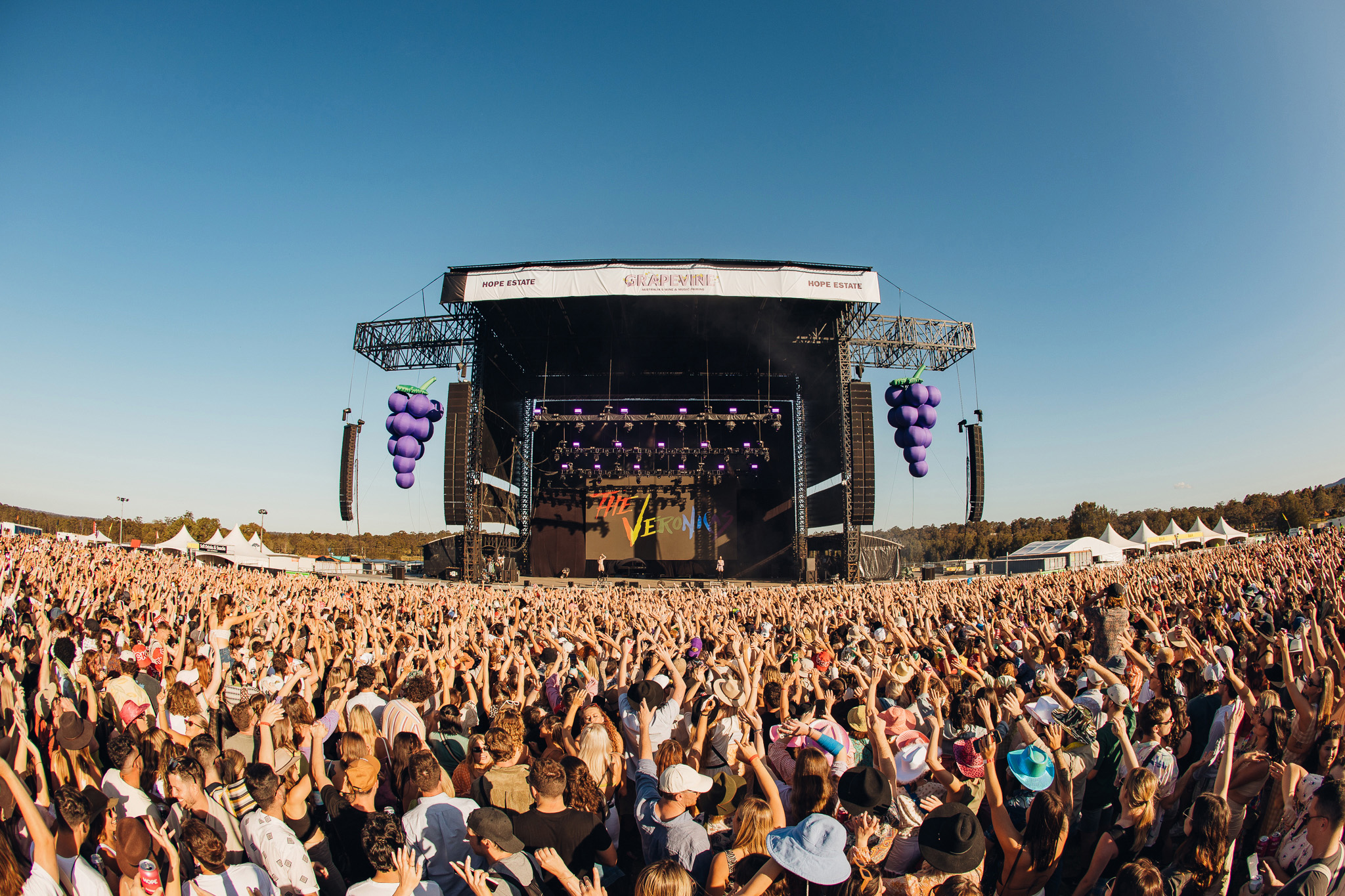 Prepare for a sensory feast as Grapevine Gathering, the cherished fusion of music and wine, reveals its highly anticipated 2023 lineup. This year's roster is an eclectic mix of indie rock brilliance, featuring the enthralling sounds of Spacey Jane, the beloved UK festival veterans The Wombats, the electrifying beats of Hayden James, and the captivating presence of King Stingray from Arnhem Land. Joining the stage will be the incomparable Vanessa Amorosi, renowned for her anthemic hit "Absolutely Everybody," the mesmerizing sounds of Cannons, the infectious talents of The Rions, and the rising stars Teenage Joans and Bella Amor. Guiding the festival experience with their magnetic charm and quick-witted banter will be none other than the beloved podcast duo Lucy and Nikki, ensuring an unforgettable and engaging event that will leave you craving for more.
Grapevine Gathering beckons you to its idyllic setting across five mesmerizing winery locations nationwide. Against the backdrop of natural splendour, this remarkable festival invites you to indulge your senses in the Yarra Valley (VIC), Hunter Valley (NSW), Swan Valley (WA), Mount Cotton (QLD), and McLaren Vale (SA) this October. Let the harmonious melodies and the finest vintages intertwine, creating an enchanting experience that will transport you to a realm of pure bliss. Whether you're a wine connoisseur or a music lover seeking an unforgettable adventure, Grapevine Gathering is where unforgettable memories are waiting to be made.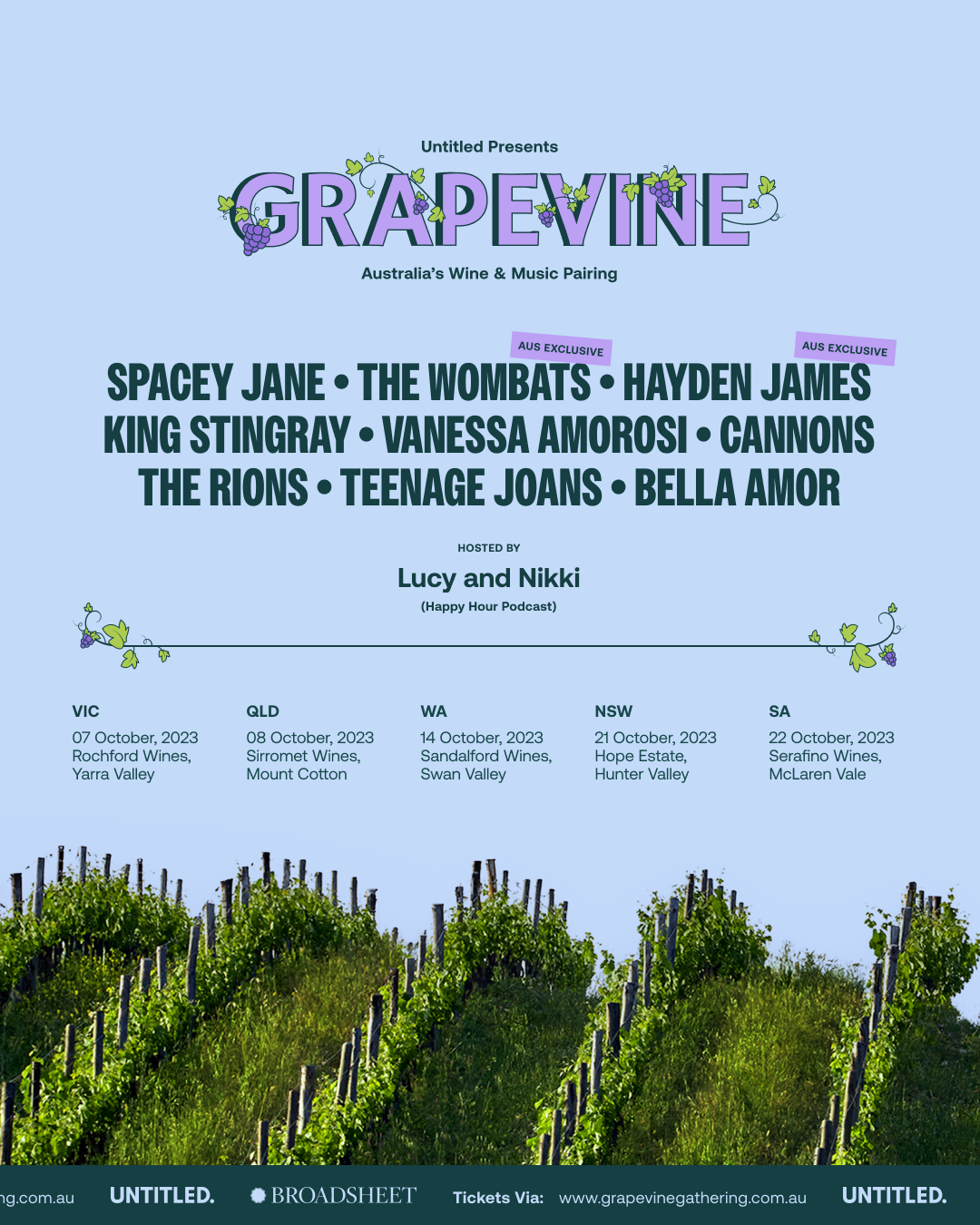 At Grapevine Gathering, the pursuit of a complete sensory experience takes center stage. Celebrated for its unwavering dedication to curating a harmonious blend of music, wine, and gastronomy, this festival promises a holistic journey for all attendees. As you immerse yourself in the vibrant music lineup, tantalizing your ears and soul, be prepared to embark on a culinary adventure like no other. Delight in the finest local wines and savor the diverse flavors of each region, complemented by a delectable array of food options that will ignite your taste buds. Amidst the captivating vineyards, expansive lawns, and the atmosphere charged with excitement, Grapevine Gathering ensures an unparalleled fusion of world-class wines, delectable cuisine, and extraordinary melodies, making every moment an unforgettable masterpiece.
Presale registrations are now open with tickets going on sale Wednesday 21st of June at 6PM AEST. Presale purchasers gain access to the cheapest tickets and for a chance to WIN 1 of 500 VIP upgrades. Any remaining tickets will be released to the public at 6PM Thurs 22nd of June. Don't miss out on this extraordinary celebration of music and wine!
Full lineup:
Spacey Jane
The Wombats [Aus Exclusive]
Hayden James [Aus Exclusive]
King Stingray
Vanessa Amorosi
Cannons
The Rions
Teenage Joans
Bella Amor
Hosted by Lucy and Nikki
Dates: 
Saturday 7th October – Rochford Estate, VIC
Sunday 8th October – Sirromet Wines, QLD
Saturday 14th October – Sandalford Wines, WA
Saturday 21st October – Hope Estate, NSW
Sunday 22nd October – Serafino Wines, SA
For more information and ticket purchase, please visit www.grapevinegathering.com.au