Grenadiers Serve Up 'Tarrantino' Inspired Video & East Coast Tour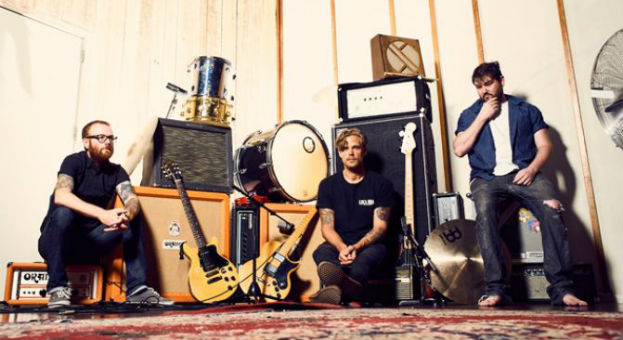 The hysterical antics of Adelaide indie punk-rock trio Grenadiers have struck again in their gorge-fest of a new music video Live Fast, Diabetes, the first single from their untitled third album due out in Spring.
The clip shows lead vocalist Jesse Coulter in the back of a car with blood gushing out of a fatal wound from his chest. The other members offer him item after item of the most self-indulgent treats at their disposal. Everything from cigarettes and whisky to hamburgers and chocolate éclairs are crammed into his mouth.
"It's an ode to Mr Orange in Reservoir Dogs and his famous scene writhing with a shotgun to the belly in the backseat of a car," said Coulter.
The song itself is a frenetic rush of Aussie pub rock full of hard-hitting drums, 'bursting at the seams' guitar, and raw blokey harmonies
Although the trio started turning heads in 2010 with their debut album 'Songs The Devil Taught Us,' their career took off last year with the release of their sophomore album 'Summer.' Since then the boys have notched up an impressive list of achievements including scoring a place in triple j's Feature Albums, rocking out Bluejuice's Vitriol for triple j's Like A Version, supporting British India, Unwritten Law, and Cold Chisel, and getting nominated for the Australian Music Prize (AMP).
The 'Live Fast, Diabetes' tour will take the Adelaide rockers along Australia's East Coast. Get down to one of the many shows, it's the perfect slice of Aussie branded chaos to liven up your week!
Grenadiers 'Live Fast, Diabetes' Tour
THUR 10 MARCH
Crowbar, Brisbane
FRI 11 MARCH
Brighton Up Bar, Sydney
SUN 13 MARCH
Club 54, Launceston
FRI 18 MARCH
The Jade, Adelaide
SAT 26 MARCH
The Hills Are Alive Festival, Melbourne
Get Tickets HERE