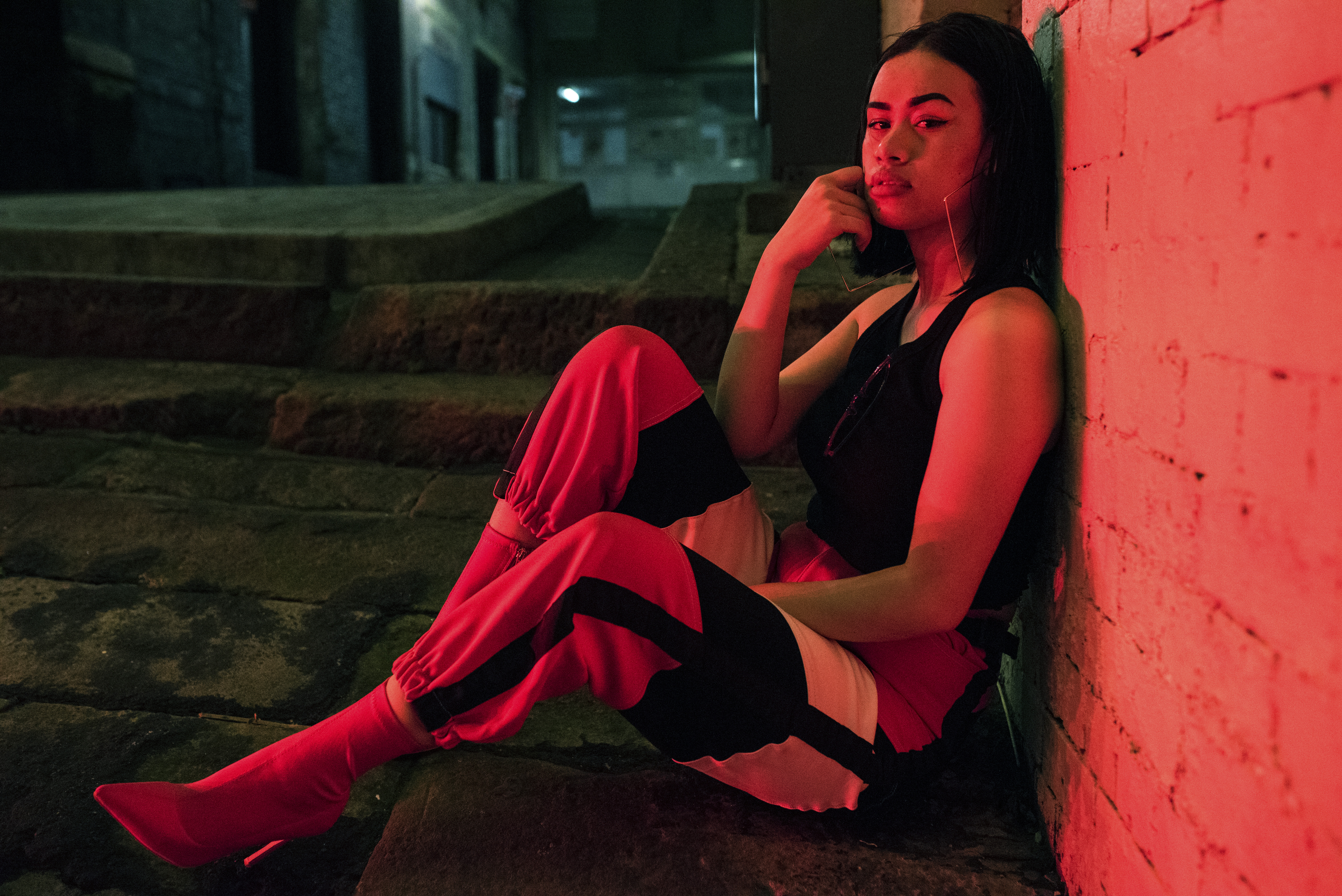 Your debut single '2142' is such a strong and impressive effort for a young new artist. Can you please tell us about the song writing process on this track?
When I wrote this song, it was honestly one of the easiest choruses I've ever wrote. Like always, my producer Taka Perry waved his hands around, bopped his head and started making magic. So, he was in his own world making the bones of the track while I'm at the back of the studio, lights dimmed. The beat was giving me this story telling vibe and I just started writing, what came out was "keep it g with myself", from there the whole song basically wrote itself. Writing about where I'm from was never my intention when walking in the studio that day, but I'm glad I did. Our area needed a song to jam to!
The song shines a light on the area you grew up in and certain things you've seen. It also samples a recording of young woman being arrested by police; this insinuates it's a neighbourhood that has seen its fair share of struggles. How does this impact you as a song writer?
The area I was brought up in has been exposed me to some serious shit! Now, I'm not saying I live in Compton or anything, it just wasn't pretty. From drive by shootings, stabbings, riot squad searching for bullets on my front lawn, it's some real shit. However, what I've been through and what I've seen has made me who I am as a songwriter and helped me write real, authentic music. The reason I wanted to incorporate the audio of the girl being arrested by police is because I knew that girl and the people in the situation when it happened. These things aren't happening overseas, they're happening in our own neighbourhoods and that's something I wanted to shed light on when I added the audio.
Your family heritage is from Te Hapua in the north island of New Zealand. Can you tell us more about your culture and the importance of family within that?
I CAN NOT BEGIN TO EXPRESS HOW BEAUTIFUL THE NORTH ISLAND OF NEW ZEALAND IS. Clean air, beautiful water, you are one with the land and the land is one with you. There is no place I feel more grounded than whenI'm anywhere up north. My grandparents are both buried in our family uruapa (burial ground) and I love visiting them. Theysit on a big hill overseeing our Maunga (mountain). They get the sea breeze, bro they are in paradise and I love sitting therefor hours talking to them, singing to them and laughing with them. The family I have alive with me today is just as importantto me as the family I have that aren't with us. To be able to speak to my nana and papa even though they're physical bodyisn't here with me anymore gives me so much comfort. I feel them around me where ever I go and wherever I am. They arewith me.
You also volunteer for the OzHarvest Food Bank (which is bloody awesome I must say). How long have you been doing this for in your local area? Do you get a great sense of satisfaction doing this?
Ahah, yes I volunteer for OzHarvest through Street University Liverpool, and straight up it's the coolest feeling being able to help people I need. Knowing we're feeding people and they're not having to worry about they're next meal, it's amazing to know that I do that all while volunteering with some of the funniest, shadiest, coolest women in the world and it makes doing what we do 10x more fun.
What is next on the horizon for A.GIRL? Any live dates or more new music being released soon?
Music to be released hella soon and live dates to follow. But you know what you gotta do right… follow all my socials to findout when, where and how 🙂