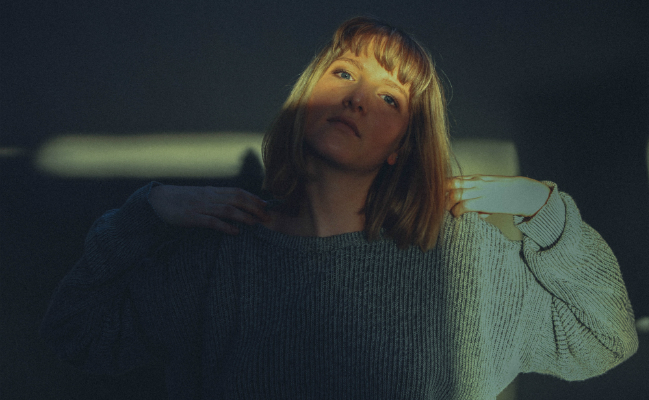 Melbourne-based electronic artist Aeora, the project of Lisa Spencer, has been turning plenty of heads with her latest 'dark pop' single Afloat, the second release from her debut EP 'Alt'. We asked the rising songstress about the processes behind her music and how she feels about her EP.
The lead single from your EP Afloat is such a good example of how electronic sounds and strong vocals can create a real atmosphere. Which influences you were drawing from when you were writing the track?
Aw, thank you! Hmm, I'm not really sure of any influences other than just my general feelings on life at the time. I wrote these lyrics a few months before any melody sort of formed, and I was kind of stuck on a chorus because to me, it felt more like a poem or maybe some sort of self-talk mantra instead of a traditional song.
So I guess I took that and kind of made it more of a mantra, where I repeated a lot of things and had it come off really strong and bold. I really like that about the song. It feels really good singing it.
What made Afloat (and previous single Medicine) stand out for you as the singles from the EP?
I guess they've always been the stand out for people when I play them live. I'm not really good at picking out singles, so this was sort of my manager's job to pick them. But I can totally understand why she felt they were the strongest. I guess they sort of appeal to a lot of people, but they're also quite personal and reflective for me.
Compared to a lot of the other electro-pop artists out there, you seem to be using a lot of distorted voices and sounds in your productions, what attracts you to those sounds?
I guess I just like to manipulate vocals and other things to make it sound more interesting. You get pretty tired of hearing your own voice, so it's really cool to play around with it. The songs on the EP featured a lot of vocals modulated through my producers Korg synthesiser and it nearly always made the vocals sound really cool.
The EP overall has a stack of different sounds and vibes across the five tracks. What were some of the other, broader influences that led you to create these songs?
I like to write about things that I find a little difficult to talk about. So it was a little dark on the EP because I guess a few things I was stuck on in my life were pretty sh*t. Sounds depressing, but it makes me feel better and it lets me understand what I'm feeling and move on. A lot of the instrumentation and sounds that came out were pretty spontaneous.
I had the vocals pretty much all down in the demos, but everything around that were just ideas and were probably influenced by a lot by music I was listening to – BANKS, FKA Twigs, Björk, Beyonce, Lorde, The Weeknd etc!
How do you feel 'Alt.' differs from other music that you've produced previously?
I think it's very different! A lot of my production is a lot of vocal loops and some beats and simple synthesisers on top of that, so working with other producers obviously changed that sound a fair bit. From me to Owen, it was very different, as Owen uses really heavy drums and synths, where as mine tend to be a bit softer.
Both the producers who worked on the EP (Owen and Guy) do a lot more experimenting with different gear than I would. It makes sounds sound really unique I think.
How did your collaboration with Owen Rabbit on the track Medicine come to fruition?
My manager knew him and thought he'd be a really good person to get working on the track. We really wanted the darkness stand out, but also keep a bit of strangeness to it. He was perfect for it, I think!
Owen Rabbit brings a lot of interesting, and often strange sounds to his productions. Was there anything you learnt from him about the writing and/or recording processes that you will take forward?
Owen was an absolute gun on Medicine. He came up with all these crazy production ideas pretty much on the spot. One thing I like is that he likes to go all out. He has a general feel for it, but then goes "lets give this a go", and just does it. It's really cool! I guess he made me step out of my bubble a bit and try weird things. Maybe sometimes they don't work, but sometimes they do and they sound really special.
How do you expect that the songs will take on different meanings and forms in the live realm when compared to the recorded versions?
Usually I like to sing them all a little more crazy and full on. Just because in the moment I'm not really trying to perfect the sounds, I'm trying to get a message across to the audience and let them know how I feel. Recorded versions are generally a little dulled down because you're thinking of what sound smooth, nice, and flows nicely. Live setups give a bit more room for stretching that and really interacting with the audience. I think I like performing live far better than recording, but I guess they each have their own benefits…
Aeora & RKDA Live Dates
THURS 11 AUG
The Gasometer, Melbourne
SAT 20 AUG
The Milk Factory, Brisbane