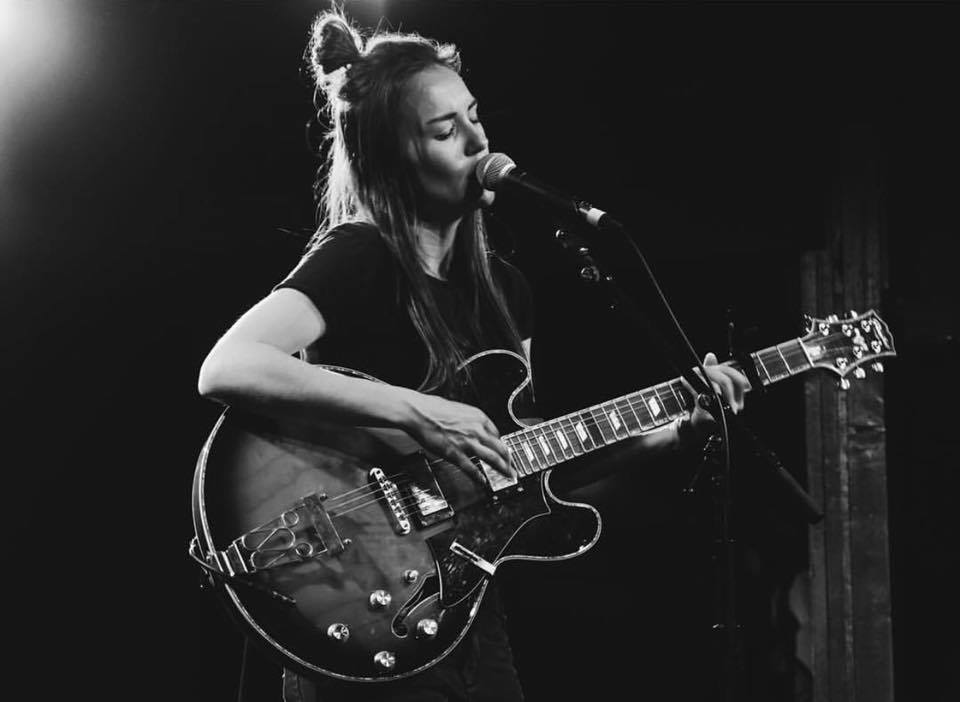 Gold Coast songstress Amy Shark is a busy woman, making tracks around the world with her introspective lyrics, and answering interview questions in her spare time. We stole 15 minutes of her time to find out about her latest track, her "heart attack central" sold-out tour, and living the good life.
Congratulations on your new single Drive You Mad! Australia loves your writing style, can you describe the process you went through writing the track?
Yeah, it was actually written maybe a day or so after I wrote Adore, so I was on a bit of a writing binge before it was even released. I remember the particular day I wrote Drive You Mad was a real self-help day. I was looking at myself going, "wow, you're being a real bitch to everyone," – you know when you take a real hard look at yourself? There were so many arguments, and one day I was like, "I probably was a bit harsh there." I'm probably a difficult person to be friends with from time to time, or to be in love with, I'm a pretty difficult daughter…I was just having this big realisation of how [imperfect] I am as a human, and I don't know, it just sort of came out as Drive You Mad. I felt really great after I wrote it because I felt like I said sorry to everyone in one song, and sort of [admitted] that I know I'm needy and I know I need [them] probably more than [they] need me. It came out so easily and the melodies were exactly how I wanted them – I wanted it to be really uncomfortable but then comfortable. I wanted it to push and pull people, and I think that when we went in and recorded it, the production was great. I love the siren [in it] because it makes you uneasy the whole time. I honestly think it's probably my favourite song on the EP.
It's very identifiable as your style, it's similar to Adore in a lot of ways but with an edgy, angsty feel to it.
Yeah, it's definitely darker.
How has your life changed since the massive success of your first single?
It's been weird because Adore [made for] quite a slow build – I took my time to put a team together, and I obviously had nothing, as everyone does before they do. Once I signed my record deal and signed management – I was really lucky that I signed to a great management company – it was all guns blazing, I was everywhere. I guess I just had to get used to having no routine. Every day is different, there's a lot of travel, and things are escalating every day which is awesome. There hasn't been a day when I haven't had any great news or things coming up that I'm really excited about, tours and working with producers I love. It's been surreal, and every day is like a dream, really.
You are living the dream! You were saying Drive You Mad was like a cathartic release – is it normal for you to draw your writing inspiration from your innermost feelings like that?
Yeah, definitely, that's the only way I write. I don't ever sit down and say to myself, "I'm going to write a love song" or "I'm going to write a song about this". I never know what I'm going to write. I usually just play around on guitar, which is what I love doing. Every day I love just noodling around with it, and then when I find something that I think sounds cool I just start mumbling some stuff, and that's why I'm addicted to it. It's because I don't know what kind of melodies are going to come out, I don't know what stories are going to come out – everything is just up in my subconscious and it's so interesting, even to me, when it happens. I think that's where the addiction lies.
It's really cool that you can just pull things out of nowhere! Do you have any favourite musicians who inspire you?
Yeah, definitely! There's so many, actually. I bounced around so many genres – I started out heavy in the punk sort of scene. I loved a lot of New Found Glory, and then I moved on to Bright Eyes, Death Cab For Cutie, Tegan and Sara – real lyric-heavy artists and bands – and then got into a lot of hip-hop stuff. I love Amy Winehouse…I love real stuff. Anyone who puts their heart on their sleeve. I don't think [there's] anyone [I listen to] where I think, "I want to be them", but I get inspired by good songs. When I hear a good song, I'm like, "wow, that's genius."
Congratulations on selling out your 'Night Thinker' tour! That's a massive deal.
Thank you! Yeah, it's huge.
What can we expect from the show? Have you got any surprises up your sleeve?
(Laughs) I definitely like to have a bit of a chat every now and then, between songs, only because – I guess people know already – my songs are very personal, and sometimes I feel like if I don't explain the backstory as to why it was written or a little bit of the story behind the song… I think people will get it and enjoy it a lot more if I do that, but I can't do that for every song so I try to pick my songs before I explain it, and that's probably the hardest thing. It's very high energy and then it's very intimate, and then it's high-energy again. It's emotionally driven – it's all over the place. It's heart attack central (laughs).
You must like to keep people on their toes! Is there a particular song you're most excited to play live?
When I used to play gigs years ago, there were songs I didn't really like, but I'd play them just to fill the set, but now everything just sounds so big and exciting, and even Deleted, which is a stripped-back sort of solo, I'm excited for because I get to take the stage for myself. I mean obviously Drive You Mad is such a fun track to play, and Blood Brothers…I love every song, so I really couldn't pick.
You've got quite a catalogue lined up now! What are you most looking forward to about the tour?
I think just knowing people are there because they want to be there. Sometimes when you're on support tours or when you're playing festivals, it's very hard to gauge whether people are enjoying it, whether they've been dragged there or there's just nothing on at this festival and I'm the filler, so it's nice to know that everyone there bought tickets. A lot of them have bought the EP so they know every song, and I'm not used to people just singing every song so loudly back at me. It's so exciting after being an artist who has played to ten people for so long. It's so humbling, and it's like a reward every time I play, so I'm just excited to see everyone and put on a show.
Is there anything that beats the feeling of hearing a crowd sing your lyrics back to you?
(Laughs) That's a good question, I don't know if there is a better feeling, and it's a really hard feeling to explain. There's so many people singing a song that you wrote, that means so much to you, back to you because it obviously means something to them as well, and it's a weird chain reaction. It's awesome.
You're also set to accompany Vance Joy on his 'Lay It On Me' tour in the USA, how did that come about?
We're with the same management, Unified, and they knew that I was a fan of him, and I think he was a fan of some of my stuff, and it kind of made sense. We're really pushing my music in the states at the moment, and things are building nicely over there. It kind of made sense, and we all get to travel as a happy family, I guess (laughs). It'll be fun.
Hopefully you travel well together and there's no massive blow-ups.
(Laughs) I think it'll be sweet. He's pretty cruisy, and I'm very cruisy, so we should be right. He's so mellow – he's just a good dude, I've met him and couple of times and I love his music, so it should be fun.
You've only got five days between the end of your tour and the beginning of Vance's, how do you plan to spend them?
Yeah, I've actually got another band in the states, so I'm guessing those days will be filled with rehearsal and getting ready to go on the road with Vance, but luckily the guys have played for him before so they all get along and everyone knows each other. We'll all be on the buses. It's going to be different for me because I've never done that before, and I'm really looking forward to it.
We're all looking forward to it too! We're keen to see what's coming next for you, especially after all the touring is over and done. Can you imagine where you see yourself a year from now?
I hope to have a pretty solid album out in cycle. There's definitely some new songs that I'm getting very excited about…I don't know, I'm lucky that my team dreams big for me and I can just focus on doing what I love doing which is writing songs. They make it happen – I give them the material and they give me all of these great opportunities. Hopefully I'm just playing some really cool shows and festivals and hopefully people like the new music I put out. We'll see what happens. Honestly, I could die tomorrow and I'd be pretty stoked.
Amy Shark kicks off her sold-out 'Night Thinker' tour in Brisbane tonight – check out her latest single Drive You Mad below!
Amy Shark 'Night Thinker' Tour Dates [SOLD OUT]
SAT 26 AUG
Woolly Mammoth, Brisbane
MON 28 AUG
Woolly Mammoth, Brisbane
THU 31 AUG
Oxford Art Factory, Sydney
FRI 1 SEP
Oxford Art Factory, Sydney
SUN 3 SEP
Oxford Art Factory, Sydney
SAT 9 SEP
Capitol, Perth