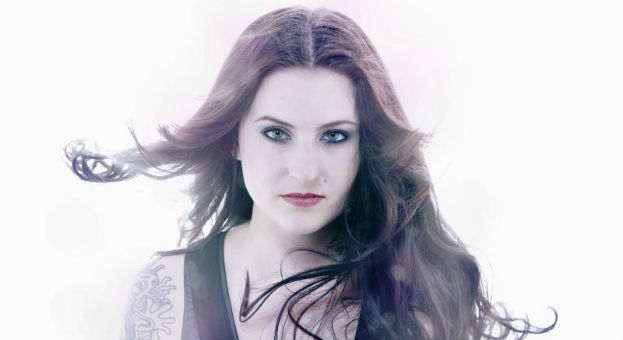 Swiss heavy metal goddess Anna Murphy is returning to Australia next month as a solo woman! Her recent departure from Celtic-metal outfit Eulveitie was a huge devastation amongst fans but the ethereal songstress has used it as an opportunity to fully explore her unique and powerful brand of eclectica. We caught up with the hurdy-gurdy superstar to discuss life after Eluveitie, the upcoming mini-tour, and comic book villain obsessions.
What are you looking forward to most about finally coming down to Australia for your solo shows? 
I am very, very excited for it and I'm so glad I have the opportunity! It's going to be something completely new and I hope to make it a very special evening.
What can fans expect from these shows?
It's going to be a very eclectic show. I would say there's going to be a lot of different stuff happening. We kind of expanded the show now because it was originally only supposed to be acoustic and now we're bringing in the full rock band line-up. We're going to play my songs obviously but we're going to play some of them in different versions, some of them even in metal versions.
We're going to have a toned-down acoustic set in the middle, and we'll also play some Eluveitie songs and my new single, which is going to be released very soon. There will maybe be more surprises for you in store that we're working on, so yeah, it's going to be great!
Are there any plans for a more extensive Aussie tour in the future? 
Unfortunately it's not always up to the band to book the shows otherwise we would already be playing all over the place, but yeah, I definitely hope people will like it and we can come back. That would be great!
Are you planning on any sightseeing or chill out time while you're down here? 
Yes, definitely! We're going to arrive earlier so we're flying out a few days before. We're going to do some sightseeing and get rid of the jet lag (laughs).
Do you have a particular place in mind you would love to visit? 
Yeah, actually I'm not quite sure where it is so you will have to excuse my ignorance but I read somewhere that there's a dinosaur museum. I'm not sure if it's Sydney or Melbourne. Maybe it's not Sydney or Melbourne and I'm just stupid but usually a few days before we will make a plan and see what there is to do and then we'll just do stuff from that.
What was the best memory of when you were here last May with Eluveitie? 
There are actually lots of good memories. We also travelled there a bit earlier so we could spend more time. We did lots of cool stuff; we went to bars…actually in one bar there was this dude who was a fan of us and just couldn't believe we were there so we had some beers with him. That was very exciting! 
Has there been a major adjustment period since your departure from Eluveitie? 
Yeah, I mean it was obviously not very easy for any of us so there was a kind of mourning period. But now we're all in very high spirits and we're working on new music. It's kind of also nice to have something new, it makes it a bit more exciting.
Do you still keep in contact with anyone from Eluveitie? 
No, we're not in touch at the moment.
Since you left what are some of the projects you've been working on?  
My single is…I think people are going to hear it's clearly me but it's a bit different. The people who have heard it think it sounds a little more grown up (laughs). I don't exactly know what that means but it's going to be more on the rock side of my spectrum with kind of maybe Placebo-ish guitars and some nice drumming.
It's going to be released very soon. Apart from that I mixed a single for (ex Eluveitie guitarist) Ivo Henzi's solo project that's going to be released very soon as well. At the moment we're also working on our new band Cellar Darling. We're having a kind of songwriting camp at the studio.
Is a new solo album on the cards in the near future?
Yeah, I'm working on it too but there's not a timeline set yet because I don't like to put myself under pressure with my solo stuff. It's just going to be done when it's done but I guess you can count on it to be released next year. 
You're songs have been branded as darkly unique concepts. Where do you come up with these ideas? 
I have no idea! It just kind of happens. I just get ideas in my head and I have no idea where they come from.
The song Harley Quinn is a personal favourite! I like how you get right inside the centre of her mind. How did the song come about?  
I've always been a huge fan of her character. I'm kind of a comic nerd and I've always been a huge fan of the Batman comics. I love Joker, and a few years ago I stumbled across her from the comic Mad Love. I just love her character and her story and I just had to write a song about her. It's kind of a weird coincidence how popular she's become now. Back when I was fascinated with her I got the feeling that nobody knew who she was.
I'm assuming this means you're counting the days until 'Suicide Squad' comes out in cinemas? 
Yeah, a lot. I can't wait to see it!
When did you first know you wanted to be a musician? 
I actually never wanted to be one, that's the weird thing! I grew up in a family full of musicians and I wanted to choose the academic path and just study philosophy or something. It just kind of happened. I joined a band and then I quit school to go on tour and since then I haven't even thought once about doing something else so I guess it was in my genes somehow (laughs). 
You're a multitalented instrumentalist! When did you pick up your first instrument? 
I started with the piano and flute, that was a very long time ago so I don't even know if I'm that good anymore. Then I started the hurdy-gurdy as a teenager and it's been my main instrument since then. It's definitely what I play most. I'm getting more into bass playing now, which I'm just practising for myself. I'm not yet at the point where I can say I'm a bassist but I hope at one point I will be.
What do you like to do in your spare time?
I like to go hiking in the mountains so I do that whenever I have time and I enjoy reading a lot but I just don't have as much time as I wish I could. I have a big comic book collection as well. There isn't that much which is kind of weird. That's pretty much it.
What is essentially the heart of your music? 
My mind! It's whatever weird stuff goes on up there that I don't comprehend at times myself.
Where do you hope to take your music in the next few years? 
To be honest I have no idea because I don't really plan or think about the future. I just kind of live in the moment and see where it takes me so I have absolutely no idea!
Lastly, do you have a message for your Australian fans?
I want to thank them for the great support they've given me and I really hope they'll enjoy the new side of the music I create. I can't wait to play for them and I hope there will be many more Australian tours where I can hang out with them!
Anna Murphy Australian Tour Dates
FRI 26 AUG
Bald Faced Stag, Sydney
SAT 27 AUG
The Evelyn Hotel, Melbourne
Get Tickets HERE