Interview: Bjorn Yttling from Peter Bjorn and John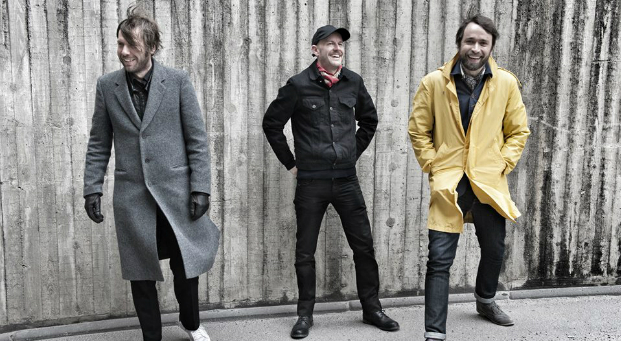 Swedish indie pop legends, Peter Bjorn and John are releasing their seventh full length studio album 'Breakin Point' this June, and to celebrate are heading down under for a run of shows including appearing at Splendour In The Grass. We had a chat with one-third of the wonderful trio Bjorn about stage falls, whistling and Drake.
You guys have been all over the place lately doing some pretty awesome gigs, what are you most looking forward to about coming back to Australia this July?
Unfortunately, all of the times we've been asked to go to Australia it's been in the middle of something, like I don't know having a baby or other things. But it's great to be coming back now and last time we came it was summer and I guess it's going to be winter now, so it's going to be interesting…and I've never been up to Bryon Bay either, so that will be cool!
Have you got anything exciting planned for your Splendour In The Grass performance?
Let's see, I mean we just recently started playing songs from this new album and we've never had so many people on stage, so we're going to play like two extra members and that's exciting for us. And I think for the songs too because we can really do them justice, and then I think we have a massive and cool lighting show that's really cool too. I just think this new album is so great playing live because it's immediate and people seem to be really reacting in a great way to it.
Your seventh full length studio album 'Breakin Point' is set for release on June 10th, with a few groovy singles having already been released, what's your favourite thing about the new album?
The favourite thing is that every song, in my book you know from production and from a song writing point of view, [is] the best thing we've done. I mean there's just like a lot of great pop moments on that album.
'Breakin Point' is all about the massive pop songs which differs a fair bit from your last album 'Gimme Some' that was very guitar driven 'power pop'. What inspired you guys to go in this direction?
It might have been just that last time we did it, because we've been this way for a long time together so we know how to play music live and we know how to do it when we comes to a rehearsal space – and that's really easy sometimes because you get stuck in what you always do, so y'know the AC/DC problem. And so this time we didn't touch our electric guitars or drum kit before all of the songs were written and done.
Yeah so it's very different! Individually and as a band, you've all worked with some pretty impressive names in the music industry. How has working with these artists and producers helped you develop your current sound?
I think it definitely helped in learning about the process of different things, how for example Chrissie Hynde makes a song is totally different and that's really inspiring. You can take a lot of things from each person and how they do it and what's the energy of that and that's always interesting…I think that helps us a lot. And of course working with Paul Epworth and Greg Kurstin and Emile Haynie on his record helps us getting the results we wanted.
Yeah that's very cool, have you had a favourite person to work with?
Working with Paul Epworth was so great because he has this massive studio in London and he's just a great guy. He puts pride in getting the sound right and working really hard on songs, and that's really cool. We hadn't worked with him before so and didn't know him that well either so that was interesting for us!
Young Folks, I can't not mention it, has been called the catchiest song to feature whistling ever, and now your single Breakin Point also includes a nice little whistle. Where did the idea to incorporate the whistle come from?
It's from this guy called Bjorn Olsson who made a bunch of whistling tunes in his Swedish album in the 2000s and it was great and then on Breaking Point it was like we had the melody and the verse, and its sort of the same thing as on young folks, the verse melody is the intro melody as well. Like it started when someone had a mic in front of their mouth, probably Peter, and everyone was like oh that sounds awesome and then we were like maybe it's not cool having a whistle, yeah it is cool actually having a whistle again! And it's the 10-year anniversary so…
Yeah that's amazing! So there's no doubt you guys know how to create a great damn indie pop song, what's your secret ingredient?
The secret ingredient for an indie pop song? I think it's always great when you're not putting too much muscle into it y'know, making it light and not being all rap or metal. It's sort of like taking it a bit easy and not screaming too much y'know, that's what it is!
Finally, with such an impressive and expansive history in the music industry, what has been your personal career highlight?
For me it was recording Neil Young on a track that I wrote myself which I did on the Chrissie Hynde album two years ago in London. Neil Young came in and played like four takes of soloing electric guitar on that song of mine, my song with Chrissie. That was definitely the highlight for me so far!
Peter Bjorn and John 2016 Australian Live Dates
WED 20 JULY
The Metro Theatre, Sydney
THURS 21 JULY
The Corner Hotel, Richmond
FRI 22 July
Splendour In The Grass, Byron Bay
Get Tickets HERE