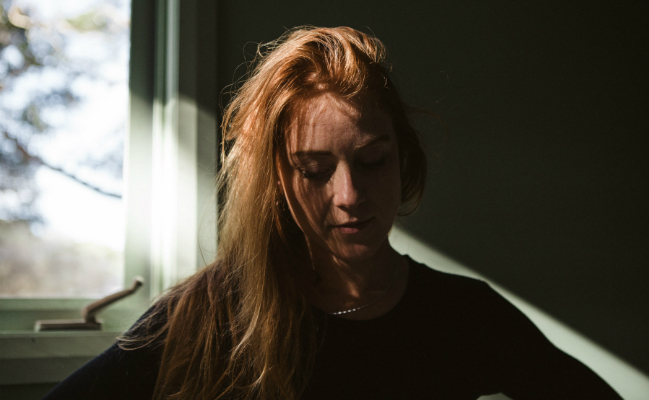 Many would know Bree Tranter as vocalist, flutist, and keyboardist the late Aussie indie-folk outfit The Middle East. In the time since the band called it quits, Tranter has transitioned to a full-time member of Matt Corby's touring band and worked on her own solo project. Her debut album 'Another Night On Earth' was released just a few weeks ago, and is described as a project "cultivated through exploration of self and the convergence of music, sex, and love". We chatted to the amazing singer-songwriter and multi-instrumentalist about her creative processes for her solo project and filming a music video with the Australian Underwater Rugby Team.
Firstly, what has the transition been like from leaving The Middle East to now releasing your solo album?
The experience I have had in transitioning from The Middle East to releasing my solo album has been life changing. Creatively, I have developed into someone that believes in herself, who owns her art, and wears it. The Middle East for me was learning about community and the world of touring all at the one time…learning the two at the same time was difficult for me. I found the older I became the more I realised who I was and what I wanted in order to enjoy and understand why I play music, as well as to live this life on the road with others.
Combine both transitions and now finally I can produce music like everyone I had been looking up to. Becoming a lead woman after being in a band for so long really opened my mind up to the things I love, like writing, performing, understanding people, and seeing the value in people instead of always thinking of myself. 
Tuesday Fresh Cuts has an amazingly intricate and jazzy vibe to it, what drew you to the sound for that song?
I am even shocked myself when I hear Tuesday Fresh Cuts. Honestly the chords were whatever I came up with that I thought sounded nice with the melodies. It really came into a jazzy shape when the band added their own taste and skills. You put together the chords and groovy bass lines dancing with the stanky drums, add a saxophone into the mix, and it ends up being a really neat little number. I guess we are all influenced by blues and soul.
What made that song stand out for you as a single?
I was attracted to it because I loved the idea behind the meaning of the song. I almost called the album after a lyric in the chorus. I also love the ending to this song and I figured people don't normally get to hear a song like this on the radio, though it wasn't written for radio. It's a bonus that stations are playing it!
The video for Tuesday Fresh Cuts is very visually interesting, what is the story behind the clip? 
The idea of the video came to me when I was riding around Sydney on my bike stoned. I figured most people hadn't seen the city the way I have by riding around. I had just started getting into GoPros a lot more and I figured that it would be really easy to film, and it would be really cool for others to see that perspective. The awesome thing is, it is exactly what the song is about as well. I had no money and that was a big push for me to use my mind creatively with what I had in my hands!
The rest of the album has such diverse sounds, as well, from smooth drawn-out synthesiser notes to funky electronic beats, why did you choose to explore so many different sonic themes?
The different sounds of the album are due to my taste in different genres but mostly because I love to involve the friends around me to co-produce and write with. They are all have different strengths within different ways of playing music and I have found inspiration from them all. I love that there is variety because I don't aim to have a particular sound, I am always influenced by nature and the people around me.
How did you get involved with the Australian Underwater Rugby Team, and come to produce the video for You Always Take Me Higher?
I decided to have a break from music for a couple of months after finishing the recording of the album. I was exhausted and really had to step back and ask myself if I really could keep going in music and tried different creative avenues for a while. I was questioning the music industry and also the role of women in the industry and how hard it can be, knowing that it takes a lot to be able to continue and live off it. In this gap I was spending a lot of time supporting my boyfriend at the time, with his passion – underwater rugby. His team was going over to Columbia to compete for the first time as the Australian team in the world cup.
I wanted to help because of how invested I had started to become in these people's lives. I decided that this was a huge opportunity to use my creative skills and give back to others by filming them a video clip to promote them heading overseas, along with filming the whole competition overseas, so later I could make a mini documentary for them.
The beautiful thing was when I was filming underwater and started putting the video together along to my music, I realised how much I love music and working with a different team and supporting their passions really opened me back up to my own passions. The visuals were what helped rekindle my love for something I have been blessed with creatively: music!
How has your touring with Matt Corby and Jarryd James, who have such different approaches to their music, influenced your live performances? 
I really love how comfortable Matt is on stage, though when it comes to performance I feel that I tend to do my own thing. When it comes to feeling a groove and also how to communicate to the sound guys, which is a big part of it, I really learn a lot just from watching Matt. I also really have taken on board no laptops! I do understand that it is terribly hard to tour these days without it, but Matt has taught me that live music is the jam. I didn't tour that extensively with Jarryd so I just enjoyed his shows when I was watching him and his band.
Lastly, if Bree Tranter was a Brie, what would you ideally like to be served with on a cheese platter?
If Bree Tranter was brie cheese I would preferably like to be rubbed with garlic and baked.
Bree Tranter's debut album 'Another Night On Earth' is out now!