Interview: Brett Scallions from Fuel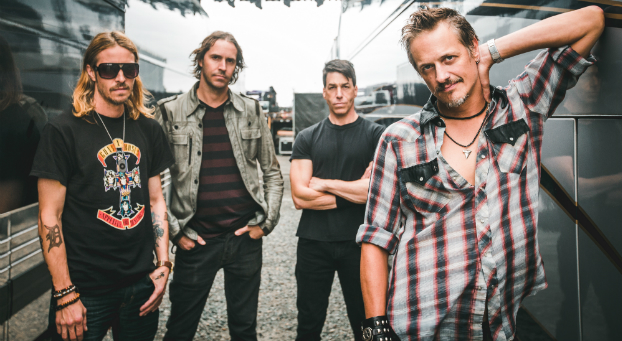 After two decades of melodic post grunge gems like Shimmer, Bittersweet and Hemorrhage (In My Hands), American alternative rockers Fuel are burning brighter than ever as the quartet prepare to hit our shores next month for 'The Sunburn 20th Celebration Tour.' We caught up with frontman Brett Scallions to chat about their impending visit, reminisce about the good ol' times of 'Sunburn' and find out if a new album is on the cards.
We can't wait for the epic 20th Celebration Sunburn tour next month! What are you most looking forward toabout this tour? 
Oh my god, playing the music, seeing the fans and being in Australia again. It's been over seventeen years now so I think we're excited to be there again. It's going to be great! 
I know you don't have a lot of time in-between shows but is there anything in particular you would love to do or experience while you're down here? 
I'm going to eat as much food and drink as much beer as possible. I'm also going to hang with as many people as I possibly can so I'm looking forward to it.
What can fans expect from your shows? 
We're celebrating the 20th Anniversary so we're going to play the entire 'Sunburn' album. We'll also play a few choice songs off the later albums but the primary focus is 'Sunburn' and to celebrate 20 years of that record, so it should be fun.
What's the strangest or craziest thing that's ever happened on stage?  
Oh my gosh, they've been so many shows! I've played shows sick as a dog – from running a fever to throwing up on the side of the stage from stomach viruses. I've had the craziest things thrown on the stage and I've played in electrical storms, so you never know what's going to happen!
I'm sure playing all those songs again brings back a lot of nostalgia from when you first made the album. What was it like creating and recording 'Sunburn'? 
We made that record in a town called North Brookfield Massachusetts and it was a 1500-acre working farm – they had horses and everything. There was this huge red barn, which was the studio and there were also little suites where our bedrooms were. We stayed there on the farm and there were 5-star chefs that would make dinner and breakfast for us. We spent 12 hours a day being artistic and creating music, which was the ultimate goal there. It was like two or three months of pure bliss.
You're the last original member left standing. What is it about Fuel that has kept you coming back, especially after your four-year break in 2006? 
It's where I really started, you know? It's the band that catapulted me into being a professional musician. This is my roots and my original shoes so to speak, so it's always nice to put on those old shoes and wear them again. I've enjoyed doing other things and writing with other people. I've done numerous other projects throughout the years but Fuel is what I'm known for so it's going to be something I'm always going to do. It's part of me.
Will there be a new album in the near future? 
I'm working on new songs now and the plan is to have a few new songs out next year if not a full-length album at some point, so we'll see. 
Aside from Fuel do you have any other projects you're currently working on?  
I just did some vocal tracks for another thing and I worked with a number of other people here in Los Angeles. I'm always recording something.
I love doing stuff for commercials because I don't have to be me. It's not about me, it's about what the product is or what you're trying to sell. I've done a lot of fun stuff, like pretending to be a cowboy or just writing or performing in different ways – some blues songs, country songs, and punk rock songs. I enjoy doing that.
Another band project of yours is World Fire Brigade; are there any plans to make a sequel following the 2012 debut album 'Spreading My Wings?'
Not that I know of (laughs). I haven't talked to (vocalist and guitarist) Sean Danielsen in a while. I'm sure he would love to do another record and I would do another record with him but we haven't talked about making another World Fire Brigade album at this point. I was just with (keyboardist) Eddie Wohl earlier today, but we didn't talk about World Fire Brigade. I would love to make another one of those albums, though. I think there are some great songs on there so we'll see. 
What is essentially the heart of fuel? 
Passion is always there for what we're doing. If you see us walking on stage, we're going to have a great time. We're going to play with high energy and it's not going to be boring because we're having a fun time. That's what it's always been about. 
What does the future hold for fuel?
We're going to keep on keeping on. We're going to play music and be creative. They'll be new music coming out next year so keep an eye out!
Fuel Australian Tour Dates
SAT 2 DEC
The Capitol, Perth
SUN 3 DEC
The Gov, Adelaide
WED 6 DEC
Coolangatta Hotel, Gold Coast
THU 7 DEC
Eatons Hill Hotel, Brisbane
FRI 8 DEC
Manning Bar, Sydney
SAT 9 DEC
Prince Bandroom, Melbourne
WED 13 DEC
The Studio, Auckland
Get Tickets HERE