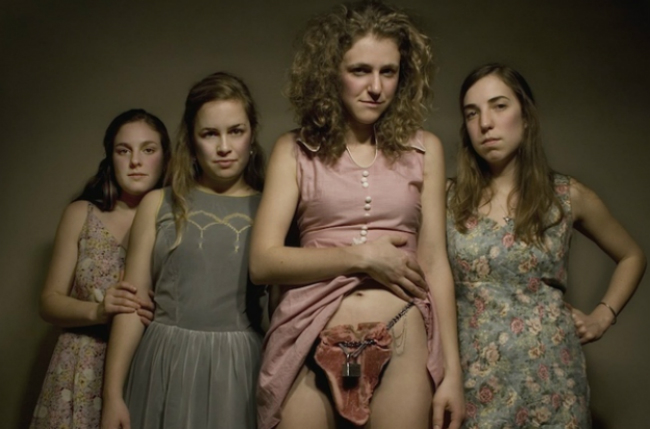 American garage rockers Chastity Belt have been turning heads for years back in the States with their epic live shows…and well a name and attitude that just screams for your attention. We asked the band as few questions to understand how crazy their touring life can be and what we should expect from their Aussie shows come late September!
From the story of how Chastity Belt formed, it sounds like you got up to some mischief in college. Do your shows get as wild?
I think our shows were definitely the craziest when we were in college. Our senior year we played naked in the middle of the quad during the naked beer mile. I definitely don't see us doing something like that now…college, am I right?! We've been known to get a little crazy on tour…
I think our craziest tour so far was the [American] West Coast tour we did with Protomartyr in March. We all got matching velour sweat suits and somehow ended up on a ranch outside of Redding, taking tequila shots and riding ATVs. That entire tour was pretty nuts, I think we were all in a crazy state of mind at the time. It was really fun!
You're in the middle of recording the follow up to 'Time To Go Home', have you learnt anything new about how the band operates this time around?
We recorded [the new album] in about 10 days actually! We've learned so much since our last record. Looking back on recording 'Time To Go Home', I really feel like we had no idea what we were doing. We've grown so much over the past couple years, as people and musicians.
You reference Sheila Heti on mansplaining in Drone, what are some of your favorite books?
Some of my favorite authors are Haruki Murakami and Kurt Vonnegut. 'The Bell Jar' is a classic. I think the protagonist in that book has such a cool voice, that a lot of young women can relate to.
Do you ever get really messed up tweets or messages? Do you have a favourite?
Yeah, I've gotten pretty desensitized to pictures of male chastity belts/s&m porn while being in this band. It's impossible to avoid when I'm searching for stuff about us on the Internet. Once we got an email from some random dude saying, "Would you ever consider as a band holding keys to a chastity device? Just an interesting idea." It was a pretty interesting idea, but we decided not to reply…
You seem to have gotten a little less "jokey", since your debut album 'No Regerts', (there are no titles like Pussy, Weed, Beer etc). Is that the progression of this new album too?
Yeah, I would say so. We've 'matured'…
You've played alongside the likes of Death Cab For Cutie, Wire, Protomatyr, and of course, Courtney Barnett. Is there anyone you would love to play alongside in the future?
Garbage! I really like their new songs, and I hear Shirley Manson is a fan.
Lastly, you've hung out with a few Aussies in the US, what are you expecting from us and of course, what should we expect from you?
I'm expecting to have the time of my life! We're excited to hang out with our Aussie friends…Courtney Barnett and her gang. You can expect a lot of selfies from us, and some fun shows!
Chastity Belt 2016 Australian Tour
THU SEP 29
The Brightside, Brisbane
Fri SEP 30
Gold Coast, Elsewhere
SAT OCT 1
Oxford Art Factory, Sydney
SUN OCT 2
Yours & Owls Festival, Wollongong
FRI OCT 7
The Curtin, Melbourne
Get Tickets HERE