Interview: Chris Collins From 'Tigertown'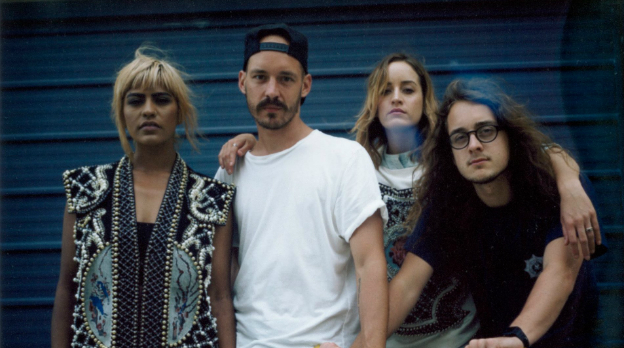 After spending the last year writing and touring the US, Sydneysiders Tigertown are coming home for a national tour in support of their new 'Lonely Cities' EP. We chatted with the band's guitarist Chris Collins about the new dance-party EP, family life on the road, and surprises in store for Aussie audiences this April.
Let's jump right in! It's been one week since the release of your 'Lonely Cities' EP and it's already sitting at #17 on the iTunes chart. Firstly, congratulations! How are you preparing for your Australian Tour in April? Any surprises or special things in store for Aussies here?
We're really excited every time we jump on the stage because it's the first time we've played new music and last week was our first show. So it's still pretty fresh for us. By the time we do our Australian tour in April, we will have played the show a lot so I think between now and then the show will grow into something that we don't even know yet! So that's going to be a surprise!
Yeah, it's going to be amazing! How did your first show go? What did you all think afterwards?
There was a massive sigh of relief that everything worked the way it should. We just went for it. It was so much fun, we were all talking about how much fun the new music is to play live. It has a different energy to other set lists. People hadn't heard the music at all, and definitely by the end it felt like a big dance party, and that's definitely what we're aiming for!
Yeah! I was listening to your songs and it makes me want to get up and dance! Do you feel that in the audience when you perform live?
I think when we're recording that's probably the first thing on our mind, how is it going to feel in the room? We're always going for that feeling that makes people want to dance and makes them happy. When it happens live it's definitely a big buzz to see.
Any interesting stories on the music-making process? Or stories from being on the road?
Most of our memories of being on the road or recording in different places is always the friends we make when we're there. A lot of the songs we wrote come from stories we heard from our friends, and because we are a family we run out and make friends wherever we are.
Would you say being a family changes how you make the music and how it sounds?
Yeah! Definitely being a family plays a big part in the way it all comes together. I think because we are able to be so honest with each other, it definitely gets a different result. You don't have to tip-toe around each other's feelings as much. You can be a bit brutal and honest, and it changes the way you make decisions.
Have you noticed any major differences performing in the US compared to Aussie audiences?
Yeah we definitely did! Last year we were here touring the 'States and it was amazing how many people get out and about, go and see music, even if they haven't heard the artist before. I think that's something we hadn't experienced too much in Sydney. [In US] people buy tickets to a concert no matter who it is, and are really keen to hear new music. Which is great for us because we are a brand new band! We felt that [US] is different to home where sometimes it's hard to get your friends to come to a show! (laughs) I think it's also because there's more people, more venues to fill, that kind of thing.
Who are the major influences behind your sound?
We were listening to a lot of older music that we were surrounded with growing up. We love Fleetwood Mac. Even artists like Michael Jackson, Whitney Houston, and Phil Collins. Those kind of feel good pop songs from those eras. I think pop music back then was about the good feels so we sourced it from there.
Yeah I definitely feel that. And those are some great artists too so it's awesome they influenced your music. Is there anything you'd like to add?
We were just talking about this today…touring Australia is so exciting to us because we haven't done a headline tour in Australia for two years. It just feels like so long! We're very excited.
TIGERTOWN TOUR DATES
FRI 1 APRIL
Newtown Social Club, Sydney
SAT 2 APRIL
Northcote Social Club, Melbourne
THURS 7 APRIL
The Foundry, Brisbane
FRI 8 APRIL
Beach Hotel, Byron Bay *Free show*
SAT 9 APRIL
Solbar, Maroochydore
THURS 15 APRIL
Pirie & Co Social Club, Adelaide
FRI 16 APRIL
Jimmy's Den, Perth
Get Tickets HERE