Interview: Crystal Waters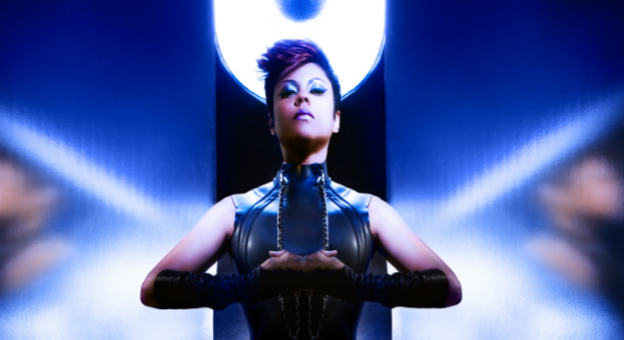 The Vengabus is coming and your favourite 90s dance superstars are along for the ride! American house-music goddess Crystal Waters has been a nightclub staple since the early 90s, producing a smorgasbord of dance-floor anthems worthy of shaking your booty to, including her best well-known hit 100% Pure Love. In anticipation to her upcoming visit to our shores to support her friends the Vengaboys, we caught up with the singer to discuss her epic music career and what she has in store for her fans!
Are you looking forward to coming to Australia? 
Yes, I've been looking forward to it! I've been doing interviews for the last two hours and it sounds like everybody's excited. It's so nice to hear people still interested in my music, and I get to see some old friends I haven't seen in a while so I think it's going to be really fun! 
Is there anything you're looking forward to doing while you're down here? 
I've only been to Melbourne, Sydney and Adelaide I think, so I'm looking forward to seeing some of these cities I haven't seen. I love travelling and I love meeting people so I'm kind of excited about that. 
What can fans expect from your set? 
We gotta do the hits! We're gonna do Gypsy Woman and 100% Pure Love. I have a song that's #1 on the Billboard Dance Chart here in America so I may try to slip that one in but we'll see how it goes. I'm very energetic on stage, I like to elect call-and-responses so we're going to have a good time! 
Do you ever get tired of playing the hits at every show? 
No because the audience is always so great! If the audience was tired of it then I guess I would be a little tired of it but everyone still loves these songs, they're good party songs and it's always fun, you know what I mean? I would love to do some of the new stuff but you've got to give the people what they want and I have no problem with that.
You come from a well-accomplished musical family! How has that influenced your music?
You know I come from a jazz family so I think a lot of my vocals, I think they're really jazz vocals. I don't know if people recognise that but I think that's how they've influenced me. I just remember my dad rehearsing in his house, my brother had his jams, rehearsing, and the integrity of it all. You know you keep at it and at it until you get it right so I think that has stuck with me over the years.
How did you first get into the club music scene? 
Well back at the time – in the late 80s, I decided to pursue this career. I wanted to be the next Chante (Moore); I wanted to sing that type of music. I took my demo tape to a convention here in DC and met The Basement Boys who are dance producers. I gave them my cassette and they called to say they loved my songwriting style and they asked if I would use my style and put it over some of these dance beats while they were working on signing my contract. I said, "Sure", so the first two tracks I wrote was Gypsy Woman and Makin' Happy and the rest is history as you say.
Do you think the music industry is easier or tougher since the 90s? 
I think it went through a transition. I think with the collapse of all the big labels it's harder for someone to start out now because there were a lot more labels back then, but for a lot of artists like me who actually have a fanbase, it's actually easier to deal with the smaller independent labels because you have more control of your music – you get 50/50 deals and money comes directly to you, so it's easier for me now. As a young person starting out it's harder.
What projects have you been working on recently? 
I have several things. I have new singles coming out this summer, I'm doing two videos for them and I've been working on an album – a new House album called 'I Am House.' I have 14 songs and I have four more to do, yeah, then I'm going to whittle them down to the best maybe 10 and I would like to follow up these singles with that album.
Awesome! When do you hope the new album will be released? 
I'm going to guess by the fall. Fingers-crossed! 
Apart from the album, what do you hope to accomplish in the next few years?
I'm working on some side businesses non-music related but I would love to just keep the legacy of the House music going. I'm mentoring people, I don't know. I've been working on this album for the last three years so I haven't looked beyond it – that far yet (laughs). I'm just trying to focus on now!
Do you have a message for your Australian fans?
I want to thank them so much for keeping me alive for all these years. I truly do appreciate it! I can't wait to get in there, I can't wait to have fun with them, I can't wait to meet them, talk to them and just you know, live life. I'm excited!
Read our interview with Sannie 'Whigfield' Carlson HERE
Vengaboys 2016 Australian Tour
SUN 30 OCT
170 Russell Street, Melbourne (SOLD OUT)
MON 31 OCT
170 Russell Street, Melbourne (SOLD OUT)
THU 3 NOV
Wrest Point, Hobart
FRI 4 NOV
Eatons Hill Hotel, Brisbane
SAT 5 NOV
Big Top, Sydney (SOLD OUT)
SUN 6 NOV
Big Top, Sydney
TUE 8 NOV
170 Russell Street, Melbourne
WED 9 NOV
170 Russell Street, Melbourne (SOLD OUT)
FRI 11 NOV
Thebarton Theatre, Adelaide (SOLD OUT)
SAT 12 NOV
Metro City, Perth
Get Tickets HERE