Interview: Dallon Weekes Chats About His New Project 'IDKHOW'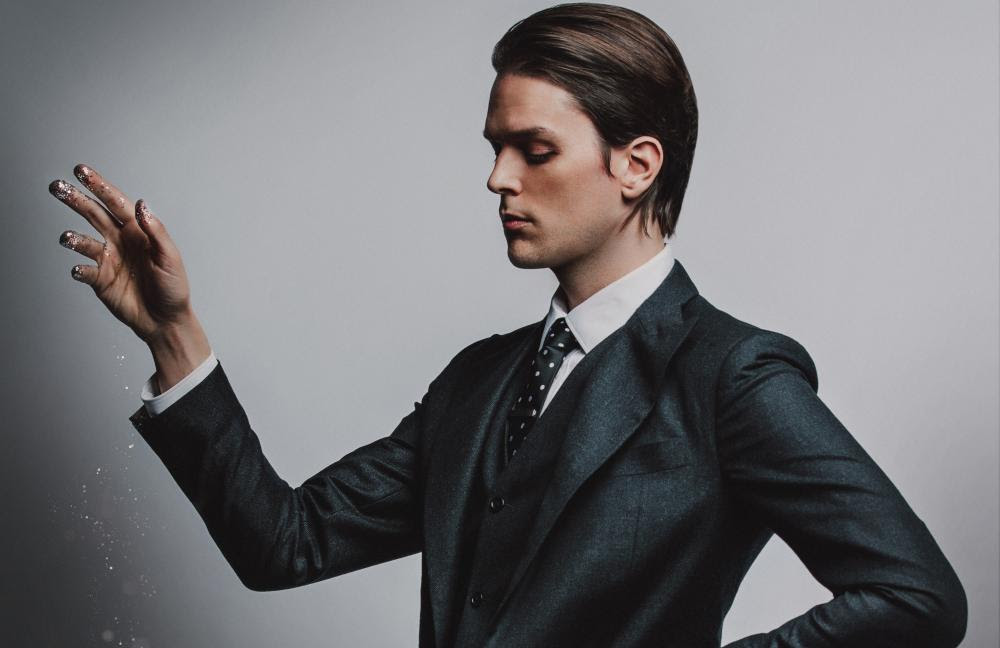 I DON'T KNOW HOW BUT THEY FOUND ME (IDKHOW), musical project led by Dallon Weekes (ex Panic! At The Disco) and accompanied by Ryan Seaman (ex Falling In Reverse) have recently dropped their new track 'Leave Me Alone' and confirmed their upcoming album "Razzmatazz" due to be released on October 16 via Fearless Records/Caroline Australia.
Having worked in the past together in the early 2000's, the two stayed in touch and naturally came together again to form IDKHOW, both sharing a similar musical vision and drive to create something fun and entertaining.
The beginning of IDKHOW saw the two secretly putting on shows and leaving behind a sense of mystery and secrecy towards the band which is still seen today.  IDKHOW has its own fictional universe rooted in Weekes' love of artists like David Bowie and "Razzmatazz" is a continuation of their so told story line and multifaceted narrative. Our chat with Weekes gives us a little more insight into it and the band itself, check it out below.
You've just released your new track 'Leave Me Alone' off your upcoming album "Razzmatazz" dropping on October 16, can you tell us about the track?
I wrote this track a while ago and it's based around two different ideas. One is a lyric that's in the chorus, "The devil that you know is better than the devil that you don't."  It's kind of an old phrase but it means that sometimes we stay in toxic situations because they're familiar and for the most part, people are afraid of things that are new, or at least afraid to try them out. It's also based around the title phrase "Leave me alone.", which in my experience is a verbal line in the sand that you draw when you're in a situation that's becoming uncivil. It's sort of the last civil thing that you say before things become uncivilised so to speak.
For the upcoming record, how was the songwriting process and dynamic for you both?
You know what? We don't really have much of a process to speak of, or at least I don't. I usually find that ideas hit me at inopportune moments, when I'm away from any recording equipment. I've certainly tried to sit down and force a song to happen when I'm in a workspace or something but it never really works out. I think a song has to come from somewhere else first and sort of have a geonosis and a spark of its own. Otherwise I just think forcing it never really has worked for me. So there isn't much of a process, the songs either start with a melody or a lyric or a bass line or a beat, no rhyme or reason to any of it really.
How would you describe your music and what is it saying about who you are as as a band?
Music is the first thing that allowed me to connect with and understand other people. I was always very introverted growing up and never really a part of anything but I always loved music. When I turned 15 and started learning how to play guitar I finally found other people that I shared something in common with. So for me it was sort of the first language that allowed me to connect with other people.
That's what I love about music. It's just so universal, like you said, it is really a language and allows people to connect and come together no matter who they are or where they're from.
Exactly! Because growing up I enjoyed drawing and comic books, I wasn't into sports and all the things you're supposed to be into growing up, all of that stuff was so foreign to me. Music was very natural and once that part of my life was unlocked I was like 'Wow I'm not alone, this is great.'
I've noticed with you guys and quite a few other bands going down this same path of being very mysterious, there's lots of  secrecy and ominous posts and what not,  what drew you to do things this way?
I think it's just a bit of fun really. I think you can certainly at any given point release an album and say here's 10 or 12 songs and just leave it at that and we may certainly do that one day, we have no plans too but we'll see. But I think that doing it that way is just a wasted opportunity to be a little bit more creative with your art and your aesthetics and how you present it…I try to approach all that stuff the way that I think a fan would want to see it because I still see myself that way, as a fan of music. I remember being a teenager and pouring over The Beatles albums and discovering Bowie and Ziggy Stardust…these artists were creating fictional worlds and narratives behind their music and that was just this other level of entertainment to accompany the music they were making and i really enjoyed that.
Going back to the beginning, how did you and Ryan (Seaman) come together to form IDKHOW, what did the beginning look like?
Years and years ago in a time we call the early 2000's, Ryan and I were in another band called The Brobecks, and that was a band that saw some reasonable success but we hit this plateau and that next step never came. Our paths diverged and were with other bands but we stayed in contact with each other. When I started making recordings for IDKHOW, Ryan was always the guy I would bring in to lay down the drum tracks. Eventually we decided to start playing these songs live anonymously, not tell anyone we were doing it, we would book a show at random and play these shows in secret and music just became fun again.
When you did form, what was your shared vision musically for the band and how has that vision changed trajectories or formed over the last couple of years?
I think the common vision that we share is that it should be fun first and foremost. When you're a musician and you do that, it's the foundation of what it's supposed to be and if it's not fun then you need to change something. As far as the creative aspects of the band, that's always been my own personal  creative outlet…and Ryan, he comes in and helps me bring it to life in the studio and on stage and I'm so grateful for that because he's such a talented guy. I don't think I'd want to do it without him really
What can we expect from the upcoming album razzmatazz and IDKH in the future?
You know i don't really know…I don't think I want to put any expectations or boundaries on what we want to do. I do know that I never want to have to play to the gallery so to speak. I never want to have to do anything, I want us to be able to do whatever comes naturally, if that means making a polka record, we'll do that if it feels right!
Leave Me Alone is available on all good streaming sites now
Razzmatazz will be available on all good streaming sites on October 16 via Fearless Records/Caroline Australia. Pre-orders are available here https://fanlink.to/razzmatazz