Interview: Dan Luscombe from 'The Drones'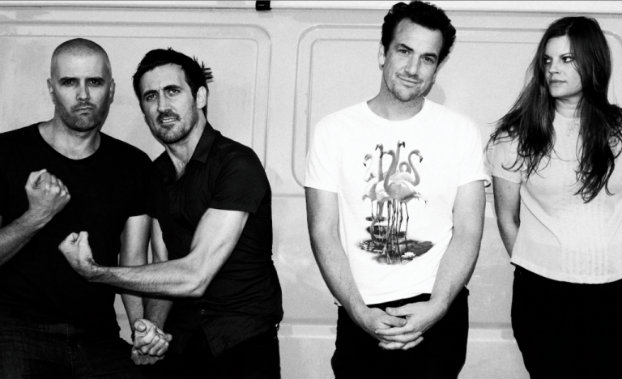 Rimming the nipple on the release of The Drones highly anticipated but 'what the f*ck to be expected' seventh studio album 'Feelin Kinda Free', we stopped to smell the roses with Guitarist Dan Luscombe. We chatted on the making of 'Feelin Kinda Free', pissing off Andrew Denton, pashing band mates in Ned Kelly costume, and the upcoming National tour.
Good Afternoon Dan! Setting the scene for our readers, can you describe the space that you're chatting to me from. 
Hi Millie,  I'm chatting to you from my house, which is above a shop, in Northcote, Melbourne. I live above a florist, which is as lovely as you would imagine…
So you literally wake up and smell the roses, that's beautiful. Not a bad start to any morning. 
I agree.
'Feelin Kinda Free', is the seventh studio album from The Drones, comparing to 2013's 'I See Seaweed' which was more cinematic and large, this album has taken more krautrock and funk elements, what were the influences?
The largest influence was genuinely to not make another 'Drones rock record', move away from the 2 guitars up front of the mix, and live sounding affair. We have a studio now in Fitzroy, that we share with a couple of other musos. We have it for three days a week, we go in and for 5 months we just worked on the record. We would essentially write in the studio, watching the songs get written and get created in front of our eyes. We'd sample drums, and construct feels and grooves and then start layering onto it.
With the writing process, do you find you needing to surround yourselves in a creative environment, or is being in the studio enough to produce and write what you need?
With this studio being our own, essentially, or having one for the first time, we've accrued all the equipment over the past years. To have it all massed in this one space, feels incredibly creative to us. To have all these blinking knobs and lights in front of us is very exciting.
So…is that where (in the Press Release) the 'bad acid trip you can dance to' description of the album was coined?
(Laughs) Yeah, thankfully it wasn't coined from actually having a bad acid trip and still managing to dance. Yeah, no the studio became kind of our submarine, our ground zero, we were in there a lot. It's a great little place. I used to play in a band called the Black Eyed Susan's, and my very first rehearsal for that band was in this studio. That was 22 years ago. It's been one those buildings that's been a constant in my life, it's been strange and wonderful.
How long has the recording process been for the past six albums?
It's usually a 10 day affair, we bring gear into some location, set it up, then record for 10 days and mix for about the same, and that's that, that's The Drone's Record. It's a fairly fast affair. The work is often done in the rehearsal and pre-production.
What's it like now Christian Strybosch (original drummer) is back? Does he bring a fresh/dated Drone's sound?
This is life returning to you in all kind of weird ways. He brings his own unique and wonderful flavour, he's a very funny man, a relentless dag machine. When it was time to look for another drummer, it was great that we could turn to Chrisso. He choose to leave the band and quit trying to make a living as a musician for all the obvious reasons, but when we were in the situation where we needed a drummer, we thought yeah, and now we can actually pay Chrisso pretty well , it seemed like the obvious choice.
Let's talk the single Taman Shud, lyrically I think it's fantastic! The title is taken from a little known Aussie Murder mystery from the 1940's (look it up). The lyrics bleed into Australia's 'cultural cringe', it speaks of political agendas, Master Chef, western supremacy, and distaste in Andrew Bolt- which he responded to, very amusingly! Was it attention you intended?
Andrew gave us an amazing critique (laughs) "stomping on the ashes of the westerns musical tradition" thank you very much – we didn't even ask for that, it was beautiful! We weren't expecting the attention, we weren't really thinking about the reaction, as we know our audience is sort of up for that kind of thing. You get frustrated just walking around, reading the paper, and looking at the state of things. Australia's our home, so it's the closest object of frustration.
Would you use this track to leverage some sort of protest or action?
If anybody wanted to use this track, and we're into what they're doing, we give them our blessing. It's a song that happens after the rally's happen through, it's frustration, pretty much saying "I can't f*cking deal any more, FARK!" it's letting off steam really.
The film clip has some powerful imagery (Duo of Ned Kellys' making out, Gina Reinhart as a toad that's spewing coal, Tony Abbotts head on a model, dancing Sia's) who was the brains behind it all?
Gareth Liddiard (Lead singer) got to live out his fantasies in this one. He threw a bunch of very suggestive bogan props in a room and this is what happened, basically it's 'technicoloured bogan spew'. I thoroughly enjoyed putting on a need Kelly helmet and pashing our bogan keyboard player – one of my proudest moments.
The second single, To Think That I Once Loved You my personal favourite, is a sinister love track, do you have any emotional ties to it?
That lyric "To think that I once loved you" is Gareth assuming a character, going deep into his imagination, it's definitely not a recent heartbreak love song. It was written and made toward the end of the album when we realised we needed one more song, to give the album the balance it needed. It was done fairly quickly, hence why it's quiet stark. We got Tom Lyngcoln's band 'Harmony' to sing on it, and it came together beautifully; It's The Drones version of "I Wanna Know What Love Is"
Your second gig at The Triffid, Brisbane is coming up May 6th  it's fast become a staple venue of the Brisbane Music Scene.  
Oh man, it's so great, one thing we were talking about last time we were there was that Queensland having the climate it does, has no venue's with an outdoor drinking area! We're like, "it's such a beautiful night, why can't we be outside?" the venue itself sounds so good inside too, it's one of the best sounding rooms I've played in. It's a general all round good listening experience for band and punter alike.
Yeah I totally agree. One last thing, you're thoughts on the new album?
It's a curly one. I think we'll lose a few fans, but we'll lose the right ones.
The Drones album 'Feelin Kinda Free' is out March 18th.  Catch them on their upcoming tour kicking off in April, tour dates and tickets HERE