Interview: Darcy Lane Talks Up Her Latest Single, 'Spines'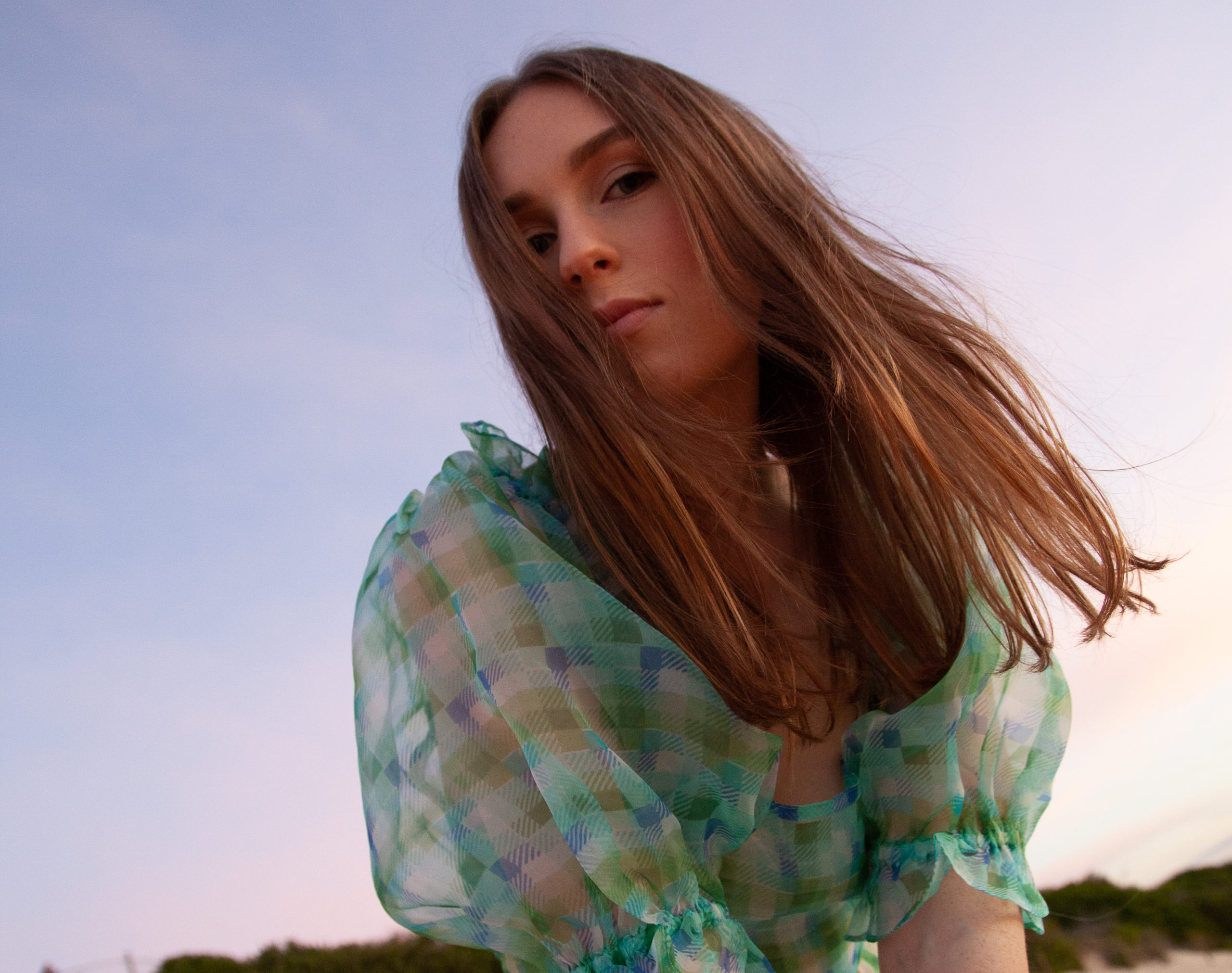 Eora/Sydney-based alternative-pop artist Darcy Lane has just returned with her hypnotic new single 'Spines' – a delectably dark offering produced by Alex McIntyre (Lola Scott) and OscarSharah (Mel Blue, Abby Bella May). We sat down with Darcy to find out more about the new jam.
Congratulations on the release of 'Spines'! It has such a charismatic touch to it; can you talk to us about the themes or the story that inspired it?
Thank you so much! 'Spines' is about having a crush on a mate but neither of you has enough backbone to acknowledge or admit it. The 'Spines' version of me has a lot more self-assurance than I ever really will. Every time I sing the line "she's cute but she's not me" I giggle because I am not outwardly confident enough to be going around singing that kind of thing to a crowd of people. I couldn't even admit to myself that I had a crush on my friend, so it is all quite ironic really. Also, don't @ me, it's not about you, but if you truly think it is, let's just keep blissfully ignoring it because we have gotten us this far.
This song was brought to life with the production team of Alex McIntyre and Oscar Sharah, who have quite a brilliant back-catalogue. How was it working with those two? What lessons did you take from working with them?
I actually uploaded an extremely stripped back version of the song on triple j Unearthed in 2018, once I started working with Alex, I asked her if she would be open to reproducing it and she was keen. Working with Alex has been such a pleasure, she has such a unique style and sound that has helped shape mine. I am also a huge fan of everything Lola Scott so it has been so cool having the opportunity to work so closely with her. Alex always welcomes my often obscure suggestions with a "hell yeah" kind of attitude, which I feel is the best trait of a producer. Particularly in this track, with the reference to dancing "to your heartbeat", I wanted a little nod to one of my favourite flicks 'Dirty Dancing'. So, there is actually a snippet of a certain chiselled dancer mimicking a heartbeat buried within the drum part of the track. Oscar added some hectic production elements which helped elevate the track even more. They have both taught me so much about production and the industry in general, which has been super insightful.
Can you tell us a bit about how you ended up turning to music as your creative outlet? Were there any people or specific events that led to you pursuing music?
I have always been surrounded by music. My mum is a classically trained singing teacher, and my dad is a diehard music lover. They have both been so supportive of me making music, which I am super grateful for. I was part of a children's choir for a decade or so which encouraged my love of composition and harmonies. I think writing "Spines" was a significant moment, it was the first song that I felt comfortable enough to share with people, so it is only fitting that it will officially kick things off.
In an oversharing world, we're seeing more and more artists write so vulnerably about their mental health and their darkest thoughts. How important is it that you explore and confront your emotions in your music?
I think writing from a place of vulnerability and drawing on your own experience adds a certain authenticity to songwriting that just cannot be fabricated. For me, writing very much is an outlet for my deepest thoughts. If I haven't written a couple of sour songs about a bad situation, then I am not over it. There is a weird kind of closure that comes with putting your thoughts to a melody and rhythm and recording it. Now I will experience releasing those deep thoughts and feelings with everyone I know, and that is extremely daunting.
This new single has us extremely excited for what's to come for Darcy Lane. What's on the cards for the rest of 2022?

There is a lot in the works at the moment! I have been working on my live set with my awesome band and trying to navigate TikTok (wish me luck lol. I am writing at my piano every night and have a bunch of tracks that I am extremely excited to share. I am working with Alex and Oscar to produce these tracks; Alex and I have even written a couple together which is exciting. So, there will be plenty more tunes to come from me yet.